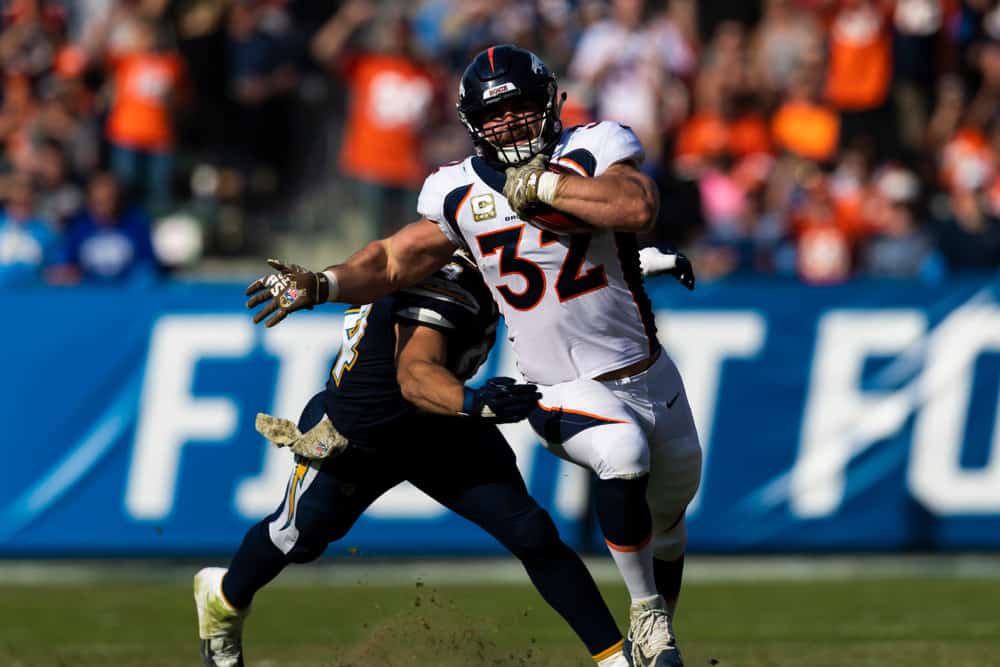 The coronavirus has taken a lot from sports fans in the last two weeks.
March Madness was cancelled, the NBA and NHL seasons are on hold, European soccer leagues are suspended, and the start of baseball season won't come until mid-May at the earliest.
Needless to say, it's been tough times.
One thing COVID-19 hasn't taken, though, is NFL free agency.
Despite a huge lull in the sports world, free agency has done its best to keep us busy.
The Cleveland Browns have been especially active, making a trio of splash moves on Monday.
On Tuesday, the Browns were active yet again.
The front office decided to take a flyer on Bronco's fullback Andy Janovich in exchange for just a seventh-round draft pick.
Broncos trading FB Andy Janovich to Browns for 7th rounder in 2021, per source. Janovich became expendable with new Shurmur offense that doesn't use strict FB. Elway listens to coaches and finds players who fits scheme. Another example of synergy between Elway-Fangio. #9sports

— Mike Klis (@MikeKlis) March 17, 2020
The Browns practically never used a traditional fullback in 2019.
So far in 2020, they have added two fullbacks to the roster.
Johnny Stanton signed with the club back in late-January.
We've signed FB Johnny Stanton

Details » https://t.co/ef6LNgUYWT pic.twitter.com/m8gA3lDmr0

— Cleveland Browns (@Browns) January 28, 2020
Why the need to add two fullbacks to the roster?
It seems unlikely that both Stanton and Janovich make the roster, but Kevin Stefanski did say in a Reddit AMA (ask me anything) that he likes the fullback position.
"I have a healthy respect for the full back position. I think it gives you some versatility – because the defense has a hard time knowing whether we'll be in a one-back, two-back or empty set. In addition, and maybe most importantly, the full back brings a physical aspect to our football team, which is very important to me."
The Vikings utilized a variety of formations that included fullbacks in their offense last season.
So, it's possible we see a healthy dose of Janovich throughout the season if he beats out Stanton.
That begs the question, who exactly is Andy Janovich?
1. He's Old School
It's a bit of a cliché that fullbacks are old-school. But clichés can prove true sometimes right?
In this case, it does.
Jeff Legwold of ESPN wrote an excellent article on Andy Janovich last summer based on his humble background.
Janovich drives a blue 2000 Dodge pickup truck with nearly 200,000 miles on it.
In the piece, Janovich talks about where his quiet, hardworking mentality comes from and how it shapes who he is today.
Janovich is a sixth-round draft pick that has all of 13 carries in his NFL career.
That's not exactly going to shoot any egos through the roof, but I get the feeling Janovich wouldn't let that happen even if he led the league in rushing.
Cliché aside, this the kind of workhorse you want leading the charge for Nick Chubb and Kareem Hunt.
Oh, and protecting Baker Mayfield.
This is how you pick up the blitz, Andy Janovich (No.32) pic.twitter.com/AhpmMRb7Oj

— Steve Palazzolo (@PFF_Steve) October 2, 2018
2. He Can Wrestle
On top of being a good fullback, Janovich is a two-time state champion wrestler.
Back in high school in Nebraska, he won the state title twice from 2010-2012 while amassing a total record of 99-0.
So far we have an undefeated state champion wrestler who plays fullback professionally and drives a 2000 Dodge pickup truck.
Hard to imagine Cleveland disliking this guy.
3. He Likes Busch Light
Let's go back to that Legwold article for a second.
We know Janovich drives a humble car, but certainly, there must be something he splurges on, right?
Nope.
He says he spends his money on Busch Light, chew, and hunting gear.
Unbelievable.
So long as he proves he can play come training camp, the Browns may have just found the perfect, cheap option at fullback.