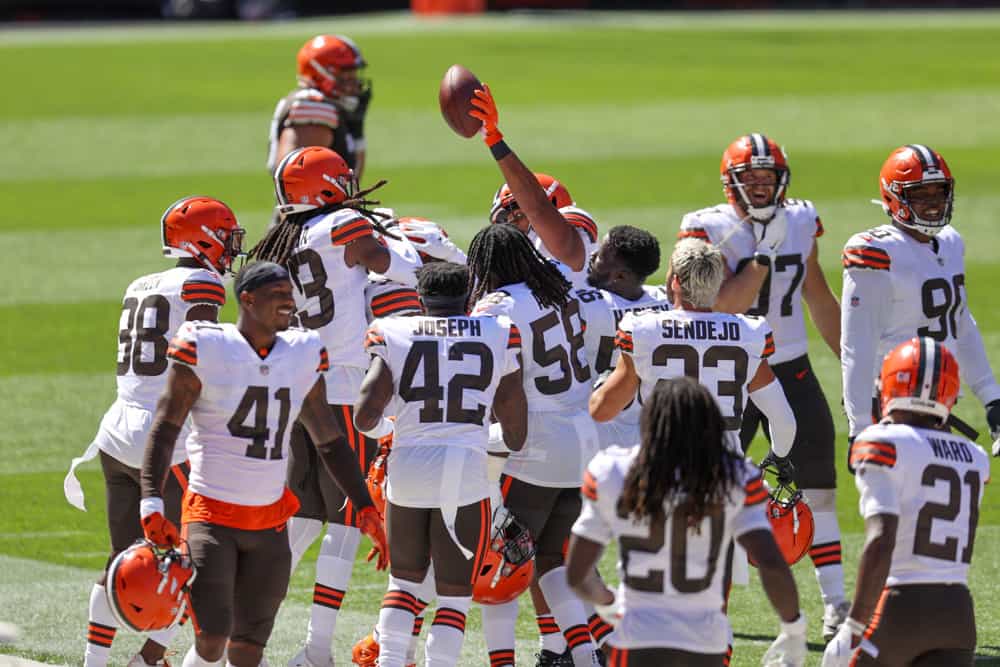 The Cleveland Browns came into the 2020 season with an even more loaded roster than the year prior.
General manager Andrew Berry did a fantastic job during the offseason to put the team in a excellent spot.
Sadly, injuries have taken out multiple of the Browns starters early in the season.
Obviously, every team has to deal with injuries, but the Browns have been lucky enough to have their young players step up and contribute.
It's only two games into the regular season, but there has already been a few young studs who are making a huge impact in Cleveland.
3. KhaDarel Hodge
In September of 2019, the Browns acquired wide receiver KhaDarel Hodge off waivers from the Los Angeles Rams.
The 25-year-old has not done much early in his career, but could be a key contributor in 2020.
Prior to Sunday's games, Hodge was ranked as the highest receiver in terms of receiving score on the Browns roster, according to Pro Football Focus.
Hodge was ranked as the 29th best receiver in the NFL, but his numbers are a bit inflated.
PFF grades based on assignment, so Hodge is likely graded better because he's going up against a slot defensive back compared to the opponent's top corner.
Regardless, Hodge has been fairly impressive through the first two games of the season.
#Browns Baker Mayfield to KhaDarel Hodge pic.twitter.com/n1qh1KuHku

— Orange and Brown Rpt (@TheOBR) September 18, 2020
At first, Hodge was strictly seen as a special teams player, but has emerged as an option in the passing game.
Hodge has been on the field for 56 percent of the offensive snaps this season.
That is quite surprising considering Hodge was not expected to be heavily used as a wide receiver.
Although, he has already been targeted five times with three receptions for 51 yards this season.
He's ridiculously fast which makes it tough for the opposing safeties to catch up with him.
It's early in the season, but Hodge has been helpful thus far.
We'll see if he can continue this type of play and become a reliable option on offense.
2. Wyatt Teller 
It came as a bit of a surprise when the Browns gave up two late draft picks in order to acquire right guard Wyatt Teller from the Buffalo Bills.
The Browns were having trouble finding a reliable option at right guard, but Teller wasn't exactly a trustworthy option.
Last season, Teller was fairly mediocre for the Browns, but was basically given the starter job once again because the team didn't have many other options.
However, the Browns are probably happy now that they gave Teller another chance.
After Week 1, Teller was graded first overall among NFL guards.
He continued his impressive play versus the Cincinnati Bengals during their Thursday night matchup.
Jedrick Wills getting up and through the alley on DART like he's running the rock. Young man is so athletic.

Also, Wyatt Teller peeling here late to pick up 57's blitz saves this 3rd down. Teller has put together two very impressive starts to begin 2020. #Browns pic.twitter.com/yMpoKrZ4Mf

— OBR Film Breakdown (@TheOBRFilmBDN) September 19, 2020
The 25-year-old guard was a fifth-round pick and wasn't expected to really be a starter in the NFL.
Although, he has been impressive through two games and has a chance to earn himself a spot on the offensive line long term.
The emergence of Teller should hopefully give more confidence to the running game in Cleveland.
1. Jordan Elliott
The Browns desperately needed to add a run-stopper this offseason after the departure of Joe Schobert.
Cleveland selected Missouri defensive tackle Jordan Elliott in the third round of the 2020 NFL Draft.
Last season at Missouri he had 44 tackles, 8.5 tackles for loss, and 2.5 sacks.
The Browns were hopeful that Elliott could be the run-stopper that they were searching for this offseason.
As a rookie, Elliott is already making an impact as a rotational player.
He has seen 60 defensive snaps through two games, but doesn't have great numbers.
However, Elliott is still making impact plays even if it isn't showing up on the stat sheet.
Third-round rookie DT Jordan Elliott caused that sack by collapsing the pocket.

— Brent Sobleski (@brentsobleski) September 18, 2020
Part of the reason Bengals quarterback Joe Burrow had to throw 61 times was because the Browns defensive line was too strong.
The Bengals didn't trust that their running backs would be able to pick up the first down on the ground.
That is the type of play that Elliott can offer the Browns going forward.
He's already been graded as a top 10 defensive tackle in the league, according to PFF.
It might not be too long before Elliott is starting on the d-line in Cleveland.