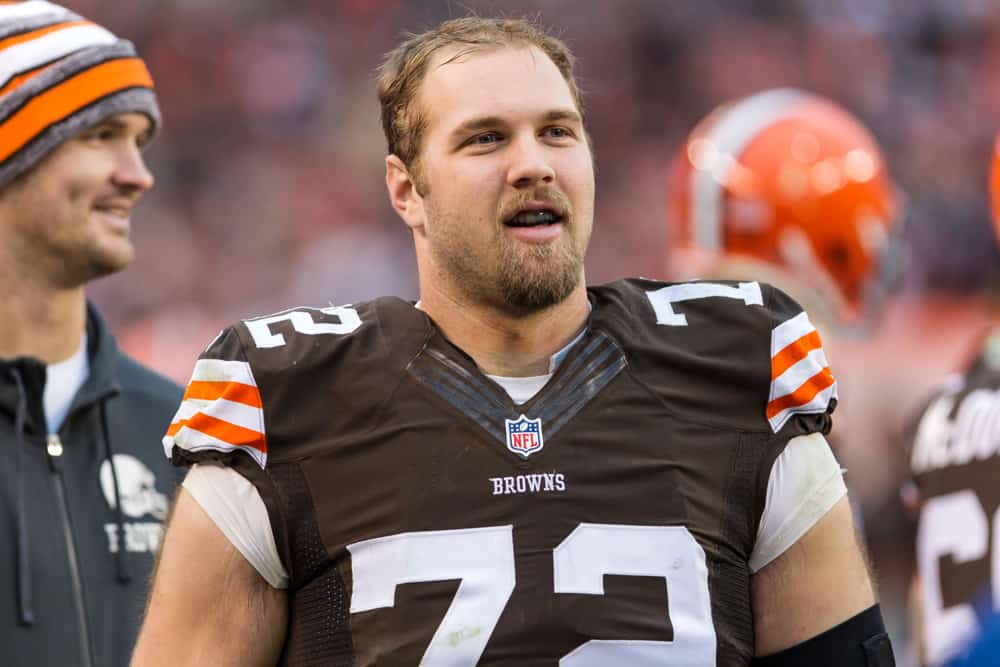 Cleveland Browns fans dream of seeing their team in a Super Bowl someday.
For some former Cleveland Browns, their moment is here.
Eight former Browns are on the rosters of either the San Francisco 49ers or the Kansas City Chiefs.
Six are expected to see some field time.
Two are on the injured reserved list.
Some of the names might be more familiar than others.
But trust us, they all were members of the Cleveland Browns at some point.
1. Raheem Mostert, RB- San Francisco
Raheem Mostert took over the offense and led the San Francisco 49ers to the NFL Championship Sunday.
Raheem Mostert in the #NFCChampionship for the #49ers ⤵️

➡️ Franchise record for rush yards in a single game
➡️ 2nd most rush yards in postseason history
➡️ Postseason record with 200+ rush yards, 4 TDs
#GoNiners pic.twitter.com/GwC3eYQa55

— 49ers Nation (NFC CHAMPS) (@BA49ersNation) January 20, 2020
Cleveland was one of six teams who saw Mostert solely as a kick returner.
They were the third team to sign him off waivers after Philadelphia drafted him in 2015.
Cleveland signed him to a 2016 tender, but he was waived after final cut day in favor of new additions.
He ran back 12 kickoffs for 309 yards in three games as a Brown.
After stops with the Jets and Bears, Mostert finally signed with the 49ers late in 2016.
Injuries gave him a chance to join the team's committee of running backs.
He performed too well for Kyle Shanahan to ignore him as the season went on.
His 220 rushing yards are the third most in a championship game ever.
2. Emmanuel Ogbah, DE- Kansas City
Emmanuel Ogbah was a second-round draft pick of the Browns in 2016.
He started 26 straight games, including all 16 games as a rookie.
He fractured his foot in Week 11 of the 2017 season.
After starting 14 games the following season, Ogbah was surprised to be traded to Kansas City.
Trade: #Browns trading DE Emmanuel Ogbah to the #Chiefs, per @AdamSchefter.

— NFL Update (@MySportsUpdate) April 1, 2019
John Dorsey shipped him out for safety Eric Murray.
Kansas City was getting the better of the deal before a torn pectoral ended Ogbah's season in Week 10.
He already tied a career-high with 5.5 sacks and was on track for career bests in several other categories.
Ogbah is a free agent this season likely to seek more money that fits under the Chiefs' cap.
3. K'waun Williams, DB- San Francisco
Signed as an undrafted free agent in 2014, K'waun Williams started the season as the backup nickel behind Buster Skrines.
When Skrines was moved outside in a lineup shuffle, Williams became the starting nickel back.
He remained a solid performer in that role throughout Mike Perrine's tenure.
But he kicked off his time with Hue Jackson on a bad note.
Williams opted out of the team's first preseason game due to an ankle injury.
The Browns medical staff did not think his injury was serious.
The team suspended him for two games, prompting Williams to get a second opinion.
The KWaun Williams saga probably will end in the #Browns releasing him – on their timetable, not his.

— Tony Grossi (@TonyGrossi) August 17, 2016
To make a long story short, he needed surgery, the team cut him, he had the surgery.
When he was cleared to play in 2017, San Francisco won out over six teams competing for his services.
Williams now provides solid nickel play for the NFL champions.
4. Mitchell Schwartz, RT- Kansas City
Mitchell Schwartz was a second-round draft pick for Cleveland in 2012.
He played every snap at right tackle for the Browns his rookie season.
In fact, he played every snap in his first four seasons.
For three of those seasons, Schwartz was a first- or second-team Pro Bowler.
Cleveland inexplicably let him walk in free agency after his rookie deal expired.
Say what you want. Browns let the best RT walk away in free agency In Mitchell Schwartz. Huge loss

— Jason Pinkston (@JasonPinkstonOL) October 28, 2018
He signed with Kansas City for 5 years and $33 million.
Late this season, he missed the first snaps of his career.
An ankle twist took three snaps to tape up.
He is now at 122 consecutive starts, the third-highest active streak among all positions in the NFL.
If he was not in the Super Bowl, he would play in his seventh Pro Bowl this week.
5. Shon Coleman, OT- San Francisco
Scouts tabbed Shon Coleman as a potential late-first or second-round draft pick in 2016.
Cleveland picked him up in the third round after a knee injury prevented him from attending the combines.
As a rookie, Williams backed up Austin Pasztor.
But he started all 16 games in 2017.
His performance didn't impress John Dorsey enough to keep him from trading Williams to San Francisco.
We've traded Shon Coleman to the 49ers.

📰 » https://t.co/vilcXJJ4FA pic.twitter.com/Bsof6Pswqp

— Cleveland Browns (@Browns) August 31, 2018
With all the draft picks and players traded that offseason, it is hard to keep track.
But the 7th rounder Dorsey received from the 49ers is either one-third of Greedy Williams or one-half of Mack Wilson.
Coleman was inactive for all 16 games in 2018.
He was expected to make the 49ers roster as a backup again before a gruesome preseason ankle injury put him on injured reserve.
6. Austin Reiter, C- Kansas City
Austin Reiter was Washington's seventh-round pick in the 2015 draft.
Cleveland signed him off the Redskins' practice squad the following season.
Reiter made his first NFL start with the Browns in October of that season.
In that game, Reiter tore an ACL, ending his season.
Austin Reiter started his first game for the Browns on Sunday and suffered a season-ending injury https://t.co/poiLOesYoV

— ProFootballTalk (@ProFootballTalk) October 3, 2016
He was largely limited to special teams in 2017, seeing only 8 offensive snaps.
When the Browns released him, Reiter signed with the Chiefs.
He is the only offensive lineman besides Schwartz to play in every game this season for Kansas City.
7. Anthony Zettel, DE- San Francisco
Anthony Zettel might be the most fortunate player on this list.
Zettel was drafted by the Detroit Lions in the sixth round of the 2016 draft.
He served as a backup and practice squad played for two seasons.
Cleveland signed him off waivers early in the 2018 season.
He played in parts of 13 games for the Browns.
He was the final cut in 2019 and was quickly signed by the Bengals.
On December 12, the Bengals cut Zettel.
Don't look now but Anthony Zettel is Super Bowl-bound! @OgemawFootball @PennStateFball @49ers @Lions @Browns @Bengals @MIASBLIV @NFL … https://t.co/r1w9Z6XPTz

— Lee Thompson (@LeeTsports) January 20, 2020
Looking for some depth at defensive end, the San Francisco 49ers signed Zettel the day before Christmas Eve.
After making one tackle in his limited role Sunday, Zettel is packing for Miami and the Super Bowl.
8. Cameron Erving, OL- Kansas City
Cam Erving was the 19th overall pick of the 2015 NFL draft.
He never got on track in his two years with the Browns.
It didn't help that the team changed his position a few times.
Before the 2017 season, Cleveland traded Erving for Kansas City's 2018 fifth-round draft pick.
Cam Erving is starting in a Super Bowl. What a world

— David Reiter (@DavidReiterJr) January 19, 2020
He became a rotational backup.
Kansas City declined his fifth-year option but re-signed him to a two-year deal.
He played a key part in covering injuries in 2019, including eight starts for LT Eric Fisher.
He'll see some snaps against the 49ers in Miami.
At Least Browns Fans Aren't Alone
In this day of free agency and salary caps, few players make it to the Super Bowl with the team that drafted them.
Mostert is on his seventh team.
Dolphins fans are watching Damien Williams be exactly who they thought they drafted.
There are dozens of others.
Browns fans need to keep the faith.
Someday, other writers will talk about their former players playing in the big one for Cleveland.