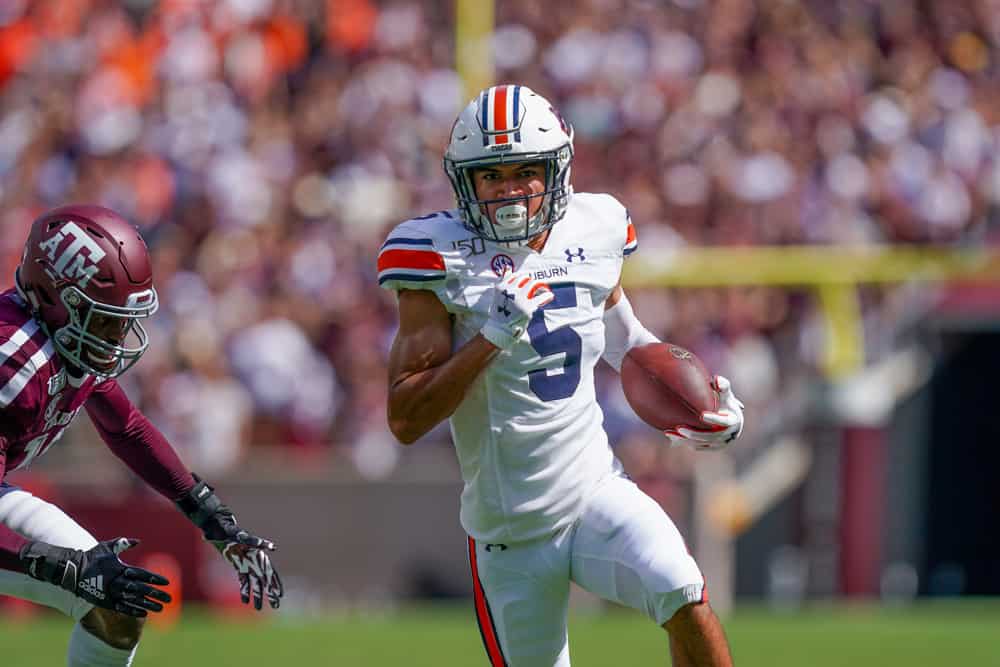 This offseason, the Cleveland Browns have gone heavy on the defensive side.
The front office knew this team needed significant upgrades on defense and made it happen.
That being said, the organization didn't make many moves to improve on the offensive side of the ball.
Potentially, the team is waiting until the NFL Draft before making a few additions to their offense.
One area that could use some help is at the wide receiver spot.
Help At Receiver
On paper, the Browns appear to be set when it comes to wide receiver.
They have two Pro Bowl options in Jarvis Landry and Odell Beckham Jr. as their main weapons.
After that, they have Rashard Higgins who proved himself with the Browns last season.
One piece the Browns are missing at receiver is a speedy deep threat.
Sometimes, OBJ can be that player, but often times he's covered by the best defensive back or double-teamed by the defense.
There could be help on the way in the form of Auburn wide receiver Anthony Schwartz.
Anthony Schwartz goes 76-yards for the Touchdown 🔥 pic.twitter.com/GN2rqfZxGm

— BetQL (@betqlapp) October 13, 2018
At first glance, Schwartz is exactly what the Browns need on their roster.
He is a speedy pass-catcher that has promising upside and could develop into a dangerous threat at the professional level.
Schwartz is not expected to be a superstar player, but to be fair Tyreek Hill was taken in the fifth round by the Kansas City Chiefs.
Sometimes all it takes is having deadly speed and eventually everything else will fall into place.
Speedy Schwartz 
He is not a big-framed receiver, which might be an issue at the professional level.
Often times, his elite speed does make up for his lack of size.
Schwartz is a solid route runner and is a terrific athlete with big-play ability.
Seriously, his 40 time is no joke, so at worst Schwartz could potentially be an elite returner in the NFL.
🔥⏱BLAZING FAST 40 ALERT⏱🔥@AuburnFootball WR prospect Anthony Schwartz ran a 4.26u! @TheRealF1ash pic.twitter.com/u1WJ1vfW2B

— NFL (@NFL) March 18, 2021
He has average hands and put up decent numbers while at Auburn.
In 2019, Schwartz finished with 41 receptions, 440 yards, and one touchdown in 11 games.
Those aren't exactly exciting numbers, but Schwartz performed much better in 2020.
Last season, he recorded 54 receptions, 636 yards, and three touchdowns in 10 games during his junior campaign.
Schwartz doesn't put up jaw-dropping receiving numbers, but his speed is similar to that of Hill.
Anthony Schwartz is FAST🔥

Would you take him in a race against Tyreek Hill?pic.twitter.com/K9zOeWZuKr

— PFF Draft (@PFF_College) June 25, 2020
There is still plenty to polish with his game, but Schwartz is worth the risk because of his elite speed.
Honestly, Schwartz might not only be the fastest receiver in the draft class, but he could be the quickest player in the entire draft.
He has the potential to develop into a possible third receiver at the next level, assuming he gets the right coaching and makes the correct adjustments.
The Browns could certainly use a speedy threat like Schwartz on their roster going forward.
Cleveland shouldn't use an early round pick on Schwartz, but that doesn't mean he is not worth keeping on the radar.
There is nothing wrong with snagging Schwartz in the middle or late rounds, assuming he is still available at that point.
Truthfully, there are plenty of ways to make a player with his speed useful even if he doesn't have the best hands in the world.