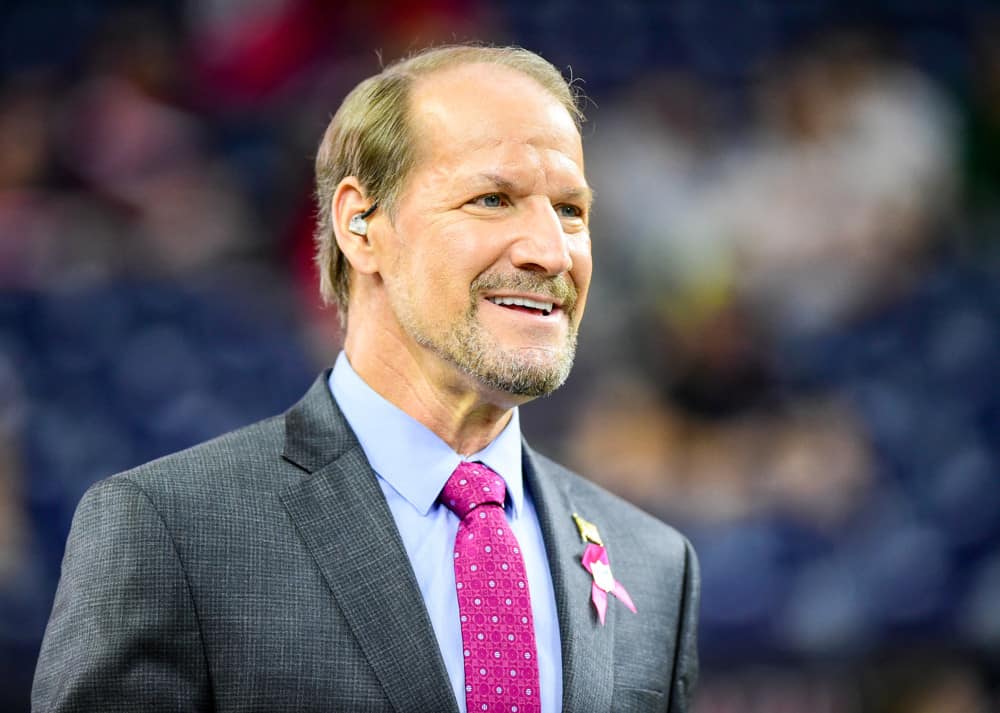 Cleveland Browns fans have long felt that the legendary Clay Matthews belongs in the Pro Football Hall of Fame.
Over the weekend there was a current Hall of Fame member, Bill Cowher, that sided with Browns fans.
The legendary, accomplished and ultimate class act, Bill Cowher, (Pro Football Hall of Fame – Class of 2020) on my dad, Clay Matthews.#ClayMatthewsHOF @ProFootballHOF @CowherCBS pic.twitter.com/skGWEompYH

— Jennifer Matthews (@JennMatthews57) December 11, 2020
While Cleveland faithful may not have a high affection for Cowher after his time coaching in Pittsburgh, they'll agree with his sentiment here without a doubt.

Cowher and Matthews
"I had the pleasure to play with Clay Matthews my first 3 years in the NFL", the first line of his comments reads.
This is true, as Cowher and Matthews spent 1980-1982 together in Cleveland with the Browns.
Since both guys played the same position, linebacker, it's likely they spent a good chunk of time together over the course of those three seasons.
That would not be the end of the time these two would share, however.
Following his playing days in the NFL, Cowher began his coaching career in Cleveland in 1985 as a special teams coach.
Cowher would remain coaching in Cleveland through 1988 before leaving for Kansas City.
Spending eight seasons together at the professional level will allow two guys to know each other pretty well.
That's one reason Cowher's sentiment should carry some weight.
He spent time around Matthews and knows exactly what kind of player he was in the NFL.
Cowher's statements are also significant because, as mentioned, he is in the Hall of Fame himself!
He had a tremendous coaching career in Pittsburgh, claiming a Super Bowl title and enjoying numerous winning seasons.
His teams were also notable for their tough defense that played an extremely physical style.
That's exactly the kind of player Matthews was in northeast Ohio.
If there was anyone who got to see that first hand, both as a player and coach, it's Bill Cowher.

Will He Get In?
It seems we get a strong social media push advocating Clay Matthews for a Hall of Fame spot every few months or so.
These latest comments from Cowher have kick-started the latest surge.
It's clear he is not an obvious entrant at this point.
Otherwise, his bust would already be in Canton.
Still, the conversation takes place each year, so he's not an obvious denial either.
It may be time for Matthews to get in.
It's time for Clay Matthews to be inducted into the @ProFootballHOF!

He holds numerous records & epitomized what it meant to be an all-around, dominant LB

He could defend the pass & the run & he created havoc for opposing offenses

It's time for him to take his place in Canton!

— Joe Thomas (@joethomas73) December 13, 2020
Statistically, his career holds up to a number of other Hall of Fame linebackers.
Additionally, sacks were not even recorded for the first couple seasons of his career.
For a premiere pass rusher like Matthews, that will hurt a Hall of Fame bid.
There's no guarantee he ever gets in, but the pressure will always be there from Browns fans.