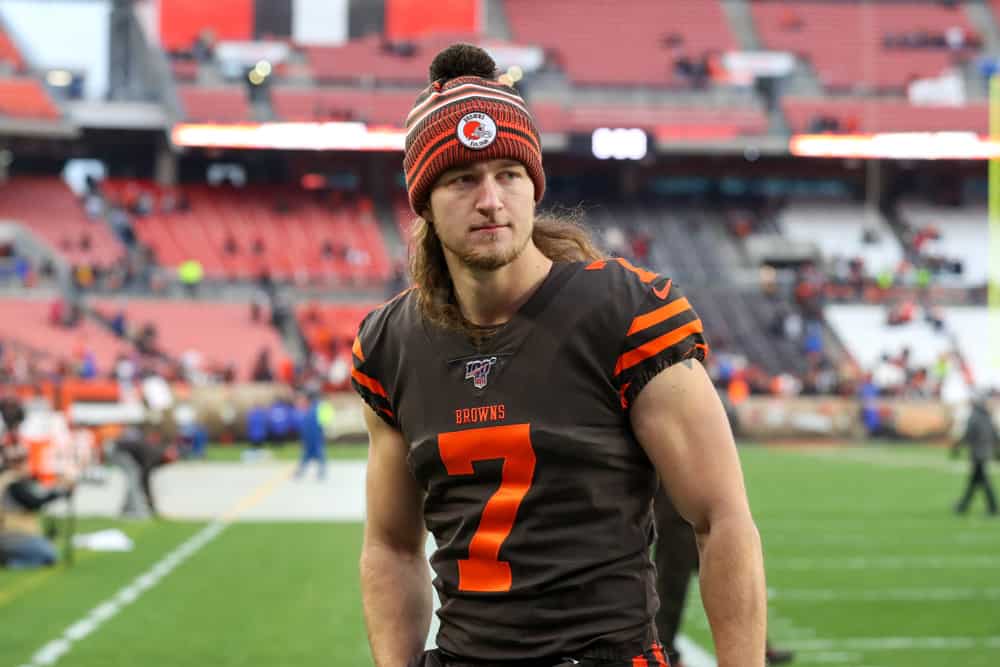 The current quarantine situation has many trying to figure out how to handle their ever growing hair.
And that dilemma has even affected Cleveland Browns punter Jamie Gillan.
Gillan also known as "The Scottish Hammer" is known for his glorious blonde locks and his powerful left leg.
Browns fans even believe that he gains kicking strength from his hair.

So alarm bells rang when Gillan posted on social media while in Maryland that he was looking for someone who could chop hair.
So Browns fans went into a bit of a tizzy when Gillan posted that he was looking for someone to cut his hair.
"Can anyone help chop hair around here," Gillan wrote from Maryland.
Before he had a chance to say anything further, ardent Browns fans started a petition to prevent him from getting a hair cut.
You can find the petition here.
The petition states:
"It has been brought to our attention that our legend of a punter AKA Jamie "Scottish Hammer" Gillan is thinking of cutting his hair.
We all know this is were he draws his power for that tremendous leg strength as well as his stunning good looks.
We as a fan collective(ly) disagree with this decision and would like Mr. Hammer to give this a second consideration."
Gillan playfully responded on social media that he is not cutting all of it off but is wanting to cut the sides for a mullet look.
The Scottish Hammer
Born in Inverness, Scotland, on July 4, 1997, Gillan got his start playing for the Highland Rugby Club and for Merchiston Castle School in Edinburgh.
Gillan's father was a member of the Royal Armed Forces.
He earned the nickname "Scottish Hammer" due to his strong Scottish accent and because of his tremendous leg strength.
In fact, his high school coach gave him the moniker after kicking an 80 yard punt in a game.
Gillan relocated to the US in 2014 at the age of 16 when his father got a job at the Naval Air Station at Patuxent River in Lexington Park, Maryland.
He attended the same Maryland high school as former Browns General Manager John Dorsey and played both soccer and football.
The Facebook College Scholarship
Gillan earned a scholarship via Facebook to attend Arkansas-Pine Bluff just three weeks before camp.
Though Bowie State University (Division II) in Maryland was interested in him, he had not committed.
His friend saw on Facebook that Arkansas-Pine Bluff needed a punter as theirs had just de-committed.
That same friend put Gillan's film on their website, and Arkansas-Pine Bluff contacted Gillan the same night.
Fitting with Gillan's style and personality, he had no idea where Arkansas-Pine Bluff was even located or that it was among the colleges cited as an HBCU (Historically Black Colleges and Universities).
As Gillan tells the story, there was serious celebrating after he got the call from Arkansas-Pine Bluff so the morning after he had an enormous hangover and not much memory of the conversation.
Being in the minority at Arkansas-Pine Bluff did not phase Gillan.
His fun and flamboyant personality makes him a fan-favorite everywhere he goes.
Jamie Gillan rocking kilt for final #Browns home game. pic.twitter.com/5W5KPJpSVP

— Tom Withers (@twithersAP) December 22, 2019
He completed an illustrious four-year career at Arkansas-Pine Bluff with a total of 9,024 punting yards and an average punt of 42.2 yards per punt.
Cleveland Browns Career
Jamie Gillan burst on the NFL scene as an undrafted free agent in 2019.
With his tremendous leg strength, Gillan blasted a 74-yard punt in the 2nd preseason game of the 2019 season against the Indianapolis Colts.
Named the starting punter on August 31, 2019, he dethroned 10 year NFL veteran Britton Colquitt.
He ended his rookie season as a selection on the Pro Football Writers Association All-Rookie Team with 63 punts for 2,913 yards, and 28 of those punts were downed inside the 20 yard line.
UPDATE: The Scottish Hammer ripped down a tree from the forest with his bare hands and is now doing squats. #HammerWatch pic.twitter.com/fEYsNfQZv9

— Dawgs of War Podcast (@DoWPodcast) May 8, 2020
Browns fans hope The Scottish Hammer is staying strong in quarantine so he is ready to boot long punts in September.