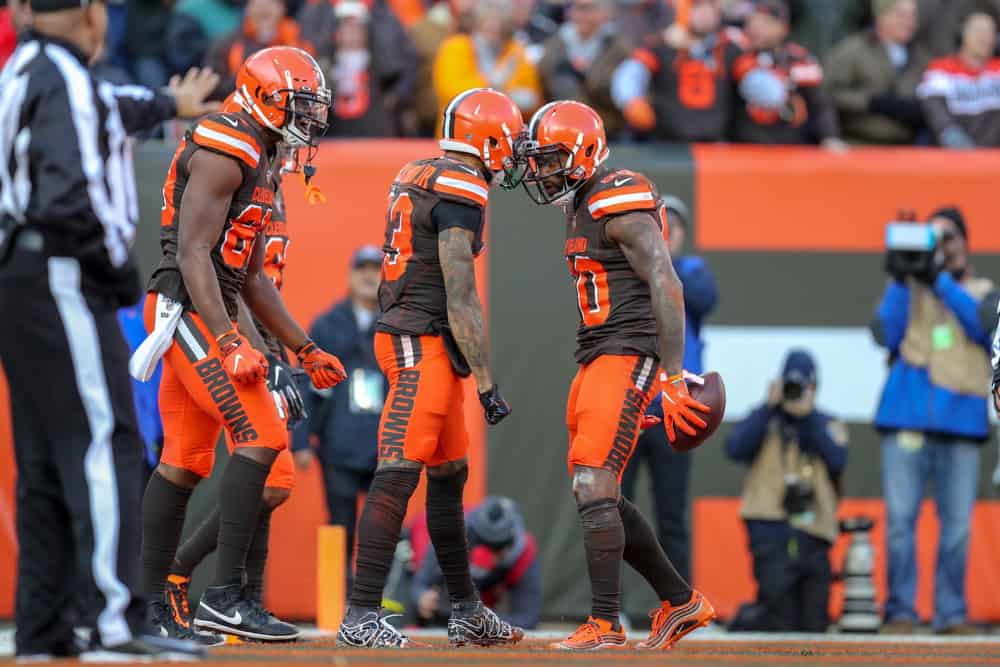 The Cleveland Browns enjoyed an offensive explosion to the tune of a 49-point performance against the Dallas Cowboys.
However, things won't be as easy for Baker Mayfield and friends this Sunday as they take on the top-rated Indianapolis Colts defense.
Defensive Stampede
Number one rated defenses don't earn that title on accident.
The Colts defense is no joke this year as they have absolutely suffocated their opponents week in and week out.
They have allowed just 56 points to this point, something they haven't done in a four-game stretch since 2013.
The Colts also held the Bears to just 28 yards rushing last week, a number they hadn't held an opponent to since 2009.
Justin Houston, defensive end for the Colts, told ESPN his defense was "the best defense playing this game right now".
Again, the numbers reflect exactly that.
The Colts have allowed an average of just 236 yards of offense to their opponents this season, by far the lowest mark in the NFL.
Their 14 points allowed per game is also league-low through four weeks.
Colts' defense the past 3 weeks:

— giving up just 234 yds/game
— allowing just 9 points per game
— 7 takeaways in that span

A quarter into the season, they're the top defense in the NFL.

— Zak Keefer (@zkeefer) October 4, 2020
Sure, some of their play could be chalked up to facing poor quarterback play.
The guys they have faced so far this season include Gardner Minshew, Kirk Cousins, Sam Darnold, and Nick Foles.
That isn't exactly a full slate of Pro Bowl-caliber talent.
Still, Indianapolis has shut their opponents down on the ground this year as well, so credit must be given where it is due.
One guy that has given this Colts defense a huge boost this season is former first-round pick DeForest Buckner.
Back in March, Indianapolis acquired Buckner from the 49ers in exchange for a first-round pick.
Some questioned the move, but boy does Chris Ballard sure look like a genius now.
Buckner has made an immediate impact with the Colts defense and resumes his position among the league's best defensive players.
DeForest Buckner in Week 4 vs. the Bears:

🔹 90.6 PFF grade (4th-highest-graded defender league-wide in W4)
🔹 5 QB pressures (3 hits + 2 hurries) pic.twitter.com/1vyLn4oIBw

— PFF IND Colts (@PFF_Colts) October 5, 2020
Countering The Colts
Of course, moving the ball against the Colts will be far from easy.
One area that has been a bright spot so far, the offensive line, must continue to be great this week.
They were fantastic against Dallas both in the rushing and passing game.
The Browns offensive line, WR's and FB getting after the Cowboys in the run game. Offensive Line coach Bill Callahan is a master. His guys play hard and it is contagious. pic.twitter.com/b8BwnNnle2

— Odds and Ends with Mike Tice (@miketice86) October 6, 2020
We know Chubb and Hunt are good. The world does. But Hilliard and Johnson? No disrespect to them, but the Browns offensive line was showing off yesterday.

I don't know if there's anything more satisfying as a football fan than a good OL. They've been excellent.

— Ken Carman (@KenCarman) October 5, 2020
There isn't a better Offensive Line in football than the unit that walks through the tunnel every week for the Cleveland #Browns. 4/5 starters grade Top 10 at their respective position, including Wyatt Teller currently pacing the field @ G, league wide. pic.twitter.com/5dFEIkNEsP

— CLEology (@_CLEology) October 6, 2020
Without Nick Chubb for this week (and at least five more), the duties of D'Ernest Johnson, Kareem Hunt, and Dontrell Hilliard will be called upon once again.
Their jobs can be made a heck of a lot easier if the offensive line simply plays the way they have all season.
"Keep it simple" should be the motto for Mayfield and the passing game.
That doesn't mean they should become overly conservative like they did at points in the second half of the Dallas game.
However, this week doesn't feel like one where you need Baker to throw over 50 passes and throw four touchdowns.
He threw just 30 times against the Cowboys in a game that was not as close as the final score indicates.
Becoming too one dimensional one way or the other plays right into the Colts' hands.
Enforcing a strong run game while mixing in some quick strikes through the air can help simplify things against a stout Indianapolis defense.