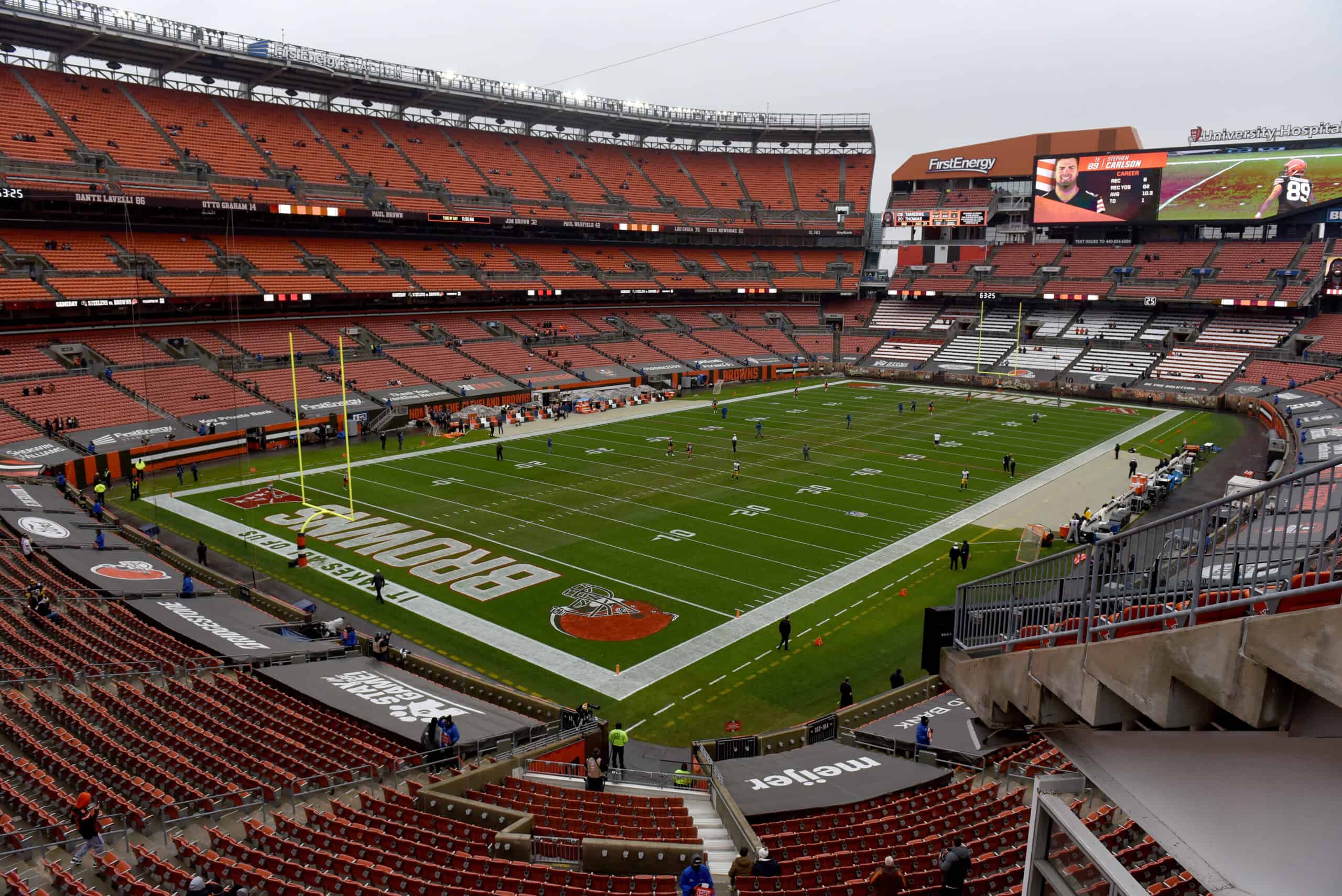 It is Monday, February 21, 2022, better known as Presidents' Day.
The city of Cleveland and some of the Cleveland Browns were front and center for the NBA All-Star Weekend.
That tops our Browns Nation news and notes for Monday.
1. The City Gets Rave Reviews 
The NBA All-Star Weekend festivities have concluded.
Cleveland, Ohio … shining bright for #NBAAllStar Saturday Night! 💎 pic.twitter.com/rE1QH2wWNq

— Matt Sexton (@thatsexton) February 20, 2022
Once again, just like during the 2021 NFL Draft, the city of Cleveland planned and put on a great event.
Not even ice and snow took away from the positive comments about the weekend.
Have heard nothing but positive reviews of Cleveland's job hosting NBA All-Star Weekend, snow and all.

— Ben Axelrod (@BenAxelrod) February 21, 2022
Do Clevelanders understand that this guy is FROM Akron 🤷🏾‍♂️ ?? born in the SAME hospital LeBron was #StephCurry #theotherkidfromakron #Ohioan pic.twitter.com/wU0Y4I33nS

— 🇺🇸 (((RealClayDade))) 🇺🇸 (@ClayDade) February 21, 2022
Ohio native Steph Curry won the NBA All-Star MVP Award and donated $108,000 to the Cleveland Metro School District.
With Steph Curry winning NBA All Star MVP he donated $108K to Cleveland Metro School District.

Class act 🔥 pic.twitter.com/eHNNtNFat0

— 𝙅 𝘾𝙡𝙚𝙫𝙚𝙡𝙖𝙣𝙙 👑 (@King0fCleveland) February 21, 2022
2. Browns At All-Star Game
After his show-stopping performance in the Celebrity All-Star Game, Myles Garrett was spotted in the crowd for last night's game.
Fans barking for #Browns Myles Garrett at the #NBAAllStar Game. pic.twitter.com/IWtfhyw9gm

— Camryn Justice (@camijustice) February 21, 2022
Donovan Peoples-Jones, Denzel Ward, and Kareem Hunt were at All-Star events also.
3. Problems With The 2022 NFL Combine
As reported yesterday, the 2022 NFL Combine is set to begin on March 1.
The NFL made last-minute changes due to COVID-19 protocols on Saturday, February 19.
Among the most significant changes is how many support personnel can travel with the players.
Instead of their entire team, each player is allowed only one medical support person.
Many players planned their travel and logistics for the 2022 NFL Combine months ago.
Agents representing more than 150 draft prospects are organizing a boycott of all testing, on-field workouts and interviews at next month's NFL scouting combine if heavy "bubble" restrictions aren't changed, sources tell me and @TomPelissero

— Ian Rapoport (@RapSheet) February 21, 2022
There are now reportedly as many as 155 players and their agencies threatening to boycott the 2022 NFL Combine because of the eleventh-hour rule changes.
The combine is a major TV event (read: $$$) for the NFL. Let's see if this move spurs any change in protocols. https://t.co/JiBW7zNjWd

— Lindsay Jones (@bylindsayhjones) February 21, 2022
There is also a scheduling change packing key activities; bench press, measurements, and on-the-field work on the same day.
Those activities previously happened on separate days.
Changes coming to the NFL Combine in a little over a week!

"On the fourth day of being there having them do all that stuff at once is crazy," one player agent told CBS Sports.https://t.co/CBStPgZe7V

— Cody Carpentier (@CarpentierNFL) February 19, 2022
4. Presidents' Day Humor Ohio Style
Today is Presidents' Day, and Ohio does have a Presidential namesake; he is currently the head coach of the Cincinnati Bengals.
Despite that fact, this is still a funny Presidents' Day bit.
Happy Presidents Day, Zac Taylor! You haven't aged a bit pic.twitter.com/Hl1ayovppL

— DollarDog Nick (@DollarDogNick) February 21, 2022
For those wanting a history lesson, Zachary Taylor (pictured on the right) was the 12th President of the United States.
Happy Monday Browns Fans!