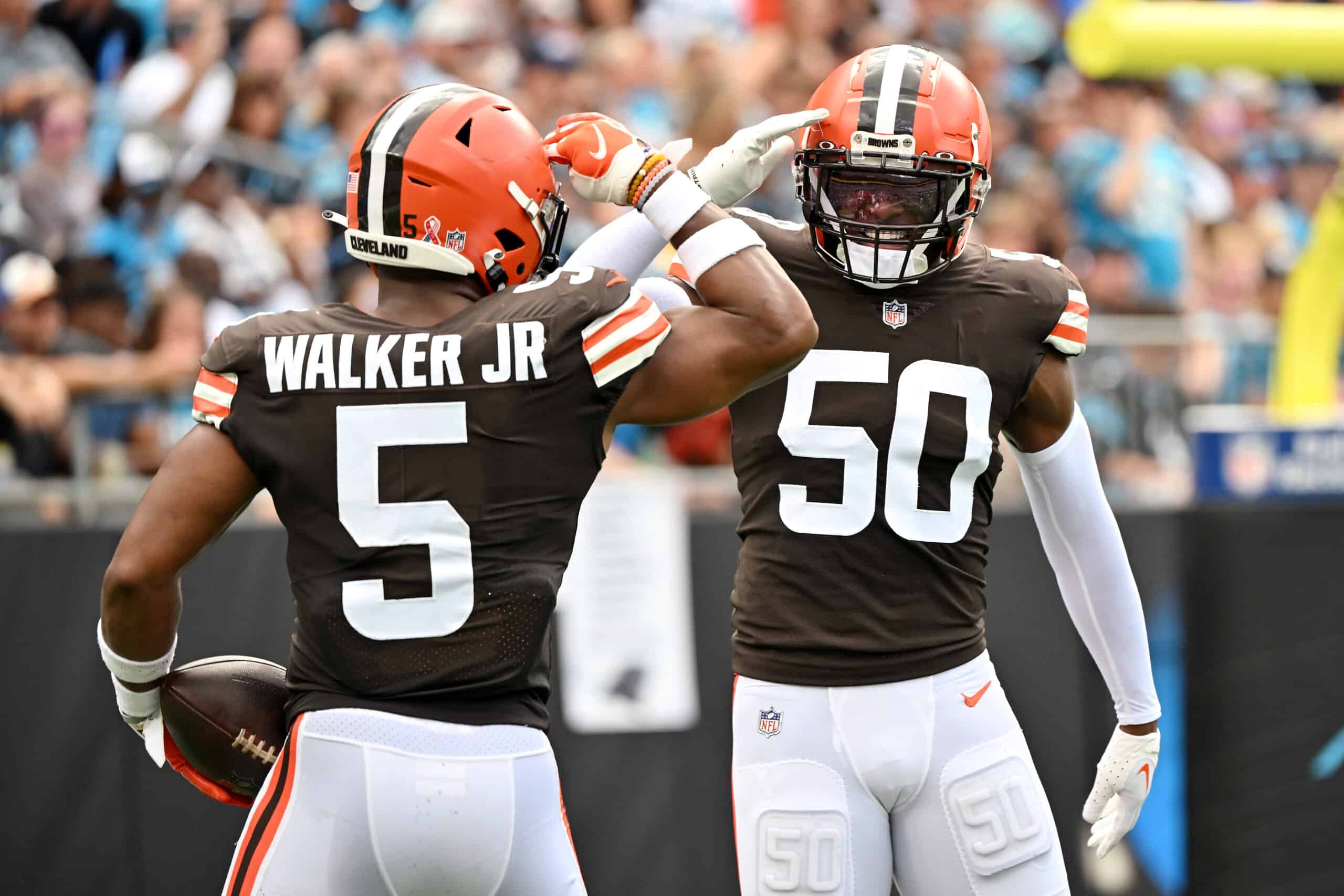 Andrew Berry went to work fixing holes and finding "Jim Schwartz-type" players in free agency.
But if he is done fiddling with the linebacker room, this group will look very familiar to Cleveland Browns fans.
Berry signed a pair of young projects to futures reserves contracts.
And he re-signed special teams stalwart Jordan Kunaszyk and free agent Matthew Adams.
But Sione Takitaki and Anthony Walker are more likely to rejoin the 2023 linebacker rotation.
Anthony Walker Jr knocks it loose #Browns pic.twitter.com/X4kXGy52CP

— Pro Football Culture (@proftblculture) September 18, 2022
They join incumbents Jacob Phillips, Jeremiah Owusu-Koramoah, and Tony Fields II.
Four of those 5 main linebackers finished the 2022 season on injured reserve, along with Kunaszyk.
Much has been written about Schwartz's more aggressive defensive style.
His reliance on the front four, man-coverage outside, and the importance of his safeties are well documented.
But can this group of linebackers hold up or even stand out in the middle of it all?
State Of The Linebacker Room 
One of the most important signings of the offseason is Anthony Walker.
Cleveland's defense suffered massive communications issues and disorganization without him.
Walker was on his way to leading the team in tackles for a second straight season before getting injured.
But even though Schwartz will utilize the same 4-3 lineup, roles and responsibilities are likely to change.
Cleveland's new coordinator spreads things out and creates pressure through matchups.
Big Ben finds an open Sione Takitaki for his fourth INT of the daypic.twitter.com/7Ws4lYulWa

— PFF (@PFF) January 11, 2021
He wants the blitz to be a surprise, not a necessity.
And the threat of a blitz, as well as tying up a second blocker on Myles Garrett relies on the players behind him.
Cleveland's Core 5 have speed, tackle well enough, and are adequate in pass coverage.
This could be Phillips' last chance to prove himself and JOK needs to bounce back from a quiet 2022.
And Schwartz's scheme could be just what the doctor ordered to let them stand out.
What's Next At Linebacker? 
There are a couple of interesting linebackers projected to fall into the middle rounds of the NFL Draft.
But Berry seems to have faith in his nondescript group.
Cleveland has enough camp bodies between his special teams aces and future reserve players.
So it is possible the position is set barring injuries.
But in a "best available athlete" draft scenario, someone could jump on board.
not going anywhere!! 🙅‍♂️ Jordan Kunaszyk & @realgrantdelpit in on the play

📺: #CLEvsMIA on CBS
📱: Stream on NFL+ pic.twitter.com/RA9UfKui7v

— Cleveland Browns (@Browns) November 13, 2022
And another low-priced (cut-able) veteran thrown into the group before camp should not surprise anyone.
Either addition serves to make Phillips' and Takitaki's preseason more important than it already is.
Overall, it is a group that might be adequate as-is, but with only 2 (Walker and JOK) who are considered locks.
And a sixth member of the room probably comes down to which special teams ace can contribute more on defense.
Unless Kunaszyk or Adams surprise Schwartz in the preseason, Bubba Ventrone might pick the last survivor.