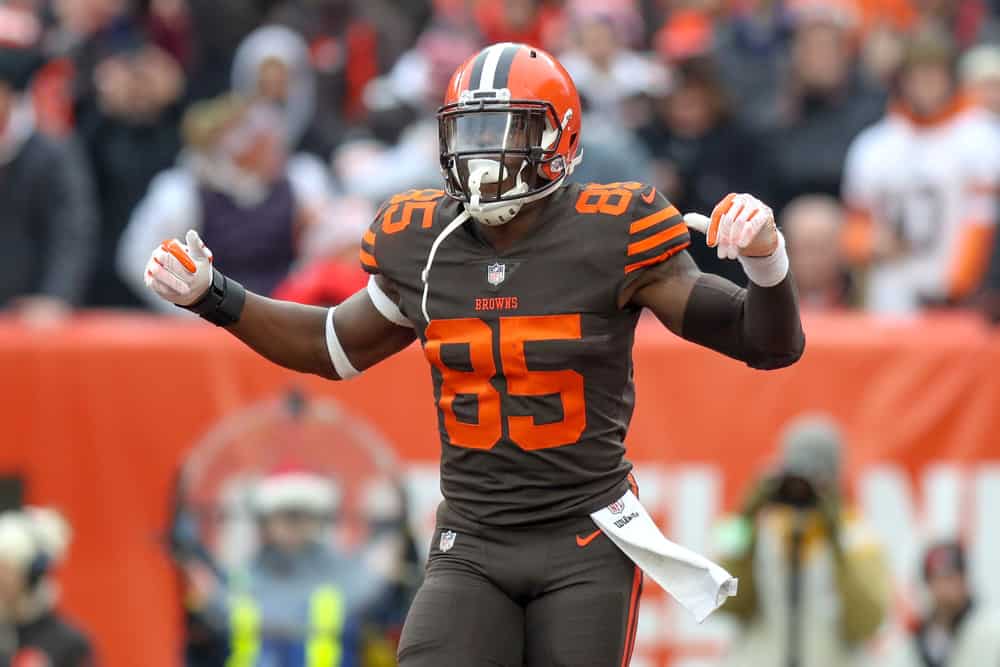 There have been a few bright spots for the Cleveland Browns during the early stages of training camp.
One of them is 24-year-old tight end David Njoku who is looking for a bounce back season in 2020.
Last season, injuries limited Njoku to four games with the Browns.
Earlier in the offseason, he requested a trade, but then quickly pulled it back.
I'm all in Cleveland. Time to work.

— Chief David Njoku (@David_Njoku80) August 1, 2020
On Sunday, Njoku made some big plays for the Browns, showing that he truly is "all in" with Cleveland.
Rookie tight end Harrison Bryant has been impressive during camp as well, so the tight end competition is heating up.
Njoku During Camp
The Browns had the second-team offense working against the first-team defense to begin Sunday's practice.
Backup quarterback Case Keenum found Njoku for a catch-and-run of about 66 yards to around the 9-yard line.
Case Keenum to David Njoku (via #Browns) pic.twitter.com/Qu0te9T6pR

— BrownsWave \: (@BrownsByBrad) August 30, 2020
Three plays later, Keenum threw a touchdown pass to wide receiver Damion Ratley.
It was a tremendous way to start off practice, but Njoku wasn't done there.
Njoku continued to pile on when the first-team offense went up against the second-team defense.
He caught three passes from quarterback Baker Mayfield during their two-quarters of play.
The first being a 13-yard pass for a first down, then Njoku converted on a fourth-and-2 from the defense's 9-yard line.
After that, Njoku caught a 7-yard pass from Mayfield that set up running back Kareem Hunt for the touchdown a play later.
Njoku has missed some time recently due to wrist soreness, but is making the most of his opportunities when he's on the field.
Njoku vs Bryant
Both Njoku and Bryant have been impressive during training camp, but there might not be much of a competition after all.
The Browns have made it clear this offseason that Njoku is part of their future plans.
They exercised his fifth-year option for 2021 and declined to trade him when he requested to be moved.
Clearly, Cleveland believes that the young tight end can bounce back despite an injury-riddled campaign last season.
He hauled in 56 receptions, 639 receiving yards, and four touchdowns during the 2018 season.
The Browns are hopeful that Njoku can bounce back and perform like he did during that campaign.
However, the Browns did add reinforcements in the form of Bryant and Austin Hooper this offseason.
Hooper is obviously going to be a huge part of the offense, but Bryant should not be overlooked.
He has performed well during camp and definitely made a name for himself.
Baker Mayfield to Harrison Bryant (via #Browns) pic.twitter.com/9UW8frD9lG

— BrownsWave \: (@BrownsByBrad) August 29, 2020
Despite his strong camp, the Browns are likely going to keep Njoku as the No. 2 option to begin the season.
There aren't any preseason games, so Bryant won't get a chance to prove himself versus a real team until the regular season.
When healthy, Njoku has proven to be a valuable member of the Browns offense.
It appears the team is going to give him the benefit of the doubt.
However, Njoku has already dealt with some soreness in the same wrist that caused him problems last season.
Bryant will be the next man up if Njoku is forced to miss any time during the season.
We'll see what happens during camp, but it appears the Browns have plenty of options at tight end in 2020.