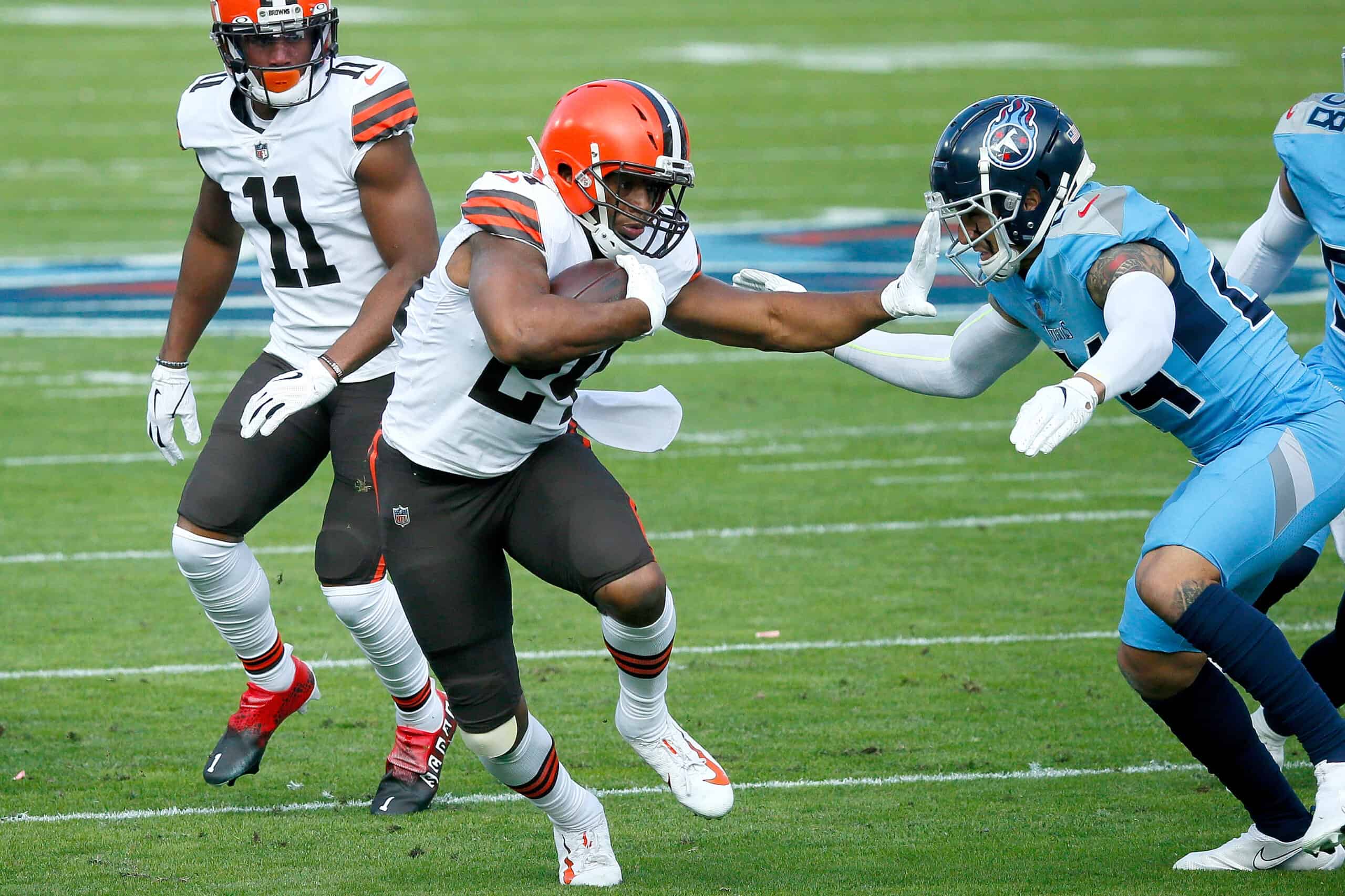 The Cleveland Browns will once again rely heavily on running back Nick Chubb to lead his team to success during the 2021 season.
Chubb is in the fourth and final year of his contract and clearly wants to win in Cleveland and stay there in the long term.
#Browns RB Nick Chubb on what it would mean to stay in Cleveland long-term: "It'd mean a lot. Cleveland drafted me, trusted me and put their faith in me to come here and help build this culture. Cleveland's where I want to be."

— Keith Britton (@KeithBritton86) June 15, 2021
With that being said, buy or sell, will Nick Chubb be the NFL rushing leader in 2021?
Buy
He has been close before when the Browns were a struggling team just two seasons ago.
Nick Chubb came 47 yards shy of the NFL rushing title despite:

A bottom 10 blocking line.
Asinine usage.
Sharing the field with Kareem Hunt for 8 games.

There's only one Rb that dominated regardless of everything working against him. The best back in the NFL is Nick Chubb. pic.twitter.com/6cGiRteoiM

— Nick Karns (@karnsies817) August 12, 2020
Chubb nearly snagged the NFL rushing title from Tennessee Titans running back Derrick Henry in 2019.
Henry ran for 46 more yards than Chubb finishing with 1,540 compared to Chubb's 1,494 yards.
The Browns' success is based on a strong offensive line which opens up the running game for Nick Chubb.
Chubb missed four games last year due to injury and still managed to rush for 1,067 yards throughout the 2020 regular season.
Sell
Chubb shares carries with Hunt.
Though the running back by committee structure works for the Browns offense, it does lower the individual statistics for both Chubb and Hunt.
That makes it difficult for Chubb to win the rushing title compared to someone like Derrick Henry who is the featured running back on the Titans offense.
To be successful and make the postseason in 2021, the Browns will need to be more creative with the offensive playbook.
Teams know that Chubb and Hunt are the workhorses of the offense so shutting them down means the Browns may have to win games with the passing game.
For this reason, it is possible Chubb could finish with only 1,000 yards in 2021.
That is not a bad thing especially if the Browns are winning, but it is not enough to secure the rushing title.
Though Chubb only lost the rushing title by 46 yards in 2019, he likely would not have won it in 2020 even if he was healthy for all 16 regular-season games.
Henry won the 2020 title by rushing for a staggering 2,027 yards which means he outrushed his previous season's winning performance by nearly 500 yards.
It is also not a two man race between Henry and Chubb.
In fact, oddsmakers do not project Chubb to even come in second in 2021.
Will King Henry take home the rushing title again in 2021? 👑⚔️ pic.twitter.com/tSI1ozzG8G

— PFF (@PFF) June 6, 2021
This is a realistic prediction since Minnesota Vikings running back Dalvin Cook finished second to Henry last season also.
Your 2020 Rushing Yards leaders!

(by @Bridgestone) pic.twitter.com/4w8Px3Z3v2

— NFL (@NFL) January 6, 2021
In 2020, Cook rushed for 1,557 yards.
Indianapolis Colts rookie Jonathan Taylor finished third with 1,169 yards.
Aaron Jones of the Green Bay Packers had 1,104 yards and finished fourth.
Cook, Taylor, Jones, and a healthy Saquon Barkley and Christian McCaffrey can each contend for the 2021 rushing title.
Conclusion
The Browns do not need Chubb to be the NFL rushing leader to fulfill their postseason aspirations.
Chubb is a team-first guy so he would prefer the Browns make a Super Bowl run instead of him winning the rushing title in 2021.
Let's hope Chubb stays healthy and can compete in all 17 regular-season games and let the chips fall where they may to see where he finishes in rushing yards.