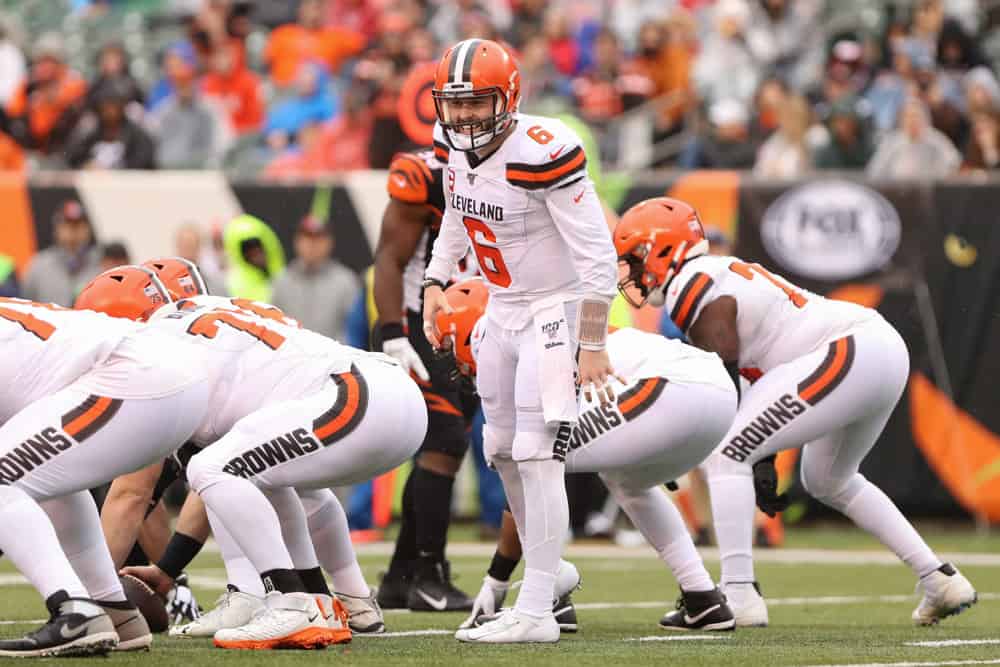 After a rough loss to the Raiders, the Cleveland Browns record fell to 5-3.
But things are still looking up for the team in the second half of the year.
With all that being said, let's take a look at the positional grades at the midpoint of the season.
Offense
When we talk about the offense, the conversation invariably turns to Baker Mayfield.
At midseason, he sits at 1,514 YDs, 15 TDs, 7 INTs, and a QBR of 73.1 (12th in the NFL).
The problem with Baker is the inconsistency.
And others?
We get throws like this to win games.
Baker Mayfield completes 22 of his final 23 attempts today for 297 yards, 5 TD and this total DIME to win the game. pic.twitter.com/BDV4Rusl0x

— Field Yates (@FieldYates) October 25, 2020
While his decision making HAS to improve, he's been without Nick Chubb.
Even with the OBJ injury, there is still plenty of season for Kevin Stefanski to get the offense back on track.
Grade: B-
Running Backs
The Browns have the best two-headed attack at running back in the NFL in Nick Chubb and Kareem Hunt.
With that being said, we are missing one: Nick Chubb went down in Week 4 against the Cowboys.
And man, we miss him.
Nick Chubb has

more yards than Chris Carson

as many TDs as James Conner

averages more ypc than Dalvin Cook

he's only played 3 full games and got 6 carries in the fourth game + he shares a backfield with Kareem Huntpic.twitter.com/OB18XID9WS

— airick²⁷ (@WalkoffBo) October 29, 2020
Even with Chubb out, the Browns have racked up 1,200 yards total on the ground in 8 games with Kareem Hunt carrying the load.
A key part of Coach Stefanski's offense is a heavy dose of the run game, and the Browns have excelled in that regard.
These running backs are doing work, and will only get better when Chubb returns from the IR.
Grade: A
Wide Receivers, Tight Ends
I'm going to go ahead and preface this entire section by saying we will miss OBJ.
He's a dynamic talent that can change the game with one play.
But I think anyone who has watched a Browns game noticed he didn't seem to be in-sync with Mayfield.
Something was just missing.
Jarvis Landry leads the team with 419 YDs on 50 targets.
But this groups NEEDS to step up in the absence of OBJ.
Rashard Higgins and Donovan Peoples-Jones looked good in the game against the Bengals, but prior to that were afterthoughts in the offense.
The tight ends have been a mixed bag.
Free-agent prize Austin Hooper is third on the team in receiving yards, but doesn't seem to be the man who is going to justify his contract.
David Njoku and rookie Harrison Bryant have combined for 264 yards and three TDs.
This group has some work to do.
Grade: C
Offensive Line
Wyatt Teller has been injured the last few weeks, and Jedrick Wills Jr. is a rookie.
Jake Conklin was a steal in free agency, but any football fan knows the offensive line needs time to gel into a cohesive unit.
They didn't get that because of how COVID-19 eliminated any real preseason and summer practices where they would've normally logged the hours to come together.
There is definite potential in this unit, and ProFootballFocus.com had the O-Line as one of the top-rated units going into the season.
Once this unit gels properly, it'll be as good as it gets in the NFL.
The offensive line is getting an incomplete from me for one simple reason: we don't yet have a real feel to it yet.
Grade: Incomplete
Defense
Myles Garrett is in discussion for Defensive Player of the Year.
Denzel Ward is looking like he could become one of the top corners in the league.
Ronnie Harrison, Jr. has been a solid pick up at strong safety.
The rest?
Well, the Browns defense is a three-man show right now.
Outside of Garrett, the defensive line has failed to put up much of a pass rush.
The defense has put together 20 sacks total-and Garrett has 9 of them.
Sheldon Richardson is next up at 2.5.
Olivier Vernon put up two sacks in the loss against the Raiders, but has been MIA since he arrived in Cleveland.
The linebacker unit hasn't been much better.
B.J. Goodson leads the team with 58 total tackles and two INTs.
Mack Wilson's return after injury hasn't been the boon that was expected.
He's looked out of position and consistently is met by pulling guards.
Sione Takitaki is a high motor player, but he isn't an NFL starter.
Malcolm Smith looks better than Takitaki, but not much better.
The front 7 of the defense does need some help.
I'm not going to waste more time on Andrew Sendejo.
We've donated enough column space to him, but we can all agree he isn't the answer at the free safety spot.
What really doomed this part of the defense was injuries.
Greedy Williams and Grant Delpit both were expected to be starters this season.
It's hard to give them a failing grade at 5-3, but right now the defense sits at the bottom of the league in defensive statistics.
Hard to argue that.
Grade: C-
Special Teams
Jamie Gillen and Cody Parkey haven't looked too bad this season.
Parkey is 10 of 11 on FGs with 22 of 23 on XPs, and Gillan is averaging 44.8 yards per punt.
After watching that first bit of Cleveland winter weather hit, they both need to work on getting comfortable kicking at FirstEnergy this time of year.
DPJ looks like he could be a great returner, averaging 22.5 yards per kick return.
They're definitely doing their jobs.
Grade: B
Overall
The Browns definitely have something going, and I think much of that has to do with what Andrew Berry and Co.
The front office and Kevin Stefanski have done a lot to change the image of the Browns.
The offense definitely has more going for it at this time; it's simply better overall than the defense.
Overall Team Grade B-