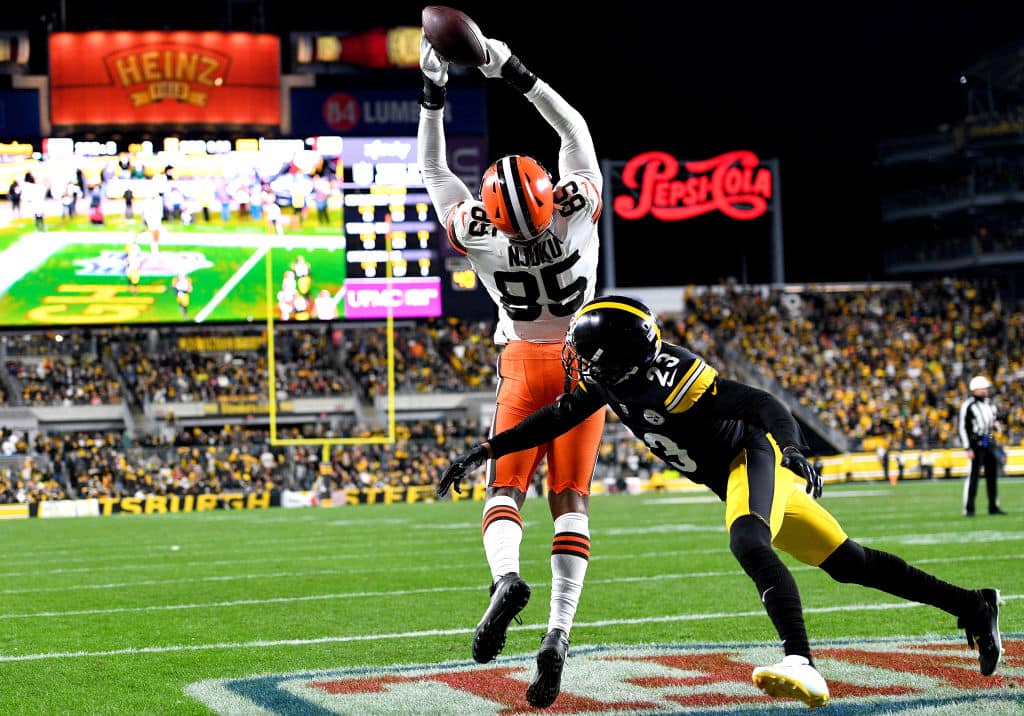 The (7-9) Cleveland Browns matchup with the (7-7) Pittsburgh Steelers in week 18 of the NFL season.
The Browns enter this matchup coming off a win against the Washington Commanders.
Who will prevail?
Let's take a look at our writer's bold predictions for this matchup.
Writer: Wendi Oliveros

This Week 18 prediction for me follows the adage "Go Big Or Go Home".
In this case, the Browns are going home regardless after the Steelers game missing the playoffs for a second straight year.
There has been plenty of drama for the 2022 Browns, and it has been exhausting, but even if the Browns players and coaches themselves are fatigued from all of it, beating the Steelers in Week 18 and knocking them out of the playoffs is enough to hype them up.
Big Ben Roethlisberger's chatter about the Steelers beating the Browns, finishing the season winning four straight games, and making the playoffs only serves as additional bulletin board material.
The Browns are playing for 2023 on Sunday.
It is unclear what happens with this roster and the coaching staff after the game.
Finishing positively with a big divisional win is as good as it gets when January football ends before the playoffs.
Deshaun Watson and the Browns will tee off on the Steelers and bring home a big win.
Get your brooms ready for the season sweep of the Steelers that is about to take place!
My Prediction: Browns 27, Steelers 17
Writer: Ben Donahue
Without a doubt, the Cleveland Browns are one of the most difficult teams to predict.
One week, they resemble a JV outfit, then the next week they beat a team they shouldn't.
Last Sunday, Cleveland took down the Commanders in DC and Deshaun Watson looked better.
This Sunday, the Browns head to Pittsburgh for the last game of their 2022 season.
It's hard to believe, but since Mike Tomlin became Pittsburgh's coach in 2007, he's never had a losing season.
Cleveland has a chance to ruin that mark.  Should the Browns win, the Steelers' record will fall to 8-9.
Maybe that's incentive enough to get Cleveland its second win in a row.
Unfortunately, Pittsburgh has only given up 17 points or fewer in seven of their last eight games.
The Browns' offense is hit-and-miss and last week was the first time Cleveland scored more than 13 points since early December.
In other words, if Cleveland plays Houston or Washington, they do well.  Anyone else, and they struggle.
Cleveland beat Pittsburgh back in Week 3, 29-17, as the Steelers got off to a bad start in 2022.
Since then, Pittsburgh has course corrected and is battling for a playoff spot.
Pittsburgh's quarterback situation has been sketchy, but they have two good runners in Najee Harris and Jaylen Warren.
That doesn't bode well for a Browns' defense that already gives up big chunks of yards to opposing running backs.
To make matters worse, defensive end Jadeveon Clowney was sent home by Cleveland on Friday and it looks like he will play elsewhere next season.
Without Clowney to occupy blockers, Pittsburgh can focus more on Myles Garrett.
I'd love to see Cleveland end the year with two wins, but Pittsburgh at home with a possible playoff berth is too much to overlook.
My Prediction: Steelers 24, Browns 17
Writer: Pat Opperman

Pittsburgh's playoff fate rests in the hands of the Cleveland Browns Sunday.
Kevin Stefanski's team also has the chance to sweep the season series for the first time since 1988.
Myles Garrett declared such a victory would make his season.
That's what happens when you're already knocked out of the playoff race.
Deshaun Watson snapped out of his funk in the second half of last week's game.
And that raises hopes that Cleveland will rise to the occasion in Pittsburgh.
But there are warning signs the team could revert to their first half form instead.
That was hard to watch, and left Baltimore in shape to win.
Besides the Jadeveon Clowney statements and release, there is a more concerning undercurrent.
Lost in the outrage against the player is another accusation of substandard coaching.
Or at least some dissatisfaction with the way things were handled.
Garrett says he doesn't understand why his teammate thinks he gets favorable treatment.
But with all this season's confusion, blown assignments, and coach's unfortunate comments, it's hard to doubt Clowney.
Meanwhile, Pittsburgh has an unexpected Week 18 playoff scenario and can save Mike Tomlin's winning season-streak.
Home field tilts things the wrong way in a typical Browns-Steelers battle.
My Prediction: Steelers 24, Browns 20
Rocco Nuosci

Movie spoilers?
Forget it.
Spoiling the Steelers season?
Well, if Cleveland can find a way to win in Pittsburgh on Sunday, that's what will happen.
Pittsburgh is playing good football down the stretch, winning five of their last six games courtesy of some late-game heroics from rookie quarterback Kenny Pickett.
Cleveland's defense gets their first crack at him after beating up Mitch Trubisky back in September.
Cleveland's defense must find a way to slow down Pittsburgh's surging rushing attack which tallied 198 yards at Baltimore last week.
A susceptible Steelers secondary is where Deshaun Watson can get going in his first outing against Pittsburgh as a Brown.
I expect plenty of Nick Chubb though after he gashed the Steelers for 113 yards the first time around.
Will the Browns have enough to sweep the Steelers and keep Pittsburgh out of the postseason?
Not if Mike Tomlin's non-losing season streak has something to say.
My Prediction: Steelers 23, Browns 20