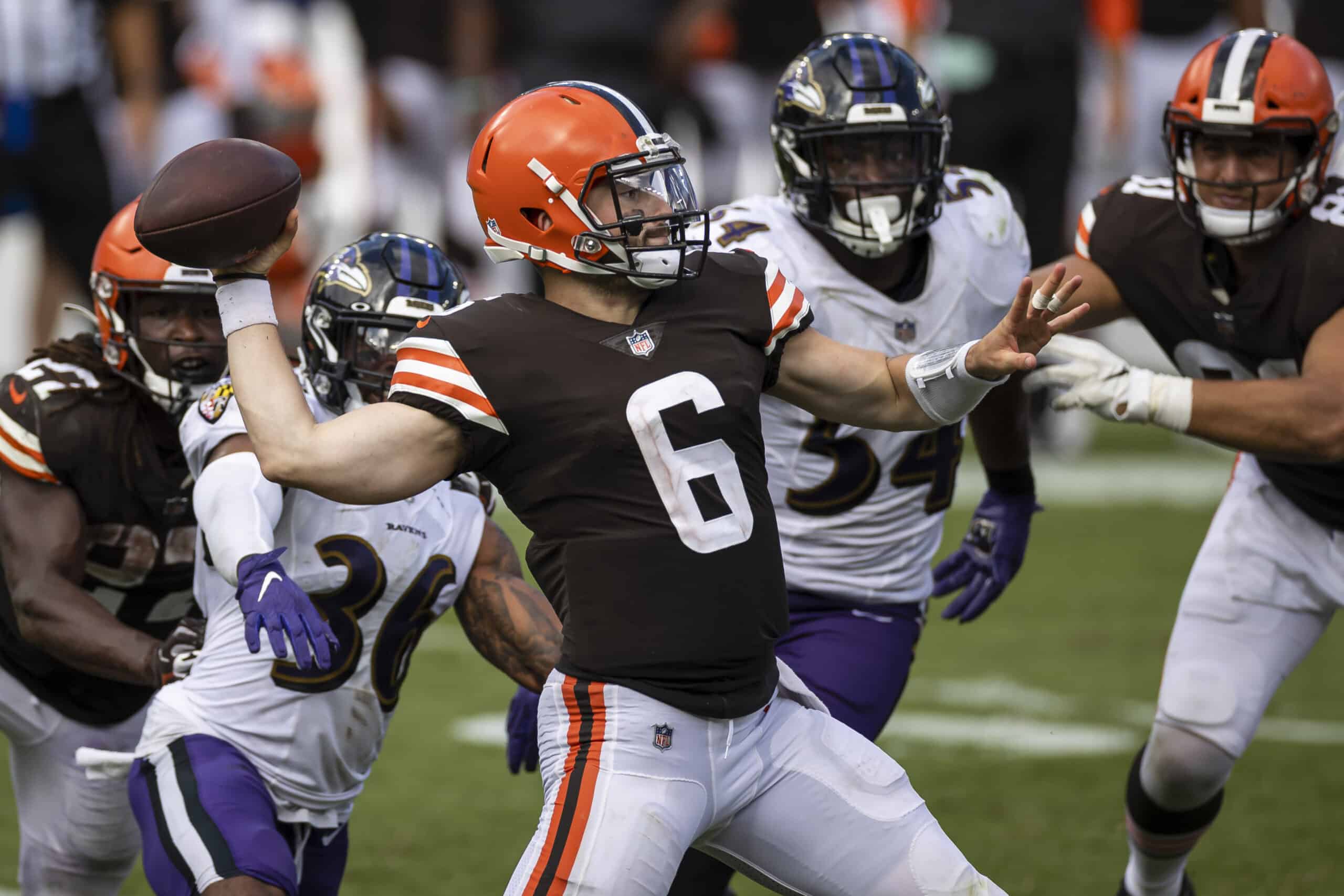 Last December, the Browns and Ravens played an epic game that resulted in a Ravens win 47-42.
But, injuries and illness have taken their toll on both these teams in 2021.
In the past 2 weeks, both the Ravens and Browns have scored only 46 points combined.
Who will prevail in this matchup?
Let's take a look at our writer's bold predictions for this Sunday's matchup.
Writer: Wendi Oliveros

The Cleveland Browns have a two-game series with the Baltimore Ravens.
The Week 12 game is in Baltimore on Sunday night and is followed by a much needed bye for the Browns in Week 13.
Week 14's game is at FirstEnergy Stadium at 1:00 PM EST on December 12.
I think the Browns and Ravens will split the series; each will win its home game.
Lamar Jackson is rested and expected to be back to his superhuman self on Sunday night.
This means another frustrating Ravens and Browns game is in our future.
I think it will be close and a winnable one for the Browns that will slip away similar to the Kansas City Chiefs and Los Angeles Chargers games.
My Prediction: Ravens 24, Browns 20
Writer: Ben Donahue
Arguably one of the worst phrases in sports is, "A win is a win."  
Usually, the party uttering this line is trying their best to excuse an ugly victory.  
That seems to be the case after Cleveland's three-point "win" over Detroit last week.  
Sure, the team picked up their sixth victory of the year.  
However, their performance against a winless team was alarming.  
Games against the likes of Denver and Detroit should be blowout victories.  
Yet, they were near escapes against clearly inferior organizations.  
Facing a 7-3 Ravens team, only the most die-hard Cleveland fans are giving the team the benefit of the doubt.  
Lamar Jackson is returning from his illness, so the Browns will have their hands full in Baltimore.  
Baker Mayfield resembles a backup quarterback and the 17th ranked Ravens defense will hound him repeatedly.  
Even with Nick Chubb running roughshod and the defense playing solid ball, I don't see win number 7 this weekend.
My Prediction: Ravens 27, Browns 16
Writer: Pat Opperman

So, Baker Mayfield is feeding himself reasons to get angry.
Because he knows as well as we do an angry Baker is a better passer than the insurance salesman.
But there is something missing between Mayfield and the rest of the team.
I go back to the Pittsburgh game when he scrambled and bounced up pumping his fists after a late hit.
The total lack of anger or emotion from any of his teammates after that set off all kinds of alarm bells.
There is plenty of fault to be shared for Cleveland's disappointing, but not hopeless, performance to date.
And someone needs to be a vocal and butt-kicking leader to rally the team from here on out.
But I think Baker is the one who will try first, and I don't think it works like it did in 2018 and 2020.
My Prediction: Ravens 27, Browns 17
Writer: Mark Bergin

The last time the Browns and Ravens played in primetime was Lamar Jackson's legendary "poop game" on Monday Night Football.
Sunday night's game will come down to whether the Browns can run the ball effectively.
The Browns are due to get back All-Pro right tackle Jack Conklin and running back Kareem Hunt.
Plus, Ravens defensive end Calais Campbell is in concussion protocol after missing practice on Wednesday and Thursday.
It's unclear whether Campbell will play.
However, Browns quarterback Baker Mayfield — who is playing through injuries to his shoulder, knee, groin and foot — has not played well for much of the 2021 season.
At some point, Browns head coach Kevin Stefanski has to wonder whether he's better playing a banged-up Mayfield or Case Keenum.
Ravens quarterback Lamar Jackson (illness) missed the Week 11 game against the Bears, but was a full participant this week in practice.
The Ravens are 3.5-point favorites.
I think Jackson will show why he's worthy of a more lucrative contract extension compared to Mayfield, his fellow quarterback selected in the first round of the 2018 NFL Draft.
My Prediction: Ravens 34, Browns 24