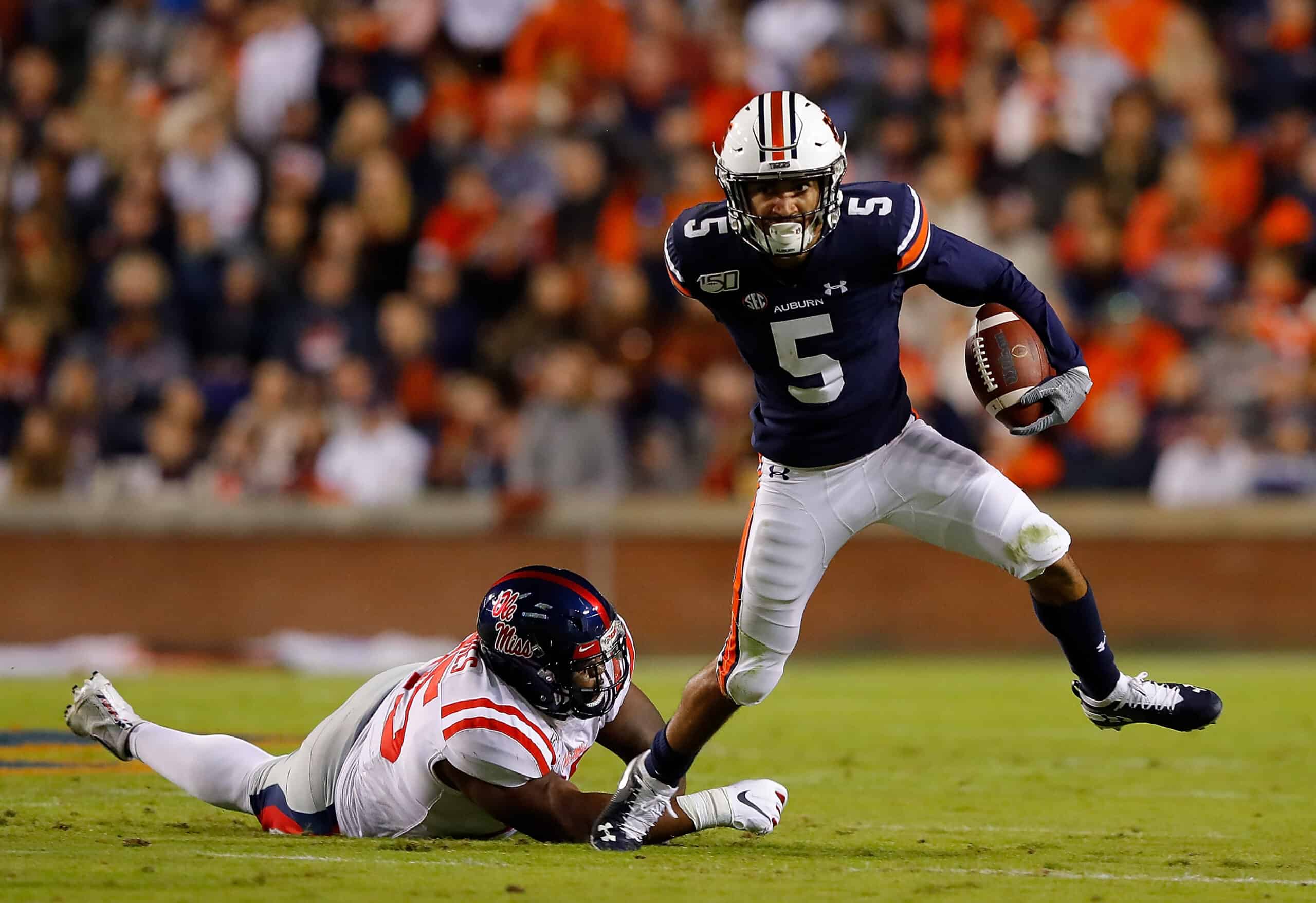 Anthony Schwartz is the Cleveland Browns rookie wide receiver out of Auburn.
The Browns drafted Schwartz in the third round with the 91st overall pick.
He is a dual-sport athlete, excelling in both track and football.
Schwartz is an interesting player who can be used in multiple ways in the Browns offense.
Could he win a kick returning job in 2021?
Yes, he can, and here is why.
1. Speed
At No. 91, the #Browns select #Auburn WR Anthony Schwartz who can absolutely fly. Maybe the new fastest player in the NFL.

— Ian Rapoport (@RapSheet) May 1, 2021
Schwartz's track skills are formidable.
They have to be to earn the nickname "Flash."
He has won gold and silver medals representing the United States in international track events including the 2017 Pan American U20 Championships and the 2018 World U20 Championships.
At Auburn's Pro Day in March 2021, Schwartz ran a 4.26 40 yard dash.
⚡️⚡️⚡️⚡️

4️⃣.2️⃣6️⃣ unofficial for @TheRealF1ash. #WarEagle | @BBVA_USA pic.twitter.com/FVth2pI4P9

— Auburn Football (@AuburnFootball) March 18, 2021
Speed is an important component on special teams.
The kick returner has to be able to accelerate quickly as soon as he catches the ball.
2. Rushing Experience
In his first 2 years at Auburn Anthony Schwartz had more rushing TDs than receiving TDs… he had FIVE rushing TDs as a freshmen and more rushes than receptions 👀

Stefanksi gets another toy on his offense #Browns

— MoreForYouCleveland (@MoreForYou_CLE) May 1, 2021
It is not as though Schwartz spent all of his time catching passes at Auburn.
He was utilized in the running game also.
Schwartz scored 7 rushing touchdowns and netted 323 yards on the ground during his Auburn career.
He is not just a wide receiver; he knows how to protect the ball and run downfield with it from the line of scrimmage.
Though it is not exactly comparable to special teams experience, it is more similar than what he does as a wide receiver.
3. Underdeveloped Part of Browns Game
#Browns ST coordinator Mike Priefer said we tried punt returner with rookie WR Anthony Schwartz before he hurt hamstring, would like him to develop into kickoff returner

— Nate Ulrich (@ByNateUlrich) June 17, 2021
Another reason Schwartz could win the job as kick returner is because the Browns special teams game has lacked a superstar.
It has not been since 2015 since the Browns had a special teams touchdown, and that was a punt return by Travis Benjamin.
This is not meant to minimize the efforts of Donovan Peoples-Jones, JoJo Natson, and D'Ernest Johnson, but the Browns special teams roster needs a jolt.
A jolt of speed, that is.
Maybe in the class of retired players like Devin Hester or Super Bowl MVP Desmond Howard.
Both also competed in track in high school or beyond, and they were serious threats to run every punt or kick back they fielded.
It got to the point that kickers would kick away from these players which opened up other possibilities for their special teams coaches.
Schwartz could be that type of player on special teams that opposing kickers fear and keep the ball away from.
Anthony Schwartz is a versatile player who is one of many new faces on the Cleveland Browns that will be fun to watch this summer and fall.