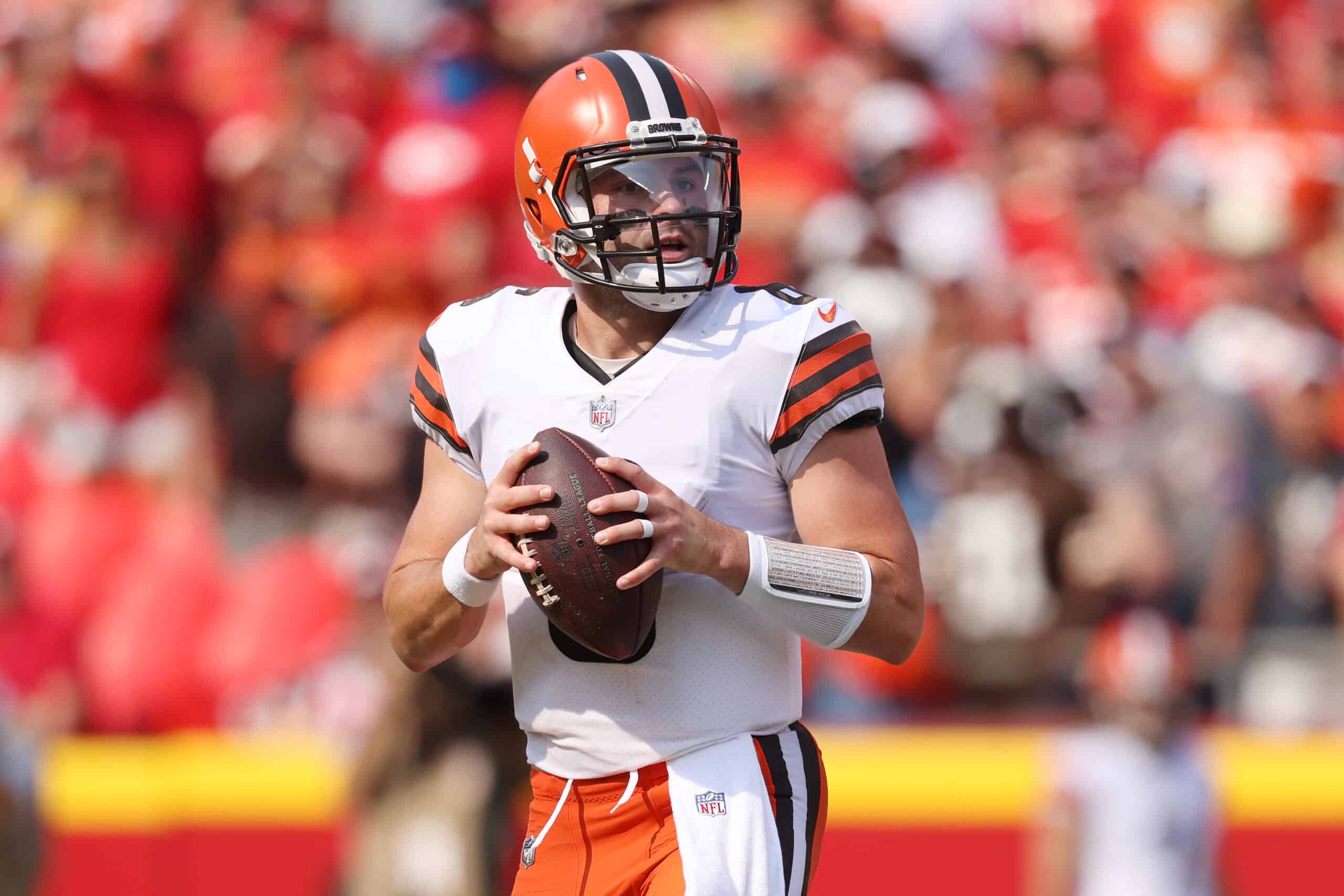 The Cleveland Browns have endured a long week of analysis on what went wrong in their loss to the Los Angeles Chargers in Week 5.
There are more opinions than days in the week.
Some are biased, and others are not.
ESPN's Dan Orlovsky, a former NFL quarterback, has said a lot about Mayfield in the past, but this categorization of Mayfield and his peers makes the most sense.
.@danorlovsky7 offers a STRONG defense of Baker Mayfield 😶

"Sometimes we talk about Baker Mayfield like he's been an absolute bum! … Baker Mayfield is a really, really, really good QB, and the Browns can ABSOLUTELY win a Super Bowl with [him]." pic.twitter.com/b4fTyZbCyT

— First Take (@FirstTake) October 14, 2021
Orlovsky's Perspective
He divides NFL quarterbacks into tiers.
One tier would be a group of quarterbacks who can lead a team to a Super Bowl because of them.
Aaron Rodgers, Russell Wilson, and Patrick Mahomes are in this tier.
Orlovsky projects that Josh Allen may also be in this tier eventually.
The second tier is a group of quarterbacks who a team can win a Super Bowl with.
He puts Baker Mayfield in this grouping.
Not all quarterbacks are the same, and they also do not run the same offenses.
Historical Analysis Supports Orlovsky's Opinion
Orlovsky goes back through the years of Super Bowl Champions and asks the rhetorical question if people expected them to be in a Super Bowl.
Nick Foles and Joe Flacco come to mind as quarterbacking Super Bowl Champion teams; virtually no one would have predicted either would do so.
He also mentioned Matt Ryan and Jared Goff as quarterbacks leading their teams to the Super Bowl.
Orlovsky does not mention perhaps the best example of all; that is Trent Dilfer.
Dilfer is a Super Bowl Champion and was part of a total team effort, including an outstanding defense, who won a Super Bowl.
Mayfield Can Win
Morning

The @Browns can absolutely, 100%, unquestionably win a SB with Baker Mayfield

Thanks

— Dan Orlovsky (@danorlovsky7) October 13, 2021
Orlovsky is correct.
Mayfield was very close to an AFC Championship game last year had it not been for Chad Henne's heroics for the Kansas City Chiefs.
He is still young and is working on his game.
Quarterbacks Who Did Not Win
There are legendary Hall of Fame quarterbacks who never won a Super Bowl.
Dan Marino is a classic example of one of the best ever to play the position and yet never win a Super Bowl title.
On this day 38 years ago Dan Marino makes his first career NFL start as the Dolphins played the Buffalo Bills in the Orange Bowl. Marino was 19 for 29 passing for 322 yards, 3 touchdowns, and 2 interceptions. The Dolphins lost the game 38-35 in overtime. #MiamiDolphins #Bills pic.twitter.com/Bkmi6D9go4

— The Phinstones (@The_Phinstones) October 9, 2021
He got to the Super Bowl in his second season, lost the game, and never made it back there again.
Yet everyone would unanimously agree that it is easy to envision Dan Marino as a Super Bowl quarterback.
It is an easier image to imagine than Trent Dilfer winning one.
This is not a knock on Trent Dilfer.
The point is football is and will always be a team game.
The quarterback needs to be a good player, but he needs to be surrounded by equally talented players on defense and special teams so the team can win.
Mayfield is a very good player, and he has a talented roster playing with him.
This team is just getting started.
The best way to get the monkey off their backs is to knock off the undefeated Arizona Cardinals this weekend.
That will change the tide and the narrative on the Cleveland Browns, for at least a week.