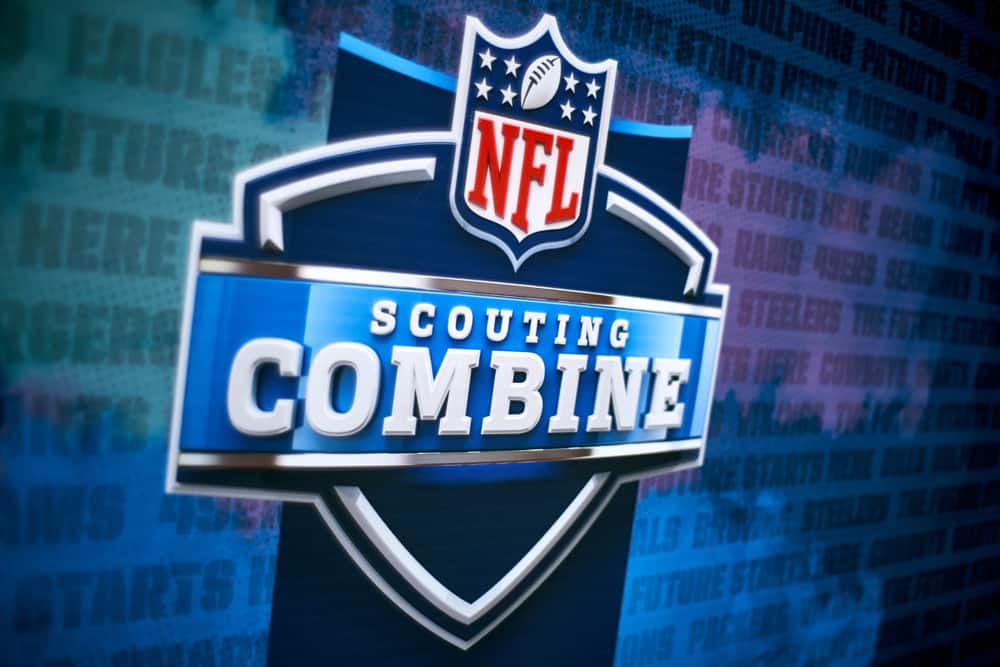 Hundreds of college students and recent graduates are on their way to Indianapolis for a very special job fair.
Unlike job interviews you and I might attend, employers will judge bodies and exhibit much prejudice.
But that's what happens when your job entails moving bodies, running around them, or both.
The NFL Scouting Combine, an opportunity for NFL draft-eligible players to strut their stuff, has begun.
QB1.

📺: 2020 #NFLCombine starts February 27 on @nflnetwork | @bakermayfield pic.twitter.com/434vaWqNQF

— Cleveland Browns (@Browns) February 21, 2020
Combine organizers invited 337 of the best college football players to participate.
Scouts, coaches, and other personnel from all 32 teams will watch candidates run, jump, and lift during the eight-day event.
But a whole lot of other stuff happens before any player takes the field.
Here is Each Combine Candidate's Schedule
Players arrive in four staggered groups to facilitate the flow.
On day one, each candidate goes through a registration process, orientation, and might be called in for a team interview.
Each team can interview up to 45 players (reduced from 60) in an effort to evaluate character, judgment, and more.
Team interviews can also happen on days 2, 4, or 5. Position coaches can talk to players on Day 3, too.
When @obj was WR3 at the 2014 Combine 👐

📺: 2020 #NFLCombine starts February 27 on @nflnetwork pic.twitter.com/bXlLHtQK8i

— Cleveland Browns (@Browns) February 21, 2020
Much of Day 2 revolves around official body measurements and a pre-physical assessment.
On the third day, players meet the media before returning to the hospital for a more thorough examination.
Psychological testing sessions also start on the third day and extend into Day 4.
After meeting the NFL Players Association leadership on Day 4, players head to the Indiana Convention Center for the bench press.
Players finally hit the Lucas Oil Stadium field on Day 5.
After completing a vertical jump, standing long jump, and a 40-yard dash, each player moves to position drills.
There are 16 new position drills waiting for the players aimed at better-reflecting modern NFL techniques.
After recovering from their field assessments, players go home on the sixth day.
How Important is Each Phase?
Teams have different priorities when it comes to Combine assessments.
Sashi Brown wanted his draft picks to own a high SPARQ score.
SPARQ calculates the results of the 40-yard dash, 10-yard split, bench press, vertical jump, short shuttle, 3-cone drill, and broad jump.
A higher SPARQ score, in theory, equals a higher level of athleticism.
John Dorsey believed a player's first step was the most important metric.
All of his non-quarterback draft picks had top-5 scores at their position in the vertical and broad jump.
We're just a few days away from the 2020 #NFLCombine 🙌

Look back at 📸's of our players at the Combine » https://t.co/G03lVXoOJ7 pic.twitter.com/v0jLk6eNlr

— Cleveland Browns (@Browns) February 22, 2020
Dorsey put less emphasis on psychological and character issues than some other teams.
The New York Giants, for example, put a heavy emphasis on those results.
Andrew Berry offers no clues to what he values most at the combine.
He most recently worked for Howie Roseman in Philadelphia.
Roseman is an analytics guru, but he's made some unorthodox draft picks.
That includes Carson Wentz, who Paul DePodesta famously predicted would never be a starting NFL quarterback.
But no result and no assessment theory is perfect.
"The Worst Performance in NFL Combine History"
Baltimore is a team that downplays combine performance in favor of scouting.
They point to the case of starting left tackle Orlando Brown.
Brown was rated as a top prospect heading into the 2018 Combine.
He proceeded to do less bench press reps than any other offensive lineman.
He followed that up by coming in dead last in the vertical and broad jumps, as well as the 40-yard dash.
Bad, bad Orlando Brown Jr.: Oklahoma's massive tackle has a historically bad NFL combine. @arniestapleton https://t.co/QxJ3Bwxzc1

— AP NFL (@AP_NFL) March 3, 2018
Media and scouts were not kind.
It was widely reported as the "worst performance in NFL combine history."
Brown slid all the way to the third round before the Ravens thought they better grab him.
He was a starting left tackle midway through his rookie season and a 2019 Pro Bowler.
How Valuable is the NFL Combine?
There are plenty of combine flops who went on to enjoy successful NFL careers.
There are many more players who put up great combine numbers and flopped.
Suffice it to say, Drew Brees and Tom Brady didn't impress many folks.
But Tim Tebow wowed everyone.
Teams also dislike how the NFL is trying to make the combine profitable.
Major changes are coming to the combine in 2020, and they sound better for the TV audience than the teams actually scouting players.

As they rethink what the combine should be, @kalynkahler says the bench press may be the next casualty: https://t.co/EtUWYDpO7a

— The MMQB (@theMMQB) February 23, 2020
More fan participation and TV-friendly changes this season are not popular among teams.
Perhaps this is why at least two organizations are downsizing their presence at the combine.
The Rams' new offensive and defensive coordinators will skip the event to focus on their new game plans.
Denver's assistant coaches will spend the week scouting film.
With all but three coaches new to the Browns, perhaps Cleveland would do well to leave some home, too.
Made for TV in 2020
The NFL Network changed the times on all the field events to push much of it into prime time.
The league's flagship station will air field drills on Thursday, Friday, and Saturday from 4 pm to 11 pm (ET).
It goes by a few names, "the spandex Olympics", "the underwear Olympics" but it's most formal term is the 2020 NFL Combine https://t.co/ymvTgZCIRp

— Tacoma News Tribune (@thenewstribune) February 24, 2020
Tight ends, quarterbacks, and wide receivers will kick things off on Thursday.
Running backs, offensive linemen, placekickers, and specialists will follow on Friday.
Saturday's broadcast features defensive linemen and linebackers.
Defensive backs will take the field and the airwaves from 2 pm through 7 pm on Sunday.
Fans can follow along on the NFL app, but only if your home provider offers the NFL Network.
If you are going to be in the Indianapolis area, check out how you can be on the field at Lucas Oil Stadium during the position drills.