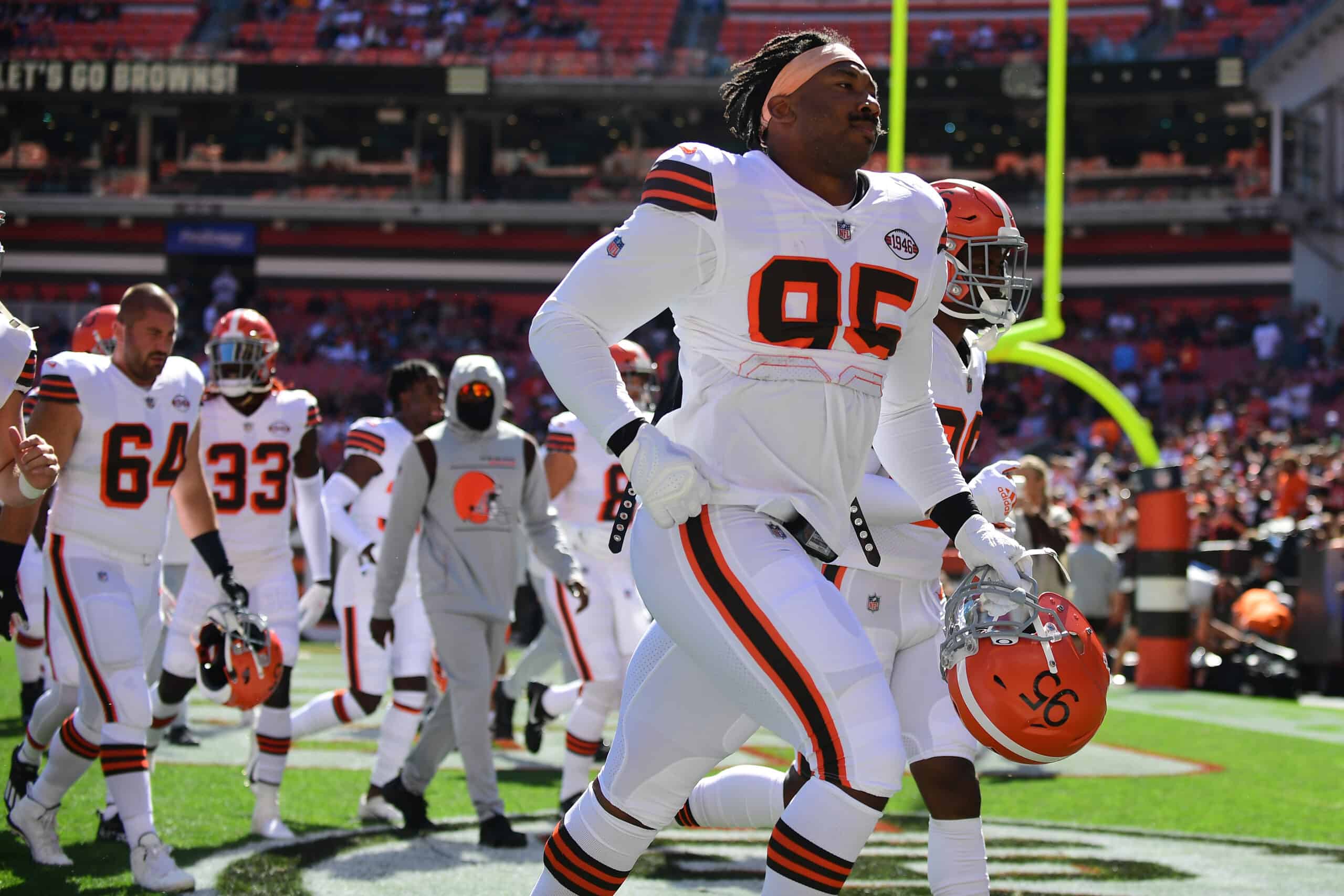 The Cleveland Browns injury report for Week 5 was long and daunting with 10 players listed as questionable.
7 of the 10 players were on defense.
We have early word on Sunday morning from Josina Anderson that 4 of those defensive stars are expected to play.
I'm told #Browns DE Jadeveon Clowney (foot), DE Myles Garrett (knee/ankle), DE Takk McKinley (ankle/knee), CB Denzel Ward (neck) are all expected to play, at this early hour, per league sources. #Browns #Chargers.

— IG: JosinaAnderson (@JosinaAnderson) October 10, 2021
They are:
Myles Garrett, DE (knee/ankle)
Jadeveon Clowney, DE (elbow)
Takk McKinley, DE (knee/ankle)
Denzel Ward, CB (neck)
There are 3 more defensive players on the injury report that we do not have a status update on.
They are:
Troy Hill, CB (toe)
Tony Fields, LB (shoulder)
Malcolm Smith, LB (abdomen)
The remaining 3 players are Jedrick Wills (ankle) who is now ruled out, center JC Tretter (knee/back), and tight end David Njoku (knee).
Browns D Is The Key
The fact that these defensive players will be available today is great news for Browns fans.
Myles Garrett is having a great year and is much needed today.
Myles Garrett has been an absolute MONSTER this season.

Sacks 6.0 1st in NFL
QB Hits 14 1st in NFL
Tackles for Loss 7 t-1st in NFL
Pressures 24 t-2nd in NFL pic.twitter.com/o8YaeObZ4P

— NFL on CBS 🏈 (@NFLonCBS) October 5, 2021
After all, the Browns D is the key to victory over an excellent Chargers offense led by second year quarterback Justin Herbert.
Herbert is the 2020 Offensive Rookie of the Year and has not shown any signs of plunging into a sophomore slump.
Justin Herbert now has 3 Pass TD in the 1st half. The last QB with 3 Pass TD in the 1st half of a Monday Night Football game?

Justin Herbert, who did it in Week 5 last season. pic.twitter.com/xLo202KJmN

— ESPN Stats & Info (@ESPNStatsInfo) October 5, 2021
Coach Stefanski talked about Herbert's abilities this week.
"Great size, great skillset throwing the ball. Athletic. I think he has good command of what they are doing and what they are asking him to do. He is spreading the ball around to a bunch of their playmakers. He is playing at a really high level."
The 23 year old Herbert has thrown 9 touchdowns through 4 games including 4 in the Week 3 Chargers win over the Kansas City Chiefs.
Conclusion
The Browns are facing a well balanced team today who have stars on both offense and defense.
This is perhaps the most well rounded team they have played so far in 2021.
Win or lose, the game will serve as a good barometer of where the Browns are.
Having the defensive stars on the field certainly helps the cause.