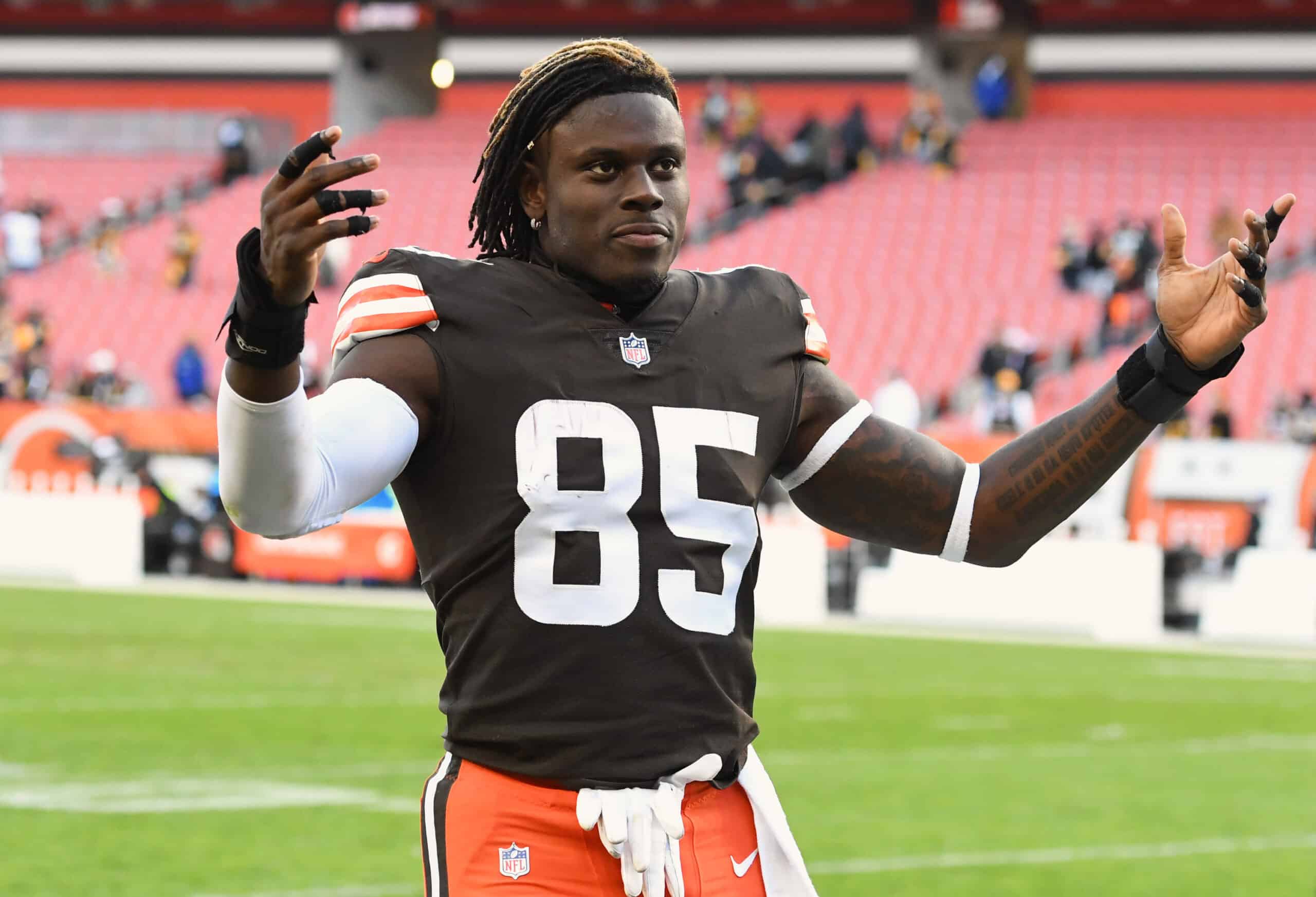 Andrew Berry raised a few eyebrows when he awarded a hefty $56 million contract to David Njoku.
The Cleveland Browns' tight end seemed to be getting paid for what Berry thought he could do.
And with the release of Austin Hooper, Njoku had a chance to do a lot more than he had to date.
The Browns  have agreed to a 4-year contract extension with TE David Njoku worth more than $56 million!!! pic.twitter.com/rJhb7lerGC

— Cleveland Sports Talk (@CLEsportsTalk) May 27, 2022
Injuries cost him 3 games and Cleveland changed quarterbacks in Week 13.
That conspired to keep him from registering many career bests, but Njoku still enjoyed a solid season.
Here is how we are grading David Njoku's performance in 2022.
By The Numbers: B
Njoku racked up 628 receiving yards, just shy of his career-best and 8th-most among NFL tight ends.
And for the 4th time in his 6-year career, he scored 4 touchdowns for the Browns.
PFF scored him as the 14th-best overall tight end, factoring in blocking skills.
David Njoku made this touchdown look easy 😅pic.twitter.com/R5ea5603WD

— ClutchPoints (@ClutchPointsApp) September 23, 2022
His 78.7 receiving score was good for 12th overall, and he copped PFF's 14th best pass blocking grade.
But his run blocking fell off after an excellent showing in 2021.
It was good, but not much better than past seasons and far from an elite performance.
By the Eyes: B+
Njoku came into training camp full of promises and expectations after signing his new deal.
After an invisible season opener, Njoku looked the role of a star tight end.
He caught almost 80% of his targets from Jacoby Brissett, including several that bailed out his quarterback.
David Njoku… damn. What a ridiculous catch to tie it up in Cleveland. Via @nfl pic.twitter.com/4lOPw41nvg

— Matthew Berry (@MatthewBerryTMR) November 27, 2022
In their final game together, Njoku made a leaping catch in the end zone that let Cleveland beat Tampa Bay in overtime.
He said all the right things after dropping a potential game-winning touchdown from Deshaun Watson in Week 16.
But some questionable body language in the final weeks keeps this grade from being an A.
Looking Ahead at an A+ Scenario 
Deshaun Watson and Kevin Stefanski are hard at work revamping the Browns' offense.
Fans can expect to see a more modern pass-first attack, with David Njoku on the field for most of it.
Njoku played on 86% of the snaps in 2022, but that number spiked to 94% when Watson became the starter.
Deshaun Watson and David Njoku's connection continues to strengthen. pic.twitter.com/wJOQi7QNpz

— Camryn Justice (@camijustice) December 28, 2022
Watson threw a solid 20% of his 102 touchdowns in Houston to his tight ends.
And that bodes well for Njoku's chances to finally beat his habitual 4-score total.
Cleveland is in fine shape at tight end in what is an important season for Stefanski and his offense.