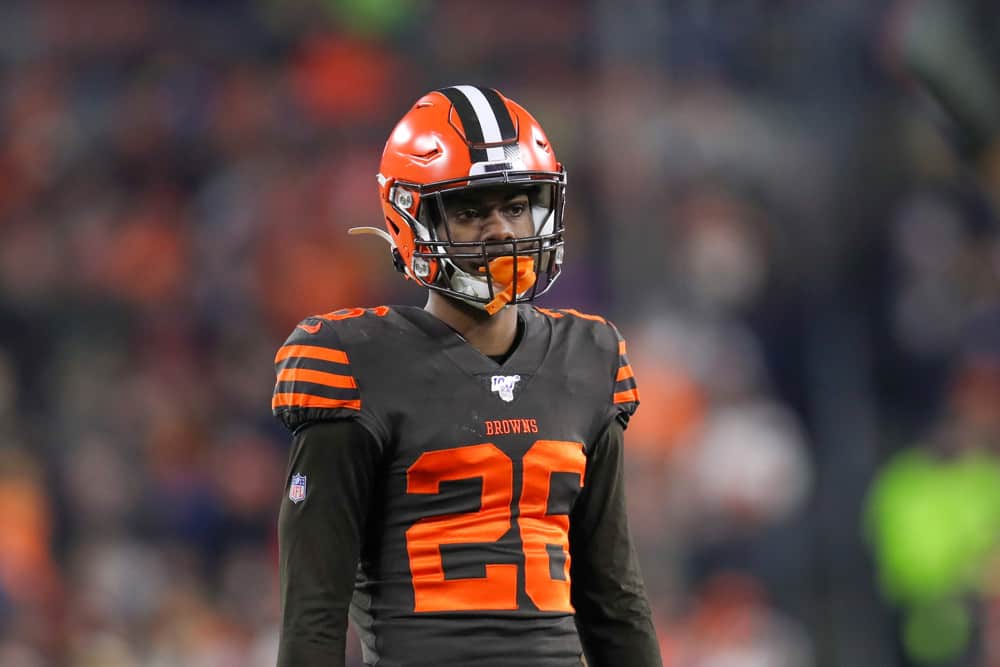 And the hits just keep coming for the Cleveland Browns.
Literally.
The latest significant injury report is concerning CB Greedy Williams.
He injured his shoulder during a tackling drill at Monday's practice.
Williams walked off the field on his own but immediately went inside for evaluation.
Greedy Williams was slated to get a lot of playing time opposite Denzel Ward.
He started in 12 games in his rookie season of 2019.
Williams netted 47 tackles and 2 pass deflections.
CB Greedy Williams left today's practice with a shoulder injury. Fellow CB M.J. Stewart listed with a hamstring injury.

— Andrew Gribble (@Andrew_Gribble) August 24, 2020
Rookie LB Solomon Ajay now gingerly walking to the locker room with the help of a trainer. CB Greedy Williams still inside after getting banged up following a tackling drill

— Jake Trotter (@Jake_Trotter) August 24, 2020
There has been no news on M.J. Stewart or Solomon Ajay so hopefully those are minor.
Stefanski's Take
The Browns new head coach has probably fielded many more injury questions in the past week than he anticipated.
When asked if Greedy Williams will miss significant time, his answer was difficult to read:
"I would say we will see. Still evaluating."
Stefanski remains optimistic about the team's mental toughness despite being decimated with injuries this early in the season.
"I think we have a resilient bunch. I think that they have all been on teams throughout their lives where injuries occur. It does not make us like it. I feel awful for guys that have long-term injuries. Then other guys, you are going to get nicked up, you push through it, you get your treatment and you are back out there. I do not worry about the mentality though of our team."
Latest In A Horrible String Of Injuries
The injury list is bad.
It is affecting starting players who are not suffering regular bumps and bruises.
To recap:
Nick Chubb, RB, entered concussion protocol after a tackle from Mack Wilson.
Less than 24 hours later, Mack Wilson is being hauled off the field with a hyperextended knee.
Then, CB Kevin Johnson gets tangled up with TE Harrison Bryant and suffers a lacerated liver which required hospitalization.
And yesterday around the time Williams was injured, rookie S Grant Delpit suffered a season-ending Achilles injury.
The good news is that Chubb has progressed through the concussion protocol and is back at practice.
Nick Chubb showing off the speed (via Cleveland #Browns) pic.twitter.com/xG4tcY4rFM

— BrownsWave \: (@BrownsByBrad) August 25, 2020
It is still unclear how long Mack Wilson will be out dealing with his knee injury.
#Browns DC Joe Woods on replacing LB Mack Wilson: It's tough to do. He got a lot of experience last year. Felt like he was a veteran on the field. Hopefully we'll get him back soon.

— Scott Petrak ct (@ScottPetrak) August 25, 2020
Kevin Johnson has been released from the hospital; his timetable for return is unknown.
And as noted above, we don't know how serious Williams' injury is or how long he may be out.
But we know that Grant Delpit's rookie season was cut tragically short.
And let's not forget that C JC Tretter didn't even make it to the first practice before having a minor knee procedure that is keeping him out for an undetermined amount of time.
Pandemic Affected Preparation
Experts and analysts were concerned before training camp that injuries could be an issue this year.
OTAs and other offseason preparations didn't happen because of COVID-19.
Preseason games will not be played which is a blessing and a curse.
The blessing is players have time to get football ready; however, the curse is what's happening to the Browns.
In the process of getting football ready, devastating injuries are happening.
This injury bug seems to be striking Cleveland the worst of any NFL teams right now.
Let's hope this injury madness stops very soon.