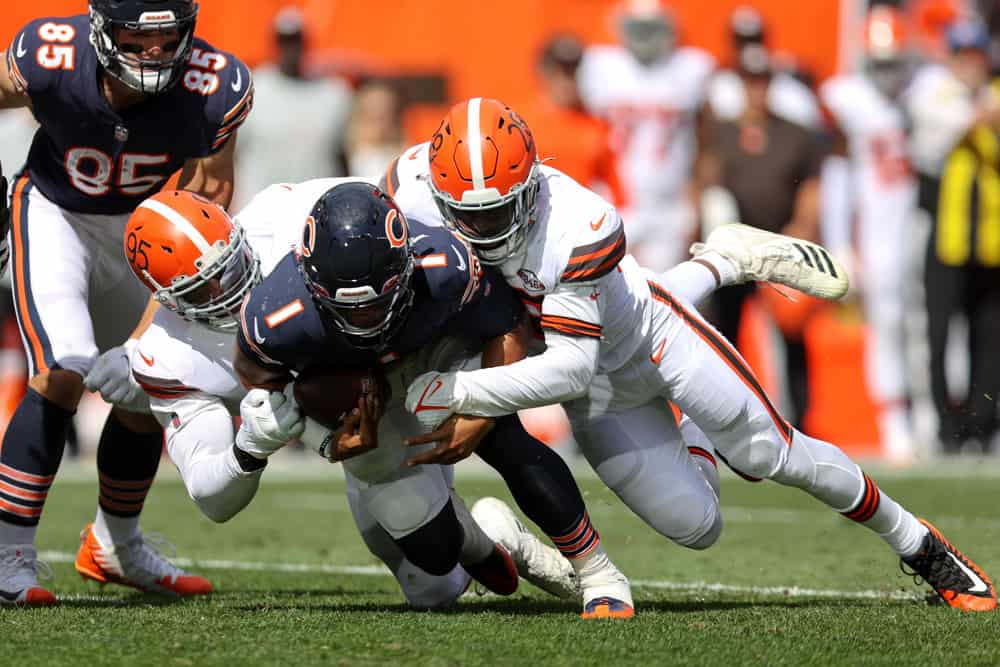 It is a fact that Myles Garrett woke up a somewhat dormant Cleveland Browns defense in the team's Week 3 victory over the Chicago Bears.
He led the way with a franchise record of 4.5 sacks, but he was not the only defensive player to have a great game.
Rookie linebacker Jeremiah Owusu-Koramoah also had a great day creating his own highlight reel including a shared sack with Garrett.
JOK included 4 tackles, the aforementioned .5 sack, 1 quarterback hit, and 1 tackle for a loss.
All of that and more was equal to a PFF 93.9 grade.
#Browns LB Jeremiah Owusu-Koramoah's Sunday in review:

– 4 tackles
– 1 TFL
– 0.5 sack
– 2 PD
– 1 QB Hit
– 93.9 PFF grade

Monster. pic.twitter.com/lJNfmYTbZx

— MoreForYouCleveland (@MoreForYou_CLE) September 27, 2021
This performance is a continuation of what he has shown since arriving in Cleveland.
And it was also enough to earn the Week 3 PFF Rookie of the Week honors.
PFF's Rookie of the Week

Jeremiah Owusu-Koramoah 💪💪 pic.twitter.com/faabFWHorY

— PFF (@PFF) September 28, 2021
More Of The Same
Is it any wonder the Browns were so jubilant to snag JOK in the second round of the 2021 NFL Draft?
Paul DePodesta says Stefanski, DC Joe Woods and LB coach Jason Tarver are currently working the white board already discussing all the ways they can use JOK on the field. Lotta excitement in the Browns building over this pick.

— Jake Trotter (@Jake_Trotter) May 1, 2021
He has met and exceeded expectations since the preseason.
I said it then, and I'll say it again, Jeremiah Owusu-Koramoah was a steal in the draft https://t.co/zdgxHyZHKC

— Mutebi Alex Kato 🐐 (@mutebilx_qato) September 29, 2021
I will be the first to admit that I thought Jeremiah Owusu-Koramoah was going to be a struggling tweener, but I am happy to eat some crow on that one. That dude is no JOKe.

— Jim Marek (@MarekJim) September 27, 2021
#Browns rookie LB Jeremiah Owusu-Koramoah calls out the swing but then reads Justin Fields and sits down on the throw to Cole Kmet. pic.twitter.com/BBfOWB6K8L

— Adam Hoge (@AdamHoge) September 28, 2021
31 Teams Passed On Him
The Browns' gain is the rest of the league's loss.
JOK has the speed and instincts to play this game at a high level for years to come.
In the postgame press conference, Coach Stefanski summed up JOK's Week 3 performance in a nutshell.
"I would have to look at it, but I am going to guess he was running around making plays."
Only His Second Career Start
JOK earns the PFF Rookie of the Week honors in only his second career start.
In Week 3, he started in place of Sione Takitaki who has an injured hamstring.
He played 51% of the Browns' defensive snaps, his most so far.
JOK talked about being in the thick of the Bears game.
"Felt like I played a good number of snaps. It's always good to get more of a feel for the game and as it slows down, as I prepare more, it will get better, hopefully."
The fact that he is a rookie playing at such a high level this early in his NFL career and will get even better with more game experience adds to the excitement Browns fans have about Jeremiah Owusu-Koramoah.