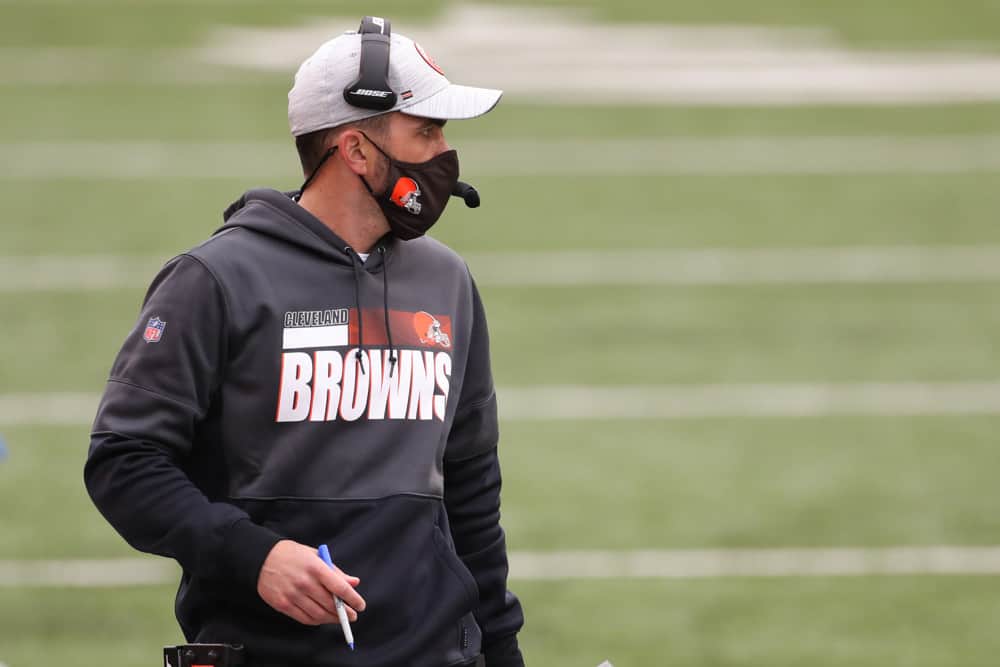 The Cleveland Browns are enjoying a productive offseason.
It kicked off with Coach Kevin Stefanski winning 2020 Coach of the Year honors.
Kevin Stefanski could've flamed out like every other unproven offensive coordinator in Cleveland.

He could've been overwhelmed by calling the players and managing personalities.

Instead he led The Browns to their best season since they returned.

Happy Birthday Coach! pic.twitter.com/IETShzJcT7

— Nick Karns (@karnsies817) May 9, 2021
Then, the Browns did what many consider a stellar job signing free agents and selecting draft picks that fill the holes the team had.
The 2021 schedule was recently released so the Browns know exactly the challenges that lie ahead.
Following the schedule release, BetMGM updated its odds for 2021 Coach of the Year candidates.
Stefanski topped the list with a +1200 line.
Kansas City Chiefs Coach Andy Reid and Los Angeles Rams Coach Sean McVay come in behind Stefanski with a +1600 line.
That means a $100 bet on Stefanski yields a $1,200 payout should he win.
Repeating Is Difficult
In the NFL repeating anything is difficult, and winning Coach of the Year is no exception.
The only coach to win the award in back-to-back years was Washington Redskins Coach Joe Gibbs in 1982 and 1983.
McVay and Reid are previous winners who did not repeat.
Even Bill Belichick who has won the award three times and coached a lot of Super Bowl champion teams did not win the award in consecutive years.
Rookie Coaches
The fact that Stefanski won in 2020 as a rookie coach is amazing.
The award tends to go to a more established coach; however, no one could ignore the turnaround that Stefanski initiated with the Browns in 2020 in the midst of a pandemic.
This brings us to a new season with rookie coaches (Urban Meyer) who could be considered next year.
Up and Coming Coaches
Some thought Joe Judge of the New York Giants deserved the 2020 Coach of the Year award.
Like Stefanski, he was a rookie coach managing a team in flux (with significant injuries) during a pandemic.
He is another candidate to watch in 2021.
Buffalo Bills Coach Sean McDermott also is managing a team on the rise and has gotten positive attention.
Stefanski Just Wants To Improve
Coach Stefanski is not about individual honors.
All he wants to do is for the Browns to win football games and improve how he coaches the team.
"As we sit here in March, my focus—our focus, as a staff, as a team—is we have to get better, we have to improve and we have to, as coaches, really pull this thing apart and find ways to improve schematically. We have to evolve, and I think that's been a big part of our process to date."

"As coaches, we have to get better. I have to be a better coach next year for this team, and that's my goal, and we're working really hard to find different ways for each of us to get better."
He also has been eager to get fans in the stands at FirstEnergy Stadium in 2021; a raucous Dawg Pound is one thing Stefanski has yet to experience.
Kevin Stefanski is the most measured coach in the #NFL when it comes to quotes (non BB category).

But he is loud and clear about wanting fan support on the road. The home games are a given.

This is going to being a great year for all #Browns fans.#GoBrowns

— Mike (@emtb123) May 13, 2021
While it is fantastic that the Cleveland Browns have the reigning Coach of the Year on their sidelines, everyone in Cleveland would rather win a Super Bowl in 2021 including Coach Stefanski.