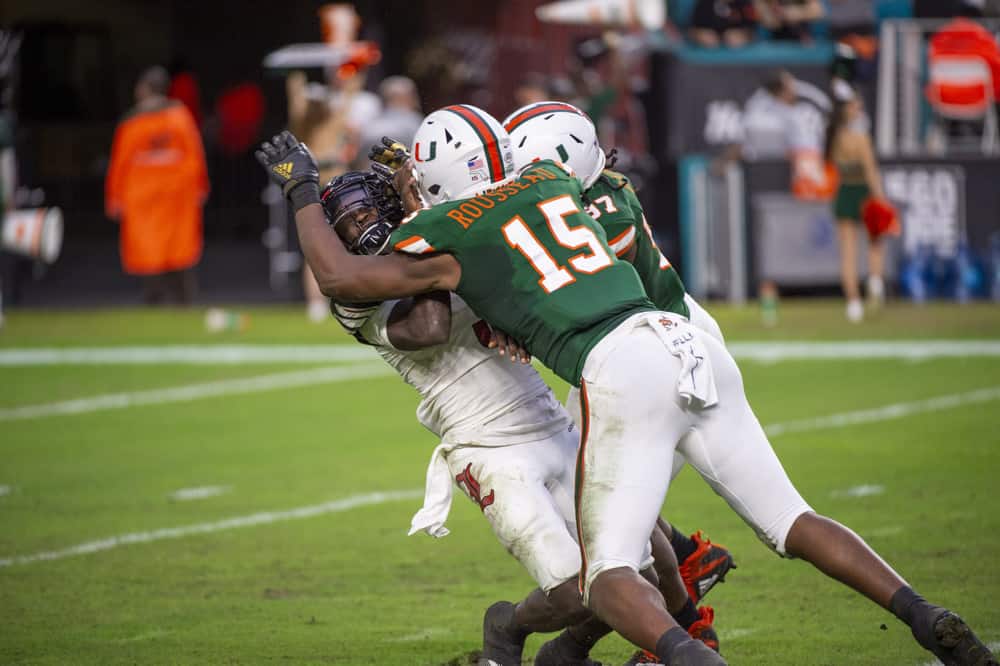 The NFL offseason is in full swing with free agent rumors and mock drafts filling content everywhere.
It seems every Cleveland Browns fan wants every available player to sign with their favorite team.
Unless that player stinks, in which case we all want him to sign with the Pittsburgh Steelers.
The writers here at Browns Nation are no different, bandying about trade, free agent, and draft possibilities all day.
— BrownsNation.com (@BrownsNationcom) February 15, 2021
After all, we're fans at heart, and of course, we have all the answers.
Jake Trotter at ESPN.com had the good fortune of engaging NFL draft expert, Mel Kiper Jr. in a phone conversation about the Browns' biggest draft needs. 
Kiper went a bit further, alluding to how Andrew Berry might address those needs with the 26th pick of the NFL Draft.
Here is what Mel Kiper thinks Berry might do to address the Browns' 3 biggest needs in the 2021 NFL Draft.
Kiper Says Draft Safety Trevon Moehrig or Aaron Robinson
Cleveland fans are anxious to see what safety Ronnie Harrison can do over a full, healthy season.
Fans around the league are anxious to see if Grant Delpit turns heads the way he did in last year's preseason.
But that's an awful lot of anxiety at an important position in Joe Woods' defense.
Top Draft prospect in each conference:

ACC: Trevor Lawrence (1)
Big Ten: Justin Fields (3)
Pac-12: Penei Sewell (4)
SEC: Ja'Marr Chase (5)
Big 12: Trevon Moehrig (17)https://t.co/PlTEVshDpK

— PFF Draft (@PFF_College) February 27, 2021
Mel Kiper Jr. thinks Andrew Berry might sign 2020 Jim Thorpe Award winner, Trevon Moehrig, in the first round.
"Moehrig has tremendous talent and plays hard, a consistent football player," Kiper said. "His range, too, is so good. He can cover ground in a hurry and makes up a lot of ground quickly. Also, he's got good ball skills. (Moehrig) locates the ball well. He really has a high football IQ and he doesn't wait; he's always moving in the direction of the play. So run play, he's up there. He'll stick his nose in there. To me, he's a good all-around safety."
Delpit won the Jim Thorpe Award in 2019 and the thought of the pairing him with Moehrig is intriguing.
But Kiper noted that Woods might want a more versatile player in Aaron Robinson, too.
Robinson is an excellent tackler who can play all over the third level- inside, outside, or even safety.
 If you want a guy who can be a slot corner, outside corner, safety, it would be Aaron Robinson," Kiper said. "You can move him outside, he can play safety, he can play a center-field role, he'll tackle. Tackling is very underrated in this league with defensive backs. It's a problem. You've got to be able to be a tackler in the open field, and he can do that."
Kiper Says Draft An Edge Rusher like Rousseau or Phillips
University of Miami has two highly ranked edge rushers in the 2021 draft who each wore the same number.
That is because Gregory Rousseau sat out the 2020 season due to Covid precautions.
Jaelan Phillips transferred from UCLA and stepped into Rousseau's starting role.
It's true. The #15 for Miami this year (Jaelan Phillips) is a better player than the #15 for Miami last year (Gregory Rousseau).

hi @JohnOwning @VochLombardi pic.twitter.com/F9LIsWKhjE

— Jeff Cavanaugh (@JC1053) December 11, 2020
Mel Kiper thinks either is a solid choice with the 26th overall pick, although he has them off the board with the 20th (Colts) and 21st (Titans) picks.
"You have two guys from the same school, both wore the same number [15], that both have great ability to get after the quarterback," said Kiper. "I think if one of those two guys were there [where the Browns pick at No. 26], it would be really interesting."
Most of us believe Berry will seek a veteran edge rusher via free agency to bookend Myles Garrett.
But even in that scenario, a third option is never a bad idea.
Kiper Says Draft a Playmaking Linebacker Like Zaven Collins 
In his latest mock draft, Kiper has the Browns selecting linebacker Zaven Collins.
Collins won the Nagurski and Bednarik Awards last season as the College Defensive Player of the Year.
Kiper says Colins' speed, size, and a knack for making big plays is why he makes sense for the Browns.
Zaven Collins 2020 highlight reel#Tulsa pic.twitter.com/FEtXmd8XKH

— College Football Watch Party (@CFB_Party) October 24, 2020
He is the type of player who could have made a difference against the high octane offense of Kansas City.
"Collins could be used as a versatile player to exploit mismatches," Kiper writes. "At 260 pounds, he could put his hand in the dirt and rush the passer, or he could play outside linebacker, fill run fits and even cover running backs out of the flat. He stuffed the statsheet."
Among Collins' 2020 repertoire are a pair of Pick-6s, the kind of play that turns the tide of a game.
Overall, Kiper acknowledged the Browns are well along the right track to repeat as playoff contenders.
"They're right where they need to be, they don't have to force anything," Kiper said. "Just go get the best defensive player on the board."