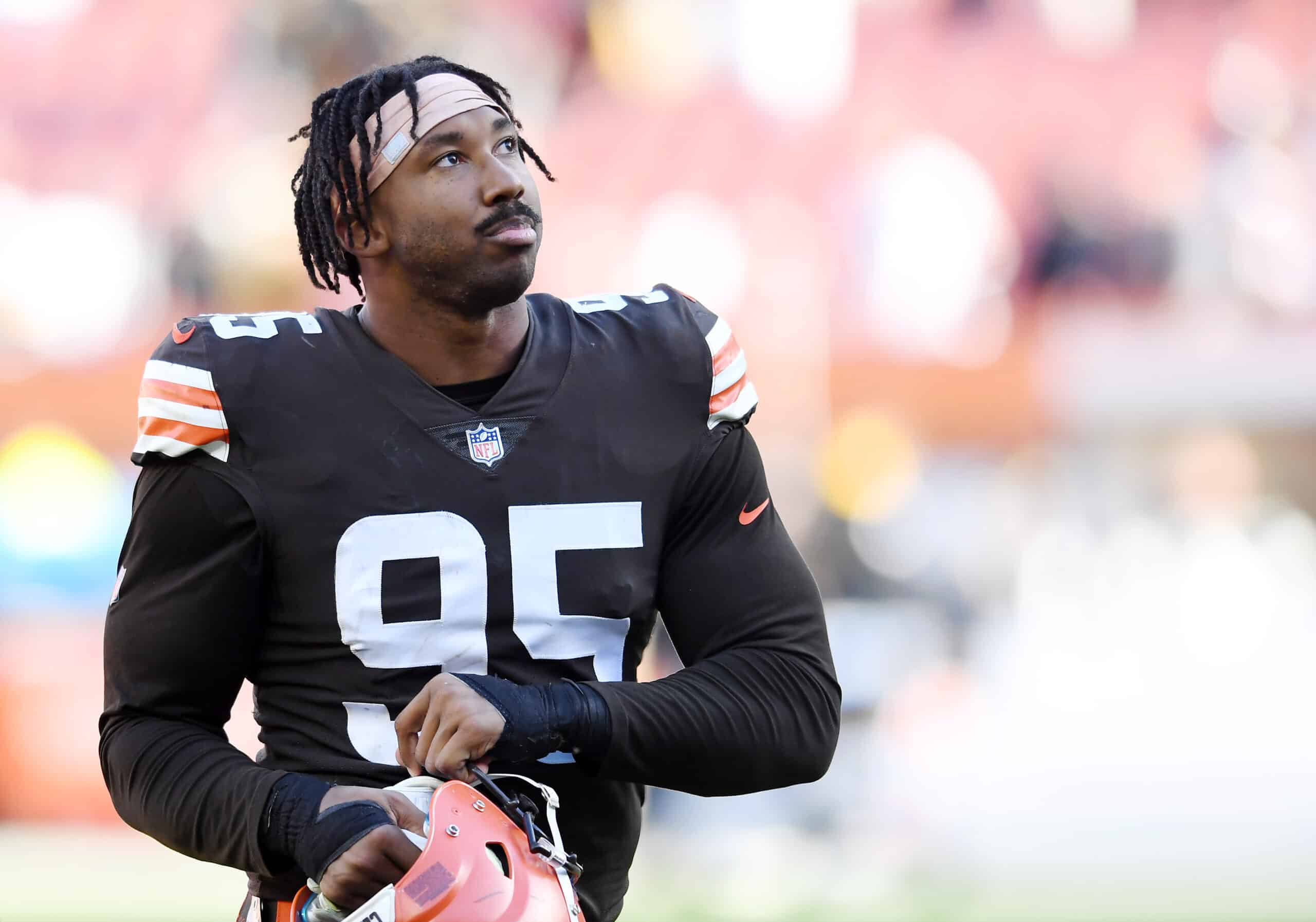 Myles Garrett mixes up his pass-rush techniques to keep offensive linemen on their toes.
And the Cleveland Browns star used a quick cut-and-spin with a reporter at a TMZ-sponsored event this weekend.
When asked whether he stood by Baker Mayfield, Garrett threw his support behind the maligned passer.
"Do you believe in Baker Mayfield?"

Myles Garrett: "I believe in the #Browns" 😬pic.twitter.com/iE9TDhlBFu

— Nick Pedone (@NickPedone12) February 26, 2022
But when asked if he believed Mayfield could lead the team to a Super Bowl, Garrett got a little cryptic.
"I believe in the (Cleveland) Browns," was the reply.
And that set off a typical social media debate as to whether or not Garrett made a slight towards Mayfield.
To be fair, Garrett first called Mayfield "my quarterback" and said he'll stick with him.
Myles Garrett Says He's Sticking By Baker Mayfield, 'He's My Guy' https://t.co/0vxGAIpFk1

— TMZ Sports (@TMZ_Sports) February 26, 2022
When the reporter pressed him on the follow-up, Garrett's response could be translated any number of ways.
Garrett could have meant to say it takes more than one player, including the defense he heads, to win.
But where is the controversy in that?
What Garrett Actually Said 
When the off-camera reporter asked about recent criticism of Mayfield, Garrett had a ready answer for him.
"Baker Mayfield is my quarterback. He's my guy. He stuck by us. I'm gonna stick by him."
Garrett basically dismissed the reporter with a smile as he countered the notion of writing off Mayfield.
Baker's backers jumped all over the quote, posting it on social media as a sign Mayfields' teammates have his back.
While the future of Baker Mayfield in Cleveland is still questionable, Myles Garrett says he's sticking with him.https://t.co/u0eks5czv1

— 93.7 The Fan (@937theFan) February 26, 2022
Others said Garrett's words should end the notion of a split locker room or any ill-blood between players.
But then the reporter asked if Mayfield can get the Browns to the playoffs and if Garrett still believes in the quarterback.
In place of a simple, "yes!" Garrett professed his belief in the Browns.
And that gave Mayfield's critics room for a retort.
So What Does That Mean? 
Garrett tried to choose his words carefully, and in the process fell into the great Browns social media abyss.
Of course, he stands by his quarterback and every other teammate.
But the only positive thing he said about Mayfield was that "he stood by us."
What that means is uncertain, but what it does not mean is more obvious.
Garrett is the latest player to mention Mayfield's loyalty, guts, or toughness as deserving of support.
But we have yet to have a teammate or other player cite Mayfield's actual playing ability.
Nobody has said they look forward to a healthy Mayfield because he is a great passer, runner, or even field general.
So we'll have to let Mayfield show us whether he is up to the task next season.