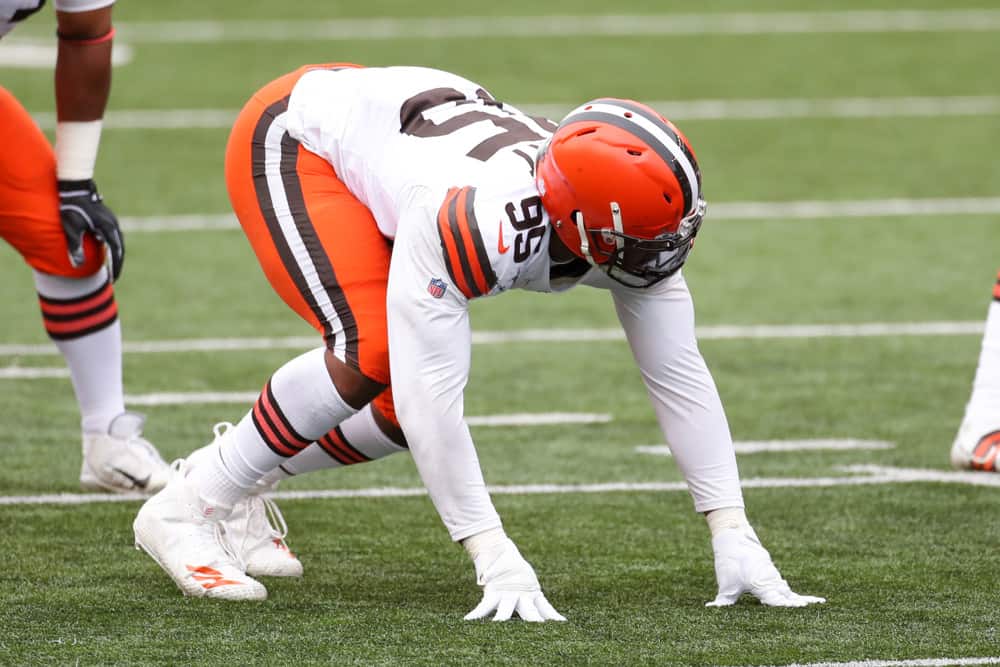 Setting league records is a credible accomplishment in the NFL, even when they add games and change rules.
But giving fans and teammates something they'll remember forever is a bigger deal.
When old-timers share memories of Cleveland Browns' great, Jim Brown, they don't spout off numbers.
They talk about the thrill of watching him run through, over, and around the best defenders in the league.
Myles Garrett was getting this sack by any means necessary 😂

(via @Browns) pic.twitter.com/jLMD8bxlT4

— ESPN (@espn) September 27, 2020
Likewise, former Giants linebacker, Lawrence Taylor, elicits memories accompanied by smiles and winces.
Both Brown and Taylor played hard enough to earn NFL MVP awards.
Brown won 3 of them, as did Baltimore Colts quarterback Johnny Unitas during the same playing period.
That started a trend of running backs and quarterbacks dominating the players' most prestigious award.
🧀 @AaronRodgers12 has won 3 of the last 10 NFL MVPs.

No other player has won more than 1 during that span. pic.twitter.com/wZvrKAyYlG

— FOX Sports: NFL (@NFLonFOX) February 17, 2021
In fact, only three non-quarterbacks/running backs took home the NFL MVP award since its inception in 1957.
Minnesota defensive end Alan Page (1971) and Taylor (1986) are the only defensive players to win the award.
Mark Mosely, a kicker, also won it, something we'll save for a future "Believe It Or Not" article to discuss.
But it is time another defensive player steps up to win the Most Valuable Player award.
Here's why we think Myles Garrett should be an MVP candidate in 2021.
Is The Table Set For Myles Garrett To Make a Bid? 
Andrew Berry went to work improving the Cleveland Browns defense in free agency and in the NFL draft.
But one could argue his efforts will also help Myles Garrett become an MVP candidate.
Garrett was on a pace for 20 sacks through the first 7 games last year.
Then a couple of bad weather games were followed by his Covid-19 illness, and he never looked the same.
Pass-rush win rate since 2018 | among edge defenders:

T-2. Myles Garrett – 20.2%
22. Jadeveon Clowney – 15.3%

Where does this duo rank in the NFL?🤔 pic.twitter.com/ULVBigdfLg

— PFF (@PFF) April 14, 2021
Olivier Vernon picked things up when Garrett slowed down, but he didn't do anything over the first 7 games.
Fast forward to the 2021 season, and Garrett works opposite Jadeveon Clowney and Takk McKinley.
Clowney traditionally draws more double teams than most, similar in number to Garrett.
Interior linemen Andrew Billings and Malik Jackson are both able to bunch up would-be blockers for the ends.
Myles Garrett freezes the blocker's feet with the jab step, clears the outside hand with the cross chop & finishes with a rip. Uses great body control to turn the corner & get to the QB! #passrush pic.twitter.com/9tmLj76jiu

— DLineVids (@dlinevids1) May 4, 2021
More importantly, Berry probably improved the Browns pass coverage.
Gregory Newsome and Troy Hill along with Denzel Ward could buy the pass rushers an extra split second or two.
With John Johnson III and rookie Jeremiah Owusu-Koramoah, escape routes will be cut off better, too.
If Garrett needs motivation, 20 sacks would make him the Cleveland Browns' all-time sacks leader.
But The MVP Is About More Than Stats
Sacks are nice, but they don't guarantee an MVP award or even the Defensive Player of the Year title.
When Taylor won his MVP, he had 1.5 fewer sacks than former Jet Mark Gastineau did just 2 years earlier.
And Gastineau took home an AFC Defensive Player of the Year Award, but not the AP or PSWA version.
Taylor won because of what he meant to his team on their way to a Super Bowl victory.
.@mylesLGarrett strip-sack❗️

📺: @foxsports pic.twitter.com/3pUXyWqYkk

— Cleveland Browns (@Browns) October 4, 2020
When fans remember Taylor that season, they remember he was all over the field.
Besides terrorizing quarterbacks, he punished runners and receivers, often running them down from a distance.
Garrett has one trait Taylor had entering his MVP season: he was the face of the defense.
John Johson might wear the green dot, and JOK might be fun to watch, but this is Garrett's defense.
Myles Garrett is the longest tenured No. 1 overall pick that is still with the team that drafted him (4 years). pic.twitter.com/Ob9ICC3tiW

— FOX Sports: NFL (@NFLonFOX) March 11, 2021
His off-season appearances cement that status, whether leading the NFL Draft crowd in a "Here we go Brownies" chant.
Or with his social media shimmying and jumping posts, always smiling like he knows he is in a good place.
He'll need to trade the smile for a vicious streak on the field, but we've already seen he can do that.
Stuffing runs, disrupting plays, and running down the field in pursuit could push him into the MVP candidate field.
History Is Not On Garrett's Side 
NFL history tells us Garrett can have an outstanding season only to finish behind a handful of passers and runners.
But if you believe the hype coming from around the league, that is a very big pool.
If all the new and moved quarterbacks live up to expectations, and all the new runners do too, they could split the vote.
Something that will help more is if the Browns' defense lives up to its own hype.
On his first career NFL snap, Myles Garrett has a SACK! pic.twitter.com/tv2fjQndci

— NFL Update (@MySportsUpdate) October 8, 2017
Berry took a suspect offensive line and turned it into the top-rated position unit in the league last season.
Many think he pulled off the same trick with the entire defense this year.
Alan Page was the leader of the Vikings' Purple People Eater defense when he won his award.
New York's Big Blue Wrecking Crew was second only to the legendary Chicago Bears unit in 1986.
"It always seems impossible until it's done." #FlashMob⚡️ pic.twitter.com/FLacgWurQU

— Flash Garrett ⚡️ (@MylesLGarrett) September 7, 2019
Being the leader of a top-ranked defense will help Garrett's resume, but he has to be all over the field.
Chasing somebody into the arms of another defender is good enough if Garrett is in the TV picture on the play.
There is no tackle stat for Taylor, but we know he was not the leading tackler on the 1986 Giants (Carl Banks).
But the notion he could tackle every ball carrier made Taylor the defensive terror who took home an NFL MVP.
So maybe we should get to work on a nickname for the Cleveland Browns' defense?