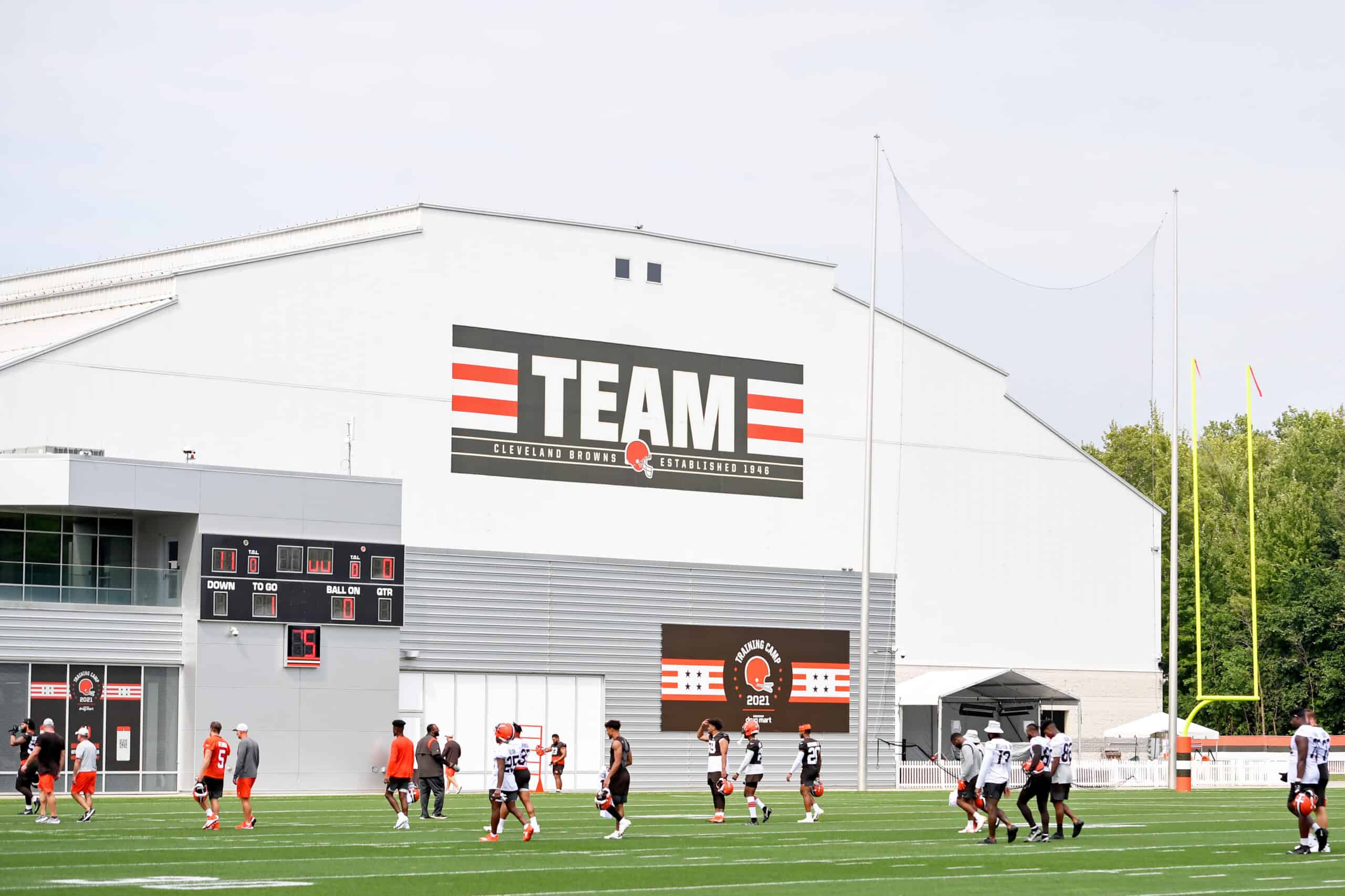 As the Cleveland Browns prepare for their final preseason game on Sunday, August 29 against the Atlanta Falcons, here are the news and notes from Browns training camp.
1. Cody Parkey
One day after the Browns placed Parkey on injured reserve, the team waived him with an injury settlement.
In his seven-year career, Parkey had two stints with the Browns, in 2016 and 2020.
The team is amicably parting ways with him while giving him a chance to play elsewhere in 2021 should he be healthy enough to do so.
The #Browns waived K Cody Parkey with an injury settlement, which allows him the chance to play else where once he's healthy, Thank you for your contribution in Cleveland. pic.twitter.com/WW03oIMCTX

— MoreForYouCleveland (@MoreForYou_CLE) August 24, 2021
2. Takk McKinley
McKinley, who elicited concerns earlier this month when he left the team for personal reasons, was back with his teammates on the field briefly yesterday.
#Browns DE Takk McKinley spotted on practice field. He just headed inside. Been out since July 31.

— Tom Withers (@twithersAP) August 24, 2021
Kevin Stefanski says Takk McKinley could be on the practice field in the not too distant future.

"He's in a good place ready to go."

— Nick Karns (@karnsies817) August 24, 2021
Teammate John Johnson III is happy that McKinley is on his way back.
"It's awesome. He came in with me in this whole free agency class, so it was good to have our team back strong and hopefully whatever he's dealing with is done, he can get to work. But it's good to have him out here."
3. Jeremiah Owusu-Koramoah
In an odd tidbit dropped by Coach Stefanski, JOK had a weight room accident which explained why he was not on the practice field.
It was significant enough to require stitches in his head.
No further details were provided on this incident.
Stefanski :"JOK had an accident in the weight room. He had to get stitches. He'll be okay."

— Nick Karns (@karnsies817) August 24, 2021
#Browns LB Jeremiah Owusu-Koramoah sidelined with stitches in his forehead from a weightlifting accident, but Stefanski says 'he'll be fine' https://t.co/dI4e8KfXZW

— Mary Kay Cabot (@MaryKayCabot) August 24, 2021
4. Davion Davis
If wide receiver Davion Davis makes the final roster cut on August 31, he will not be eligible for the first two regular-season games against the Kansas City Chiefs and Houston Texans.
He was suspended by the NFL for violating the substance abuse policies stemming from his October 26, 2019 DUI arrest.
— Cleveland Browns (@Browns) August 24, 2021
5. Sunday's Preseason Game
#Browns Stefanski said he has a plan for whether or not to play the starters Sunday vs. #Falcons but isn't ready to share it publicly

— Mary Kay Cabot (@MaryKayCabot) August 23, 2021
Coach Stefanski has a plan for what, if any, role the starters will have in the preseason finale on Sunday.
As of Monday, he was not ready to share it.
There is no word on when he will make it public knowledge.