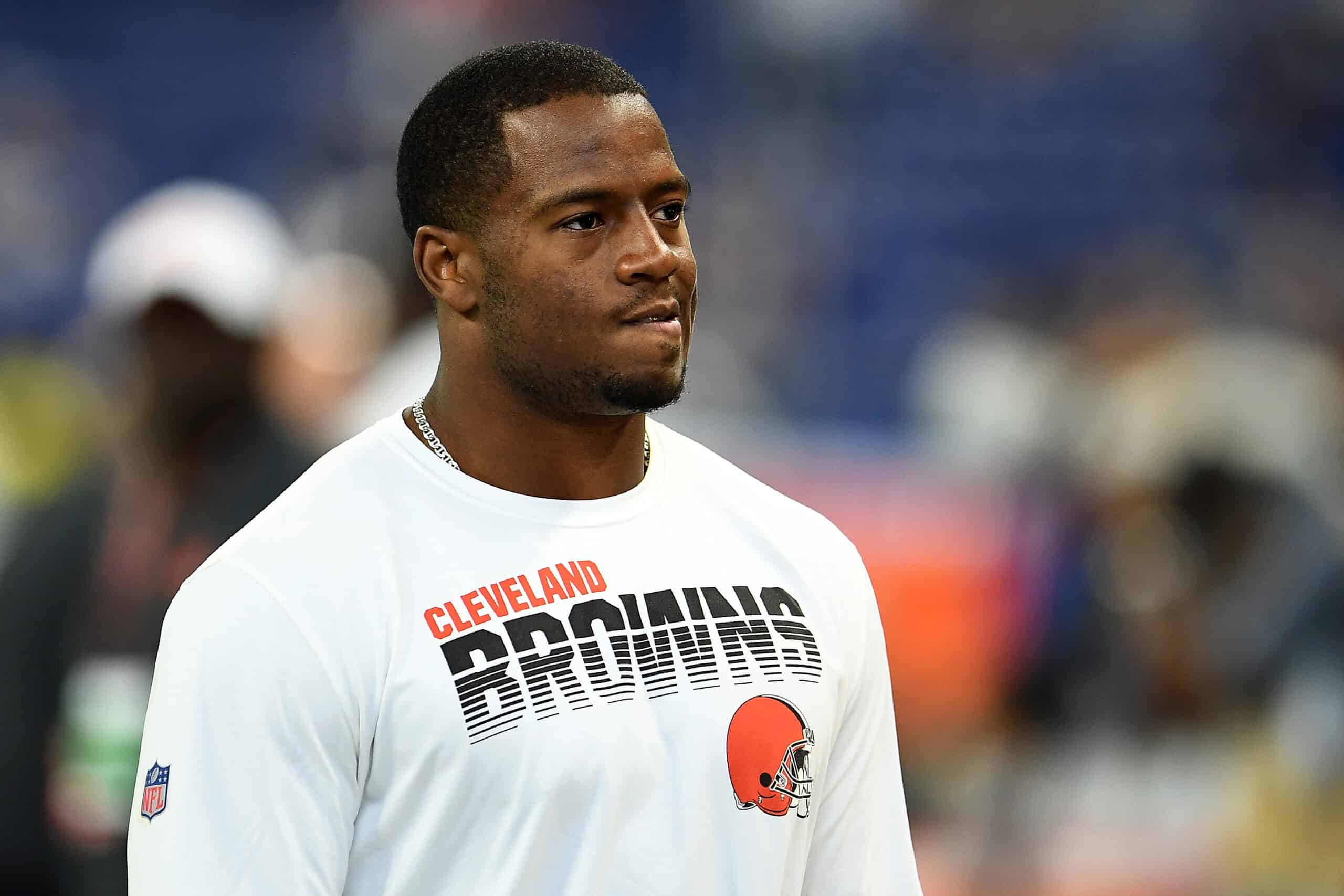 Sometimes, you can't win for trying.
Take the time Cleveland Browns acting head coach Alex Van Pelt handed the ball to Nick Chubb needing 3 yards to secure a victory.
Chubb got stuffed on 3rd down, the team punted, the defense didn't hold, and the Raiders pulled out a last-minute win.
End zone copy of the final third down that the Raiders had to stop the Browns on to get the ball back

Watch Deablo take on the FB with his inside shoulder to force Chubb back to Hankins pic.twitter.com/4etotRaY51

— Ted Nguyen (@FB_FilmAnalysis) December 22, 2021
Browns social media erupted, demanding to know why Van Pelt didn't let his third-string quarterback throw the ball.
So, the next week, Kevin Stefanski needed 20 yards for a game-winning field goal with a minute to go and 3 timeouts.
Stefanski put the ball in his starting quarterback's hands, an interception ensued, and the Packers survived.
3 timeouts available, over 200 yards rushing, Nick Chubb with runs of 4, 10 & 4 yards to start the drive so Kevin Stefanski called 5 straight pass plays after. Only 1 completed – to Nick Chubb. #Browns

— Daryl Ruiter (@RuiterWrongFAN) December 26, 2021
Browns social media erupted, demanding to know why Stefanski didn't put the ball in Nick Chubb's hands.
Of course, there was much more to consider in both cases here.
But how to use All-Pro running back Nick Chubb has been a topic of discussion all season.
So, NFL Network reporter Aditi Kinkhabwala recently asked Chubb how he felt about things.
How Does Nick Chubb Feel About Things? 
Kinkhabwala, who also works for CBSSportsnet and hosts the podcast, "NFL Explained," called Chubb on the phone.
She asked the amiable running back why he doesn't demand the ball more.
To which Chubb replied,
"I trust in my teammates and coaches."
Recognizing a woefully canned response when she sees one, the reporter pushed a little further.
Just got off the phone w/ Nick Chubb. Asked why he won't ever demand the ball. He said, "I trust in my teammates and coaches." I said, "But what if you know YOU are the one that gives your team the best chance to win?" Silence.

Team player/good solider/coach's dream all the way https://t.co/nyIuaefpMX

— Aditi Kinkhabwala (@AKinkhabwala) December 29, 2021
What about when Chubb knows he is the Browns' best bet to secure the yards needed to win a game?
To this, Chubb answered with silence, declining to comment on Kinkhabwala's theoretical position.
Chubb was probably smiling on the other end of the phone, knowing he deflected a potential controversy.
But he was also probably happy someone recognized what he already knows.
Kinkwabhala's theoretical question already presented itself more than once this season.
Why Don't The Browns Use Chubb More? 
Nick Chubb averaged about 10 yards-per-carry in the fourth quarter of games last season.
He ran effectively all game against the Packers and put the Browns in a position to win with a minute to go.
And that's the last time Chubb saw the field on Christmas Day.
Baker Mayfield missed David Njoku to the right, and D'Ernest Johnson to the left.
And the game ended with a controversial non-call and interception on an attempted pass to Donovan Peoples-Jones.
Baker Mayfield averaged 6.2 yards per pass attempt vs Packers

Nick Chubb + D'Ernest Johnson averaged a combined 8.8 yards per carry pic.twitter.com/D8xAT692wR

— PFF Fantasy Football (@PFF_Fantasy) December 26, 2021
Chubb picked up all 25 yards on the drive before Stefanski abandoned the running game.
This was despite an almost 9-yards-per-carry average on the day and a tiring Packers run defense on its heels.
Cleveland failed to convert a vital third-down running play to secure a win just a week before.
But Las Vegas had much more success all game than Green Bay, especially when the Browns ran to the right.
Both examples led to legitimate questions about the offensive decision-making on the Browns' sideline.
Should Nick Chubb Get The Ball More? 
Nick Chubb presents defenses with a combination of speed, moves, and power.
And it is easy to believe putting the ball in his hands more is a winning formula.
When the quarterback is injured and/or struggling, it makes even more sense to let the best player decide games.
But Stefanski has never ridden Chubb as other coaches might.
Cleveland's running attack is a two-pronged effort, with Kareem Hunt sharing the load.
That's 🖐 games for @NickChubb21 with over 100 rushing yards. pic.twitter.com/NDDrgFhWy5

— Cleveland Browns (@Browns) December 27, 2021
Chubb's 20 touches are within the lower reaches of his typical game.
But it is aggravating that Cleveland won't let him pick up some of the injured Hunt's carries.
For that matter, let D'Ernest Johnson (6 touches) assume the full Hunt role to save Chubb for last-minute heroics.
There is some righteous concern for the long-term health of running backs and other players.
But Chubb can probably manage a few more touches in crunch time without ill effect.