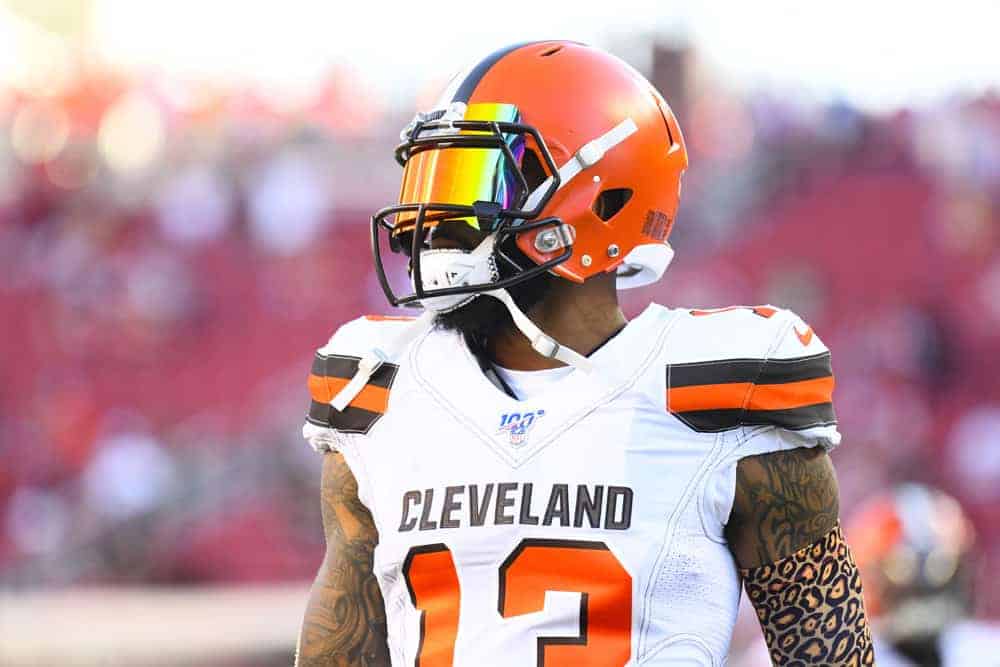 As if the turbulence in Cleveland wasn't severe enough following a 31-3 defeat at the hands of the San Francisco 49ers on Monday night, receiver Odell Beckham Jr is reportedly frustrated with his current lack of production.
Addressing media members on Wednesday, Browns starting quarterback Baker Mayfield revealed the alarming news that Beckham is frustrated.
Beckham, questioned in the past for his antics, could potentially become a significant detriment to Cleveland's success if something doesn't change soon.
"He's frustrated when he's not getting the ball and we're losing,'' Baker Mayfield told reporters. "I mean, why not be? Because he feels like he could help us win if we get the ball in his hands. And when we're winning, that's the thing about it, he's a team guy, he's helping us win any way he can and he understands how teams are going to play him."
In a summer acquisition that was deemed a game-changer by many media pundits, Beckham's time in Cleveland has been nothing short of underwhelming to date.
In the past two weeks, Beckham has a combined four catches and 47 yards; the Ravens matchup saw Beckham post the lowest receiving yards of his entire career (20).
While the much-maligned receiver was predicted to have his best season yet, the results haven't been pleasant.
The heralded six-year pro is currently No. 29 in receiving yards (335 yards) league-wide for the season.
Beckham is on pace to have the worst year of his career.
His 4.6 receptions and 67.0 yards per game are personal lows, and he's catching 53.5 percent of his targets, per Pro Football Reference.
Baker Mayfield last 12 times targeting Odell Beckham Jr.:

Incomplete
Incomplete
Complete (1 yard behind LOS)
Complete (19 yards downfield)
Incomplete
Incomplete
Incomplete
Incomplete
Incomplete
Incomplete
Complete (2 yards behind LOS)
Incomplete

💩

— Paul Hembekides (@PaulHembo) October 8, 2019
Odell Beckham Jr addressing the media about his frustration.
#Browns Odell Beckham Jr admits he gets frustrated when he can't contribute in a loss pic.twitter.com/wAUMGagPAX

— Mary Kay Cabot (@MaryKayCabot) October 10, 2019
Mayfield deserves a portion of the blame as he has struggled as well, most recently completing 8-of-22 pass attempts for 100 yards and two interceptions against the 49ers.
So, why are Mayfield and Beckham struggling to find success together?
While Cleveland remains a talented bunch, don't overlook Beckham missing significant time during the off-season due to a hip injury.
Beckham missed OTAs, limiting the chemistry building process with Mayfield during the summer months.
Battling through the struggles, head coach Freddie Kitchens has remained confident, offering vocal support for both Mayfield and Beckham, while focusing on the positives he sees on the field.
"If we are more efficient and more effective in what we are supposed to do and how we are supposed to coach, then everybody is going to be happy,'' Kitchen told reporters. "Odell Beckham is a team guy, all right? I have not heard what anything from Odell like how anything is viewed or whatever. I just pointed him out last week about his blocking and his excellent hustling to the ball and around the ball."
Kitchens also cited that on a night where Mayfield threw the ball 22 times, Beckham received over a fourth (6) of the overall targets.
Should Beckham continue to see a fourth (or more) of the targets, good performances should follow soon.
It's certainly not time to push the panic button in Cleveland.
With a first-time head coach, a second-year quarterback, and acquiring Beckham, the Browns were bound to have early-season kinks to fix.
For Beckham, it is imperative to stay the course, gain chemistry with Mayfield, and win games.
With the early season at a bit of a tipping point, Cleveland can't afford a frustrated outburst from its All-Pro receiver.