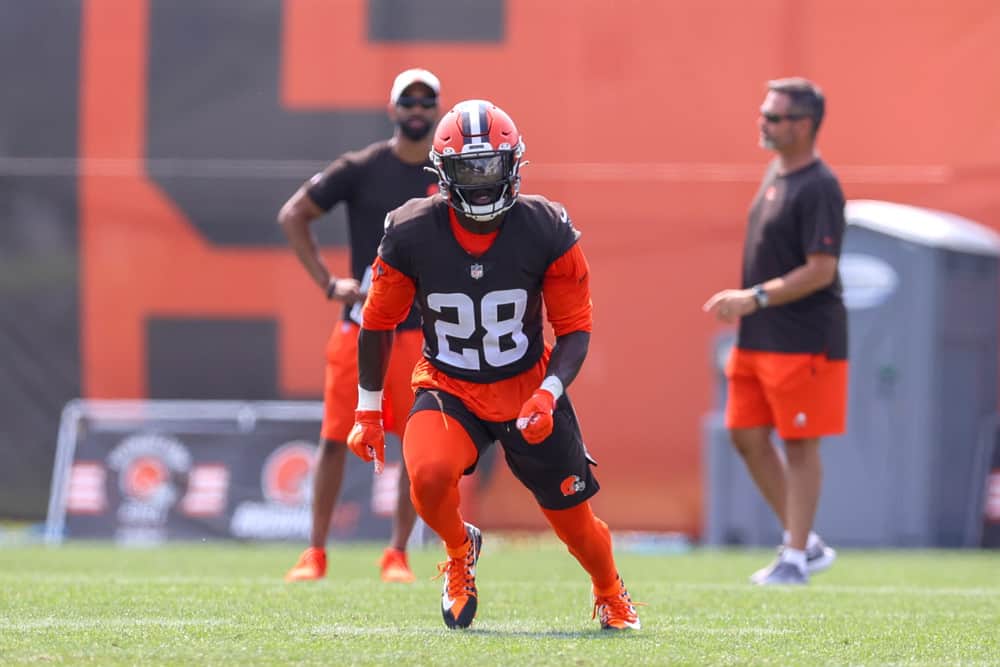 This is definitely bad news Monday for the Cleveland Browns.
The team suffered a devastating loss to the Arizona Cardinals on Sunday.
In addition, they lost Kareem Hunt for at least three games with a calf injury.
We are also learning that rookie linebacker Jeremiah Owusu-Koramoah is also likely to miss playing time.
He reportedly has a high ankle sprain.
Per NFL Network's Ian Rapoport, those generally require a 4-6 week recovery.
#Browns coach Kevin Stefanski describes RB Kareem Hunt's calf injury as significant and confirms he'll miss weeks. He says LB Jeremiah Owusu-Koramoah is out weeks, too, with what I'm told is a high-ankle sprain. Those are generally 4-6 weeks.

— Ian Rapoport (@RapSheet) October 18, 2021
If this timetable is correct, it seems likely that the Browns will put JOK on injured reserve.
JOK Has Been Outstanding In 2021
The Browns have been strangely inconsistent on defense, but JOK has been one of the select few players who has performed well each and every week.
It was just last week that we were mentioning the possibility of JOK being the Defensive Rookie of the Year if he continued at his high level.
He has already earned PFF Defensive Rookie of the Week honors in Week 3.
The highest-graded LBs in the NFL this year 💪 pic.twitter.com/Pz59vN4lAc

— PFF (@PFF) October 15, 2021
PFF's Rookie of the Week

Jeremiah Owusu-Koramoah 💪💪 pic.twitter.com/faabFWHorY

— PFF (@PFF) September 28, 2021
Linebacker Depth Chart Is Getting Thinner
Unfortunately, this is the continuation of a common theme for the Browns at the linebacker position.
The linebackers have been dealing with significant injuries for weeks.
Malcolm Smith has an abdominal injury and did not play on Sunday against the Cardinals.
Elijah Lee was activated from the practice squad for the Cardinals game.
Rookie Tony Fields dealt with a foot injury during training camp and recently had a shoulder injury.
He has played on special teams snaps in Weeks 3, 4, and 6.
Plug The Holes Quickly
The Browns are quickly turning into the all infirmary team.
It is never good timing to deal with these injuries, but a short week makes them even more catastrophic.
The Denver Broncos are coming to town for Thursday Night Football so there is not much time to plug players into positions and have significant practice reps.