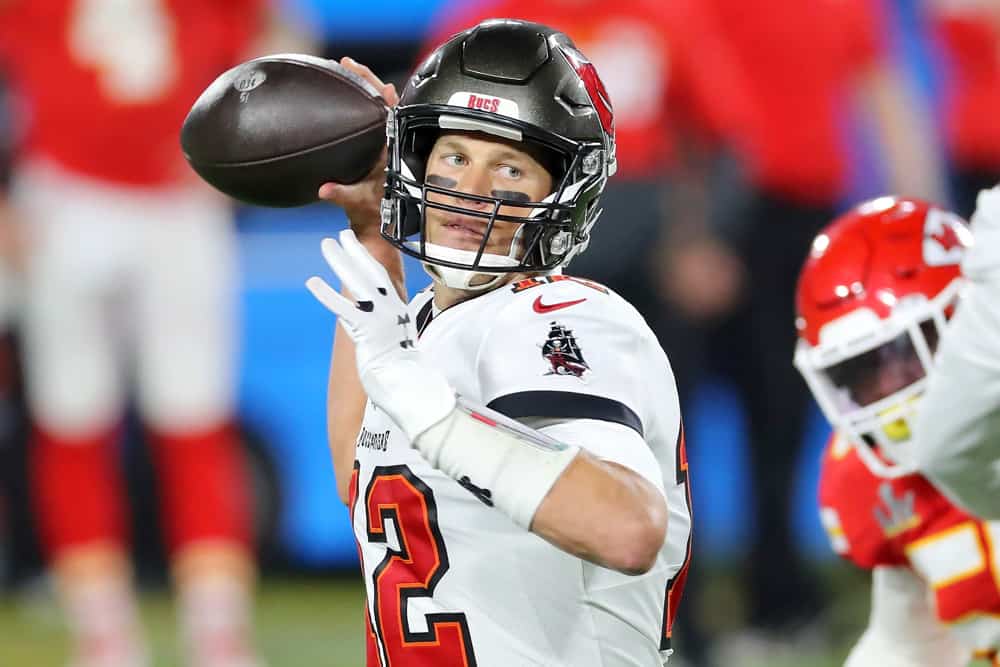 Please read this article with the appropriate level of skepticism.
We are in the calm before the franchise tag deadline (March 9) and free agency signings (March 17) so these reports are bound to come up.
Tampa Bay Buccaneers QB Tom Brady reportedly wants Cleveland Browns WR Odell Beckham Jr. to join the Bucs for 2021.
Is This Possible?
Even though Tom Brady managed to get Rob Gronkowski and Antonio Brown on the Bucs roster for the Super Bowl run, this is possible but highly unlikely.
ESPN's Adam Schefter summarized the situation like this.
"While Tampa Bay and Tom Brady might want Odell Beckham Jr. there, can they fit in his contract? Can they make that work? I guess you could always try to make due with whatever you want, but I think it's challenging to fit a wide receiver in at that number on top of everything else they're trying to get done there."
Tampa Bay won a Super Bowl without OBJ, and they will have a difficult time financially keeping that band of brothers together for a repeat attempt at Super Bowl glory.
The Bromance Lives On
What is true is that Tom Brady has wanted to play with OBJ for years.
Dating back to when OBJ was a Giant and Brady was with the Patriots, New England pursued him.
However, the Giants did not want any part of a deal like that.
It is unclear exactly when the friendship developed, but we do know that Tom Brady was touched by OBJ's gift of goat hair cleats presented to him back in 2019.
OBJ got Brady his goat hair cleats 🐐🐐 @obj @TomBrady pic.twitter.com/QNGS9YSGOo

— The Checkdown (@thecheckdown) October 28, 2019
OBJ Is Rehabbing
Odell Beckham Jr. is not saying a lot on his social media accounts.
He is working hard to come back from the torn ACL, but he did work out with a fellow ACL afflicted player/friend, Saquon Barkley, last week.
.@obj and @saquon on the ACL comeback trail together 🙏 pic.twitter.com/H9FKvpV97Z

— B/R Gridiron (@brgridiron) March 2, 2021
The Browns Message Has Been Consistent
According to Jason La Canfora of CBS Sports, Cleveland is not "putting out any vibes about dealing WR OBJ@JasonLaCanfora

— Eric👀Schefter (@EKaplan15) March 2, 2021
No one from the Browns has indicated that OBJ is being shopped.
Both GM Andrew Berry and Coach Kevin Stefanski spoke in January about their excitement in having a healthy OBJ back with the team in 2021.
Money would also be an issue; not many teams in this salary-capped challenged year could take on OBJ's contract.
With bonus, OBJ is expected to make $15.75 million in 2021.
Not only is that a lot of money, but there is also the fact that he is rehabbing from a serious injury.
It is widely speculated he will be ready by the beginning of the 2021 season, but no one knows that for sure.
He would have to be evaluated and cleared by a doctor if (and it's a BIG if) a transaction would occur.
In summary, it seems appropriate to quote a famous line from the 1996 movie Jerry MacGuire.
"Show me the money."
Since Tampa Bay can't do that, OBJ will not be flying south to join the Bucs in 2021.