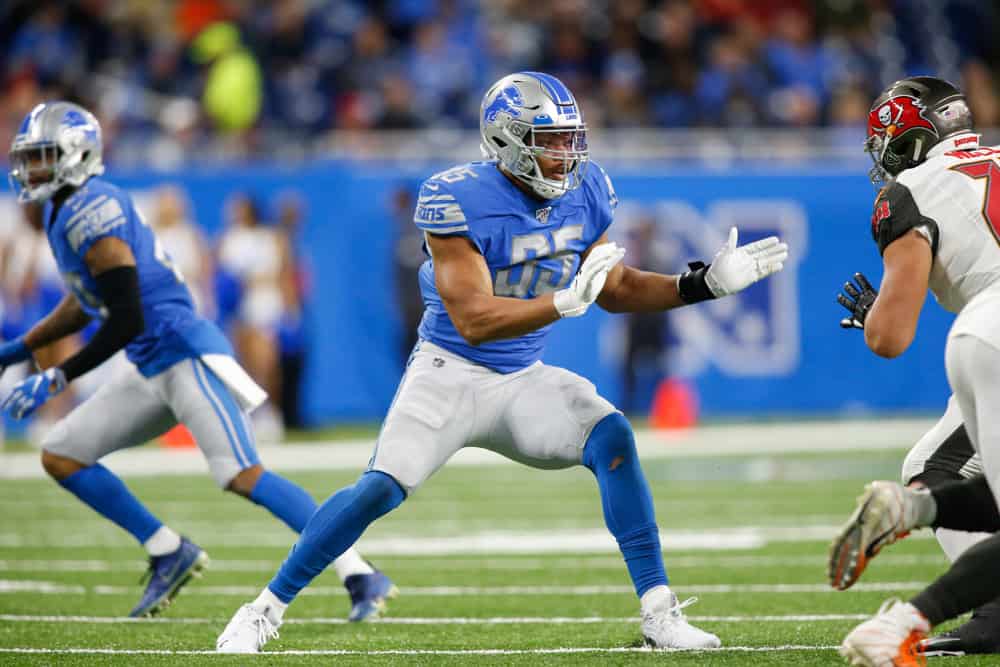 The Cleveland Browns enter this week with more questions than answers.
That does not make them the exception but pretty much the rule among NFL teams.
The official league year kicks off on Wednesday, March 17 so the answers will be coming very soon.
Improving the defense is a priority; everyone knows that.
How the Browns do it is the question?
One free agent option is defensive end Romeo Okwara who most recently played for the Detroit Lions.
Who Is Romeo Okwara?
Romeo Okwara, 25, played college football at Notre Dame.
He was an UDFA signed by the Giants in 2016.
Okwara played with the Giants from 2016-2017 before being claimed off waivers by the Lions.
Romeo Okwara played three seasons with the Lions, but 2020 by far was his best.
Highest pressure rate this season:
1. T.J. Watt – 18.2%
2. Aaron Donald – 18%
3. Joey Bosa – 17.4%
4. Romeo Okwara – 17%
5. Chase Winovich- 16.5% pic.twitter.com/ahRIlZ28Sc

— PFF (@PFF) November 17, 2020
There was very little to be excited about on Detroit's defense in 2020 except for Okwara.
He had 39 tackles, 10 sacks, and 3 forced fumbles.
There was speculation that the Lions would apply the franchise tag to Okwara, but that did not happen.
Romeo Okwara: 61 total pressures in 2020

T-5th among edge defenders pic.twitter.com/WpBmaNYzQX

— PFF (@PFF) March 9, 2021
What Could Okwara Bring To Cleveland?
Many believe the way the Browns win at free agency is to snag a player like Okwara who is young and on the rise.
The Lions with a new coach and direction appear to be rebuilding, but Okwara could join the Browns and make an immediate impact.
Others argue that his five year career consists of 4 1/2 years of mediocrity and a 1/2 year of dominant play.
Would he produce mediocrity or dominance with the Browns?
PFF ranks him 101st among free agents and elaborates on the ranking with the following rationale:
"After over 1,000 snaps of below-average production as a pass-rusher, Okwara finished like a ball of fire with the No. 3 pass-rush grade among edge defenders since Week 12. That stretch run was great, and it capped a career year that saw him post an 85.4 pass-rush grade, ninth-best in the league. If he's truly figured something out, Okwara is worth a shot as a No. 2 pass-rusher, but perspective is needed given the 4.5 years of average play prior to his half-season of dominance."
Okwara's Contract
Obviously Romeo Okwara would not require as big of an investment as J.J. Watt whose deal with the Cardinals is worth $31 million over 2 years ($23 million guaranteed).
His expired contract with the Lions was a 3-year deal worth $6.8 million.
Franchise tagging him would have cost the Lions a little over $16 million for 2021.
In this salary cap crunched culture, it is not hard to believe why the Lions did not opt for the franchise tag.
That does not say that the Lions aren't working behind the scenes to sign him to a longer-term deal.
His estimated market value could be between $9 and $11 million per year.
Romeo Okwara Will Get A Deal
Even though there is a pool of free agent defensive ends, Okwara will get a deal so the Browns will need to act fast and furious to nab him.
Among others, the Buffalo Bills, Las Vegas Raiders, and Indianapolis Colts may also be interested in him.
Romeo Okwara provides a good mix of youth, experience, and affordability that makes him an ideal candidate to join the Cleveland Browns and any other NFL team pursuing him.