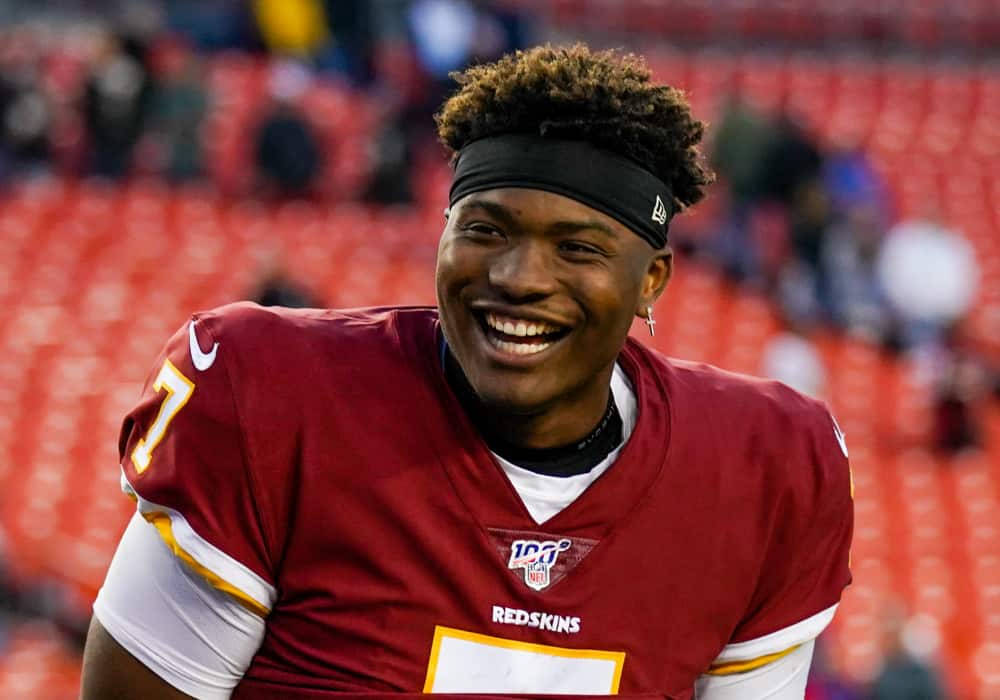 This is the time of year where the trade rumors start flying around.
Usually, fans can ignore it since nothing big normally happens around the trade deadline.
However, the Cleveland Browns could be interested in making a splash this year.
The Washington Football Team could be looking to trade former first round pick quarterback Dwayne Haskins before the November 3rd deadline.
The Ohio State product was benched after Week 4 and has been demoted to the third string quarterback in Washington.
It's highly unlikely that the 23-year-old is going to stick with Washington long term.
This might be a great chance for the Browns to add an insurance policy at the quarterback position.
A Fall From Grace
Haskins was the 15th overall pick by Washington during the 2019 NFL Draft.
He looked like a star in college and was well deserving of possibly being drafted within the top 10 picks.
RT OhioStateOnBTN "RT @BigTenNetwork: 5⃣,

Dwayne Haskins tossed a record 🖐 TDs in the 2018 B1G title game.@dh_simba7 | @OhioStateFB#CountdownToKickoff pic.twitter.com/YHK6Wzlq7W"

— The Buckeye Cast™ (@thebuckeyecast) October 18, 2020
Sadly, things didn't go perfectly for Haskins during his first year in Washington.
He threw for 1,365 passing yards with seven touchdowns and seven interceptions through nine games.
The hope was that Haskins would improve during his second year, but it appears Washington has given up on him.
Haskins was surprisingly benched after throwing for 314 passing yards against the Baltimore Ravens in Week 4.
Since then, Haskins has not played a snap in Washington and likely won't ever again.
The Downfall Of Mayfield
The Browns are hopeful that quarterback Baker Mayfield can make a quick turn around.
He hasn't looked sharp this season and played horrendous against the Pittsburgh Steelers in Week 6.
🚨 Baker Mayfield PICK-SIX 🚨

(via @NFL) pic.twitter.com/Pf277WfRTt

— SportsCenter (@SportsCenter) October 18, 2020
Mayfield was actually benched in that game, but it was reportedly because of a rib injury.
The Browns still hold onto hope that Mayfield can still be the starter despite two straight years of regression.
Unlike Haskins, Mayfield has been given a stacked offense in Cleveland and continues to struggle to move the ball.
Baker Mayfield is now holding back a super talented offense & very capable coaching staff.

— Colin Cowherd (@ColinCowherd) October 18, 2020
Cleveland does have veteran Case Keenum to lean on if Mayfield does end up getting benched this season.
However, Keenum isn't a long term solution, so the Browns need to keep their options open, assuming Mayfield plays his way out of a job.
The Verdict
Right now, it might seem a little drastic to acquire Haskins from Washington.
Although, this could actually be a smart move by Cleveland.
The Browns could probably get Haskins for pretty cheap since he's already in his second year.
Washington doesn't have much leverage in a trade because they've shown they clearly don't want Haskins.
The Cleveland front office wants to believe that Mayfield can be their starting quarterback of the future.
However, it's never a bad idea to get a backup plan in case something goes wrong.
Honestly, Mayfield hasn't shown much life this season and is hurting this offense at times.
Haskins was never really given a fair chance in Washington.
He played a total of 13 games with some of the worst offensive units surrounding him.
It would be tough for Peyton Manning or Tom Brady to have success with that Washington offense.
Haskins deserves an opportunity to show what he can do with a supporting cast around him.
No, Haskins shouldn't be the starter the second he walks into Cleveland.
However, he's not a bad Plan B, assuming Mayfield continues to regress.
The Browns should at least listen to what Washington wants in exchange for Haskins.