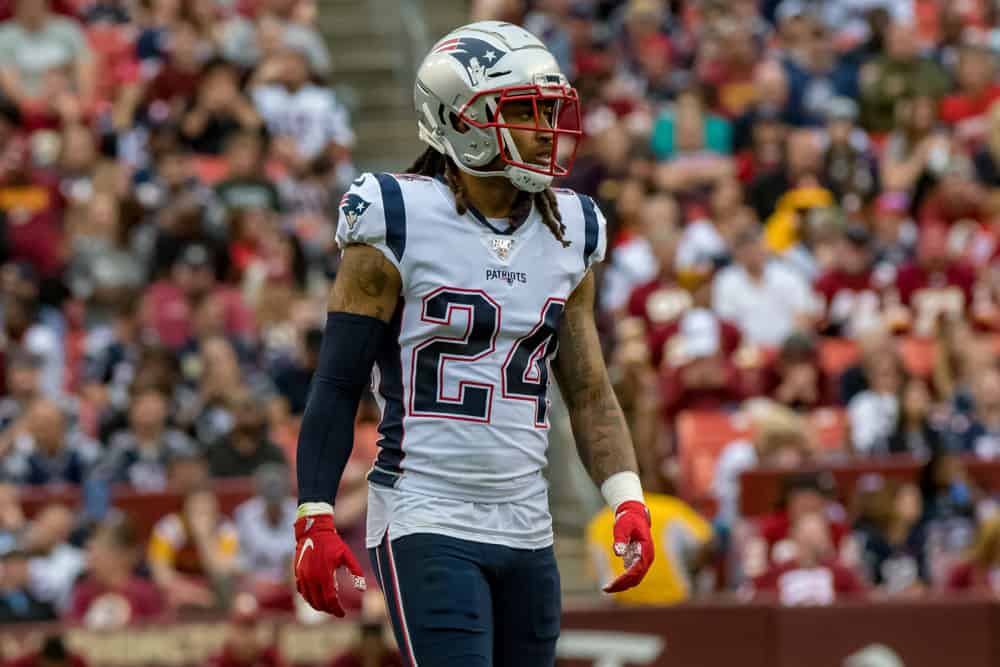 Upgrading the defense continues to be a conversation for Cleveland Browns fans.
Those talks are running wild at the moment with the potential of landing J.J. Watt looming in the background.
With the attention centered on Watt, it's easy to forget there are other players who may be able to help the Browns next season.
One of those names is Stephon Gilmore.
Gilmore is not a free agent, however, he's been involved in numerous trade rumors throughout the offseason.
His contract situation isn't one the Patriots seem to want to deal with moving forward.
He wants paid again, and New England isn't all that interested in doing so.
If a trade is indeed in the works, should the Browns be in on the Pro Bowl cornerback?

Too Steep of a Cost?
On the surface, it's not a bad idea at all for Andrew Berry to make some phone calls to New England regarding Gilmore.
Cleveland has plenty of cap space to work with heading into next year, giving them some flexibility with a potential deal.
Money won't be the reason a deal wouldn't get done, however.
The Patriots know teams want the services of Gilmore.
That's why New England isn't exactly asking for pennies on the dollar in return for him.
After speaking with a few GMs around the NFL, I've learned multiple teams who have called the Patriots about CB Stephon Gilmore were told by New England they want a first round pick and a player in exchange for the 2019 AP Defensive Player of the Year.

— Dianna Russini (@diannaESPN) November 3, 2020
So, a first-round draft pick and a player is what will be required to bring Gilmore to Cleveland.
Is that too much to give up for the 30-year old cornerback?

Guarantee an Extension
The only way Berry would even consider sending away his first-round pick this year is if he can guarantee a contract extension for Gilmore.
Again, he only has one year left on his deal, hence why New England is looking to get value in return before he's gone.
In terms of ability, Gilmore would be worth the first-rounder plus a player.
It's a lot to give up, but the goals for this team right now are as high as ever.
Starting a Pro Bowl caliber corner opposite of Denzel Ward is one massive step towards getting a Lombardi trophy.
Stephon Gilmore, Yards per Game Allowed in Coverage by Season:

2017: 39.46
2018: 25.18
2019: 25.12
2020: 19.18 pic.twitter.com/l4fq0QGCeo

— MOS ⚡️😭🥺😫 (@FieldsToJakobi) February 19, 2021
That move isn't worth making, however, if Gilmore is just a one-year rental.
First-round draft picks have potential to be franchise-changing levels of talent.
The odds of getting a guy like that go down a bit by the time Cleveland will pick in the first round.
It still is not worth giving up what could be a generational talent for one year of Gilmore.
If the would-have-been draft pick goes on to be some prolific player in the NFL and Gilmore flops in Cleveland, the backlash against Berry would be brutal.
However, if Gilmore does commit to extending his time in northeast Ohio, working out a deal could very well be in the cards.

What to Give Up?
Potential deals have been floated all over social media already.
Something involving David Njoku brings some intrigue.
It's clear the Browns don't need him with the tight end situation taken care of elsewhere.
Fans will roll their eyes at this, but you know the Patriots front office would be trying to pry Odell Beckham Jr. out of Cleveland.
Perhaps that would take their eyes off getting a first-round pick in return, but it's impossible to know exactly how much the Browns front office values Gilmore.
If a move is made for Stephon, Andrew Berry has earned the trust of Browns fans (so far) to make a quality deal.