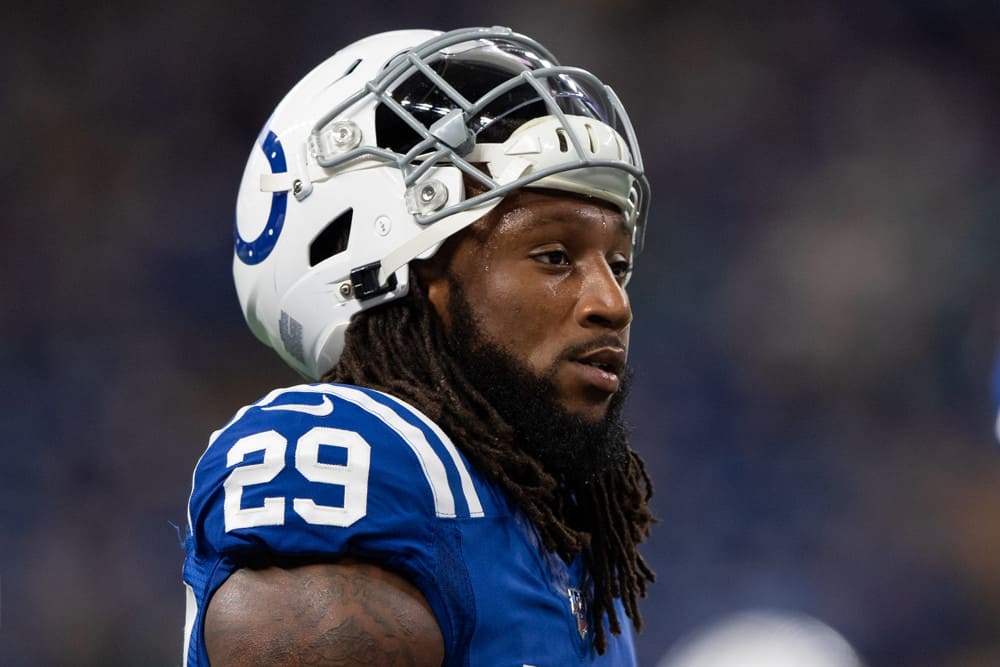 According to The Athletic's Michael Lombardi, the Indianapolis Colts are potentially open to trading safety Malik Hooker during draft week.
More players available…Malik Hooker, Indy, PJ Hall Oakland, Rasul Douglas Phila, Adam Sheehan, Chicago. It's going to be a fun week.

— Michael Lombardi (@mlombardiNFL) April 21, 2020

Hooker's uncertain future with the Colts is not news; Colts GM Chris Ballard has declined to exercise the 5th year option (for the 2021 season) on Hooker's contract prior to the 2020 season.
Recall that 1st year draft picks have a 5th year option built into their rookie contracts, and it is not unusual for the 5th year option to dangle out in the unknown for as long as possible.
Teams typically want to see how the player performs for 4 seasons (and to ensure the player remains injury-free) before making that decision.
With this in mind, it is not completely clear who is initiating the trade talks; the Colts or other teams.
The initial word I'm getting on Malik Hooker is that teams have called the Colts to inquire about him, NOT the other way around. Take everything w a grain of salt this time of year, but I believe this is very plausible.

— Stephen Holder (@HolderStephen) April 21, 2020
Regardless of the circumstance, the question remains.
Should the Cleveland Browns be in pursuit of Malik Hooker?
Let's look at the pros and cons of the Browns adding Hooker to the roster.
Pros
Malik Hooker is only 24 years old.
His career in the NFL is just beginning.
He tore his ACL and MCL in Week 7 of the 2017 season but has since made a full recovery.
Prior to that injury, he intercepted 3 passes in the first 7 games of 2017.
He returned in 2018 to play 14 games where he snagged 2 INTs.
In 2019, he secured 2 INTs in 13 games.
His skills are evident in this clip where Hooker ironically intercepted Philip Rivers who could be his Colts teammate this year.
#Colts Malik Hooker's one-handed interception off of Philip Rivers doesn't get enough credit. pic.twitter.com/Hs61iw09Fr

— Cody Manning (@CodyTalksNFL) April 2, 2020
Malik Hooker was almost a Cleveland Brown in 2017.
Former Coach Hue Jackson wanted to draft Hooker with the 12th overall pick.
In the end, the Browns made a deal with the Houston Texans and traded down to the 25th pick.
The Colts selected Hooker with their 15th pick.
Cons
The Colts would likely want at least the Browns 41st pick (2nd pick, 2nd round).
Since this is the only Browns 2nd round pick, that is a steep cost.
An even steeper cost is the fact that his 5th-year option or a contract negotiation is hanging in the shadows.
The Browns may end up paying in both draft picks and dollars to make Malik Hooker a Brown.
Hooker had an injury-plagued 2017.
He could not participate in the 2017 NFL Combine because in February 2017 he had surgery to repair a hernia and a torn labrum.
8 months later, he suffered the MCL/ACL injury.
His performances in 2018 and 2019 were mediocre at best.
Hooker's caliber of play has never returned to the level it was at during those first 7 weeks of the 2017 season.
The fact that he tends to be injury-prone makes him more of a risk to pick up in 2020.
Browns have depth at safety
The Browns have 2 safeties already on the roster.
They are Andrew Sendejo and newly signed former Raider Karl Joseph.
While there could be situational defensive players designed to utilize Hooker, safety is not a hole that the Browns need to address immediately.
Conclusion
The Cons outweigh the Pros for the Browns to give up a trade pick and potential future contract dollars to add Malik Hooker to the roster.
The other school of thought is that this is purely draft week conjecture, and the Colts are not serious about moving Hooker in the first place.
So this could end up being a case of "much ado about nothing".
Either way, the Browns are just fine with their current roster of safeties and should not be engaged in trade conversations with the Colts.