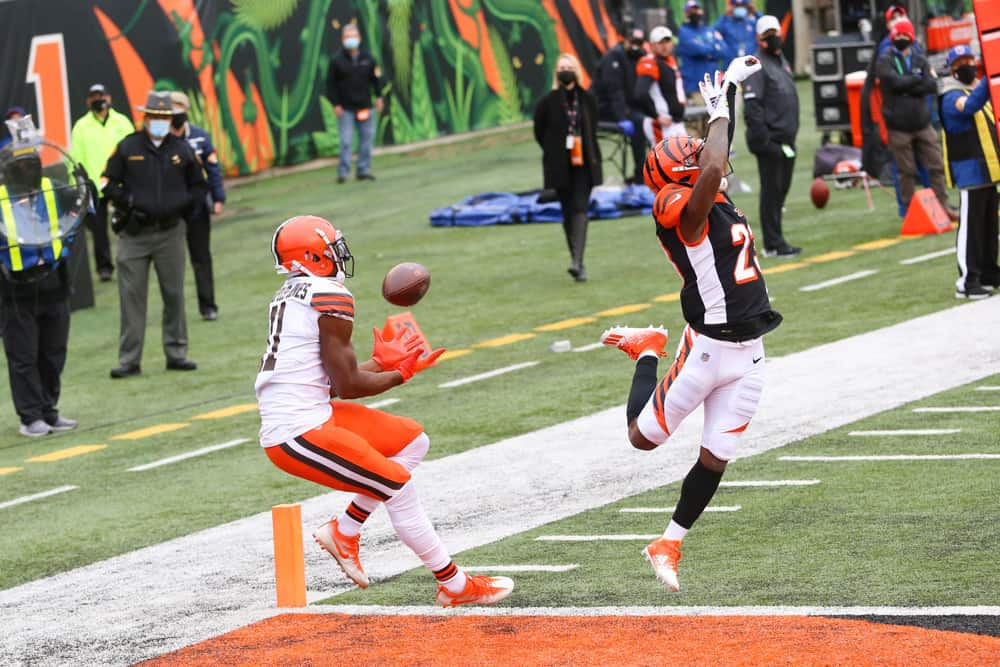 The Cleveland Browns needed all hands on deck to beat the Cincinnati Bengals.
In the end, it doesn't matter how you win.
As long as you win.
The Browns fended up a resilient Bengals squad 37-34, which featured some late-game heroics from many individuals, or studs in this case.

Stud: Baker Mayfield
How can you not start with Mayfield?
Mayfield was heavily criticized last week and even benched for Case Keenum.
What does he do right out of the gate?
He completed 21 passes straight at one point, finished the game 22 of 28 for 297 yards, five touchdown passes, and threw the game-winning touchdown pass with 11 seconds left in the game.
THE ROOKIE DONOVAN PEOPLES-JONES GAME WINNER🔥

— PFF College (@PFF_College) October 25, 2020

Mayfield led a five-play, 75-yard game-winning drive in just 55-seconds.
We learned that Mayfield can handle adversity and he's a big reason why the Browns are 5-2 this season.

Stud: Rashard Higgins
It felt like 2018 again.
Higgins had over 600 yards receiving that season and then followed that with a dismal 2019 year.
Odell Beckham Jr. left the game with an injury in the first quarter and it was Higgins that came to the rescue.
Higgins led the Browns with six receptions on six targets for 110 yards.
That includes this 30-yard strike on the game-winning drive.
📽 Baker Mayfield trouve Rashard Higgins pour 30 Yards ! #Browns pic.twitter.com/bJJ69KaBRn

— NFL France (@NFLFrance) October 25, 2020
Stud: BJ Goodson
It feels like Goodson has a spot reserved on this list as he inches closer to being a Pro Bowler each week.
Goodson finished the game second with five tackles, but his one interception came up clutch.
On the very first drive of the game, Joe Burrow was leading the Bengals down the field and was looking to cap off a 70-yard drive.
Burrow led Cincy to the Cleveland 2-yard line, but instead of finding Tyler Boyd in the endzone, Goodson snagged the pass.
However, we have to give Denzel Ward an honorary shoutout for tipping the pass.
That was a helluva opening series for #Browns CB Denzel Ward. Break up in end zone on deep ball to A.J. Green. Tackle for loss on screen to Tyler Boyd. And deflection on pass that B.J. Goodson intercepted in the end zone.

— Nate Ulrich (@ByNateUlrich) October 25, 2020
Stud: Harrison Bryant 
It feels like the Browns really hit on Bryant.
The fourth-round pick from the 2020 draft finished the day with four receptions for 56 yards and two touchdowns.
When Austin Hooper was ruled inactive, everyone knew that either Bryant or David Njoku would need to step up.
Even though Njoku did have a touchdown, he had just two receptions for 20 yards.
Bryant is clearly the No. 2 tight end on this team, which means we could see limited time from Njoku moving forward.
For now, the rookie can definitely relish the role he played in this game.

Dud: The entire Browns secondary
Outside of Denzel Ward, the entire Browns secondary was put on notice.
Tyler Boyd finished the game with 11 receptions for 101 yards and a touchdown, while AJ Green looked like his vintage self.
Green finished with seven receptions for 82 yards.
Altogether, Burrow threw for 406 yards and finished 35 of 47 on pass attempts.
Against the Bengals, that's just not good enough.
The Browns have games with Derek Carr (Raiders) and Deshaun Watson (Texans) next on the schedule.
Both of those players have to be smiling about the possibilities against this secondary.