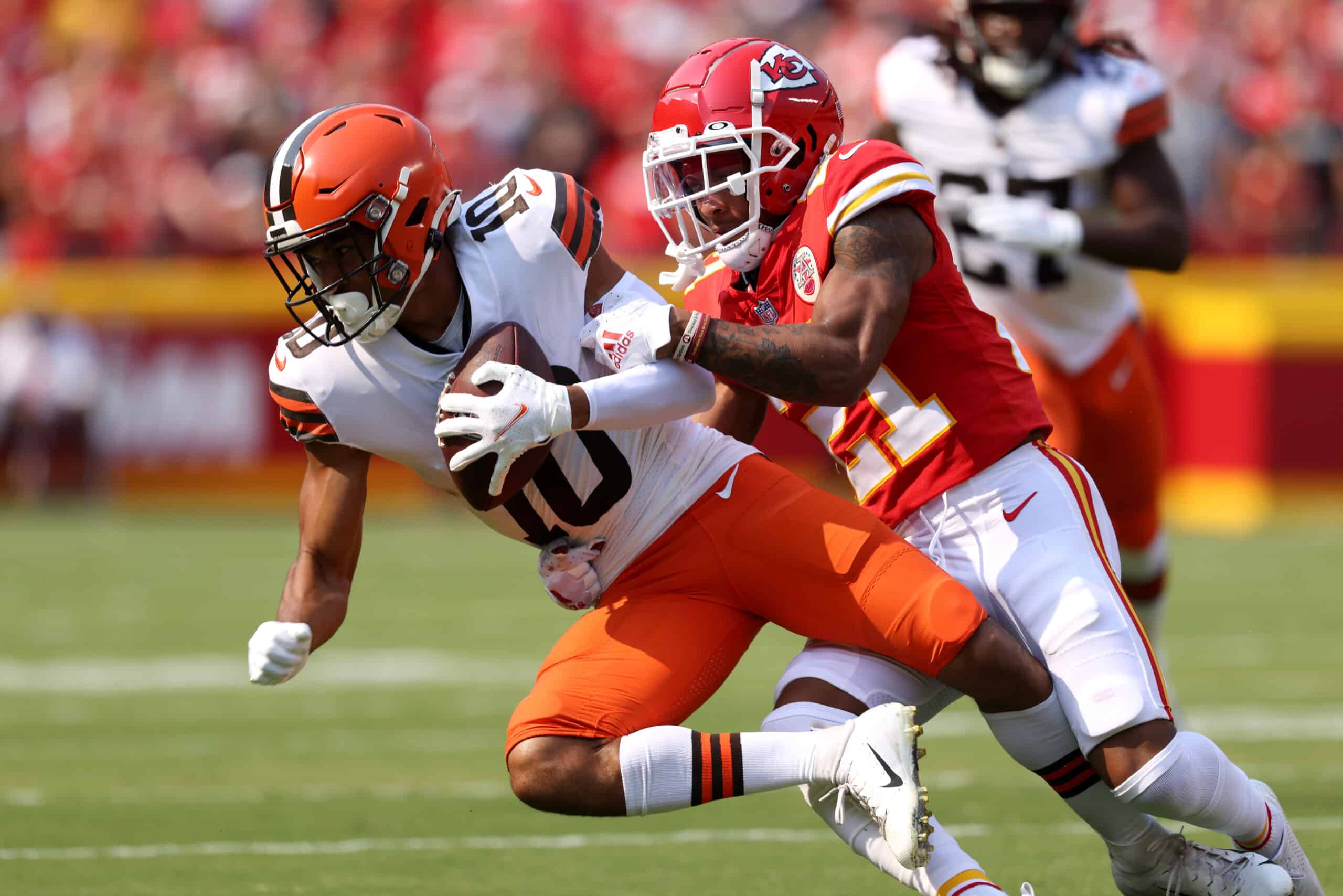 Midway through the third quarter of the Cleveland Browns season opener, everything looked great.
Sure, Kansas City had just scored to pull within 5 points and Patrick Mahomes was still in the game.
But the Chiefs couldn't stop the Browns' offense all day, and it seemed inevitable they were about to score again.
When Nick Chubb picked up 24 yards on his next 2 carries, he seemed a sure bet to lead off the Studs list this week.
We will come back stronger. pic.twitter.com/laQPnVtknE

— Cleveland Browns (@Browns) September 12, 2021
But then came his third consecutive carry, and suddenly the ball was in Mahomes' hands again, way too soon.
Chubb's fumble was merely one of a series of mistakes that led to the Browns' loss.
But it was arguably the one that started to turn the tide away from Cleveland's upset bid.
Where will he land on the Browns' Week 1 Studs and Duds list?
Stud: Jarvis Landry (84 total yards, TD) 
Jarvis Landry ended the day as the Browns' leader in receptions, catching 5 targets for 71 yards.
But his biggest plays did not come on the receiving end of things.
Landry scored a touchdown with a determined effort on a first-half end-around.
Pure Determination from @God_Son80.

📺: #CLEvsKC on CBS
📲: Browns mobile app pic.twitter.com/PKF5fwewJq

— Cleveland Browns (@Browns) September 12, 2021
The ball barely broke the plane at the end of a hard twisting effort that warranted an official review.
Later in the game, Landry could not find a receiver on a trick play that made him a quarterback.
But Landry escaped the Chief's rushers and turned the play into a sizable gain with his legs.
Stud: Kareem Hunt (61 yards, TD, 2PC) 
Kareem Hunt entered the game at several key moments and the Browns' offense never skipped a beat.
When Nick Chubb appeared to be running out of gas after a long drive, Hunt finished things off with a touchdown run.
He averaged the exact same 5.5 yards per carry as Chubb and caught his 3 targets for 28 more yards.
The @Browns are inching closer to a Week 1 win…

📺: #CLEvsKC on CBS
📱: NFL app pic.twitter.com/TH9fGh3OHc

— NFL (@NFL) September 12, 2021
Kevin Stefanski can run the exact same game plan with either of his two top running backs.
And Chubb provides an energy boost by jumping off the bench at opportune times.
But does he deserve to be named a stud more than Nick Chubb?
Stud: Nick Chubb, 101 total yards, 2 TDs
Cleveland would not have been in a position to win this game if not for Chubb's strong running.
His pair of rushing touchdowns and relentless efforts had the Chief's defense bewildered for most of the day.
But Chubb is more than a runner, and we don't say that because he caught 2 passes.
Untouched. #CLEvsKC

📺: #CLEvsKC on CBS
📲: Browns mobile app pic.twitter.com/VTwEbsPgeM

— Cleveland Browns (@Browns) September 12, 2021
Chubb also chipped pass rushers on more than one occasion in an effort to help Chris Hubbard.
Hubbard was pressed into service at left tackle when Jedrick Wills went down with an ankle injury.
Cleveland's star rusher showed an awareness of his struggles and did what he could to help out.
Grant Delpit was not active for this game, which meant Cleveland was already shy in the safety department.
And Joe Woods was counting on the remaining secondary to step up against the potent Chiefs' passing game.
That made a grievous error on Harrison's part into an inexcusable act.
Cleveland #Browns safety Ronnie Harrison has been ejected after taking a swing at a Kansas City #Chiefs coach #Cleveland #NFL #NFLRedZone #Football #Highlights #Update pic.twitter.com/MDZ84ETiDy

— Midwest Sports Network (@MWSNsports) September 12, 2021
In a tangle of bodies along the Chiefs' sideline, Harrison wound up stepping on an opposing player.
As he made his way out of the area, a Kansas City coach pushed Harrison toward the field.
Harrison's return push left the Browns shorthanded with well over 3 quarters left to play.
Dud: Jaime Gillan, dropped a snap
Jaime Gillan was the forgotten man for most of the game, with no punt opportunities until the 4th quarter.
When he finally got to kick one, he inexplicably dropped the snap.
Gillan recovered his fumble, but his instincts to run did not result in a better outcome.
Oh, no.

Cleveland is falling apart in Arrowhead.

This botched punt granted the #Chiefs 17% in win probability. #CLEvsKC #Browns #ChiefsKingdom pic.twitter.com/O6ZPMX5mSO

— EdjSports (@edjsports) September 12, 2021
Kansas City recovered on the Browns 15 yard line and scored three plays later.
His error capped off the Browns' first 3-and-out of the day.
And Kansas City took their first lead after the mishap, taking more momentum away from the Browns.
Dud: Defense 
This is a difficult decision to make, even though the defense gave up 33 points and couldn't make a stop.
Harrison's early exit might have affected their plans.
There were some big plays and hits by the pass rush, but far more near-misses and successful scrambles.
.@Flash_Garrett getting after Mahomes on third down!

📺: #CLEvsKC on CBS
📲: Browns mobile app pic.twitter.com/KJqR3FdnQy

— Cleveland Browns (@Browns) September 12, 2021
And they did well to slow down Kansas City's big-play attack.
But for every tackle for a loss or pass defensed, there was a back-breaking catch.
If they played zone to contain Tyreek Hill and Travis Kelce, it didn't work.