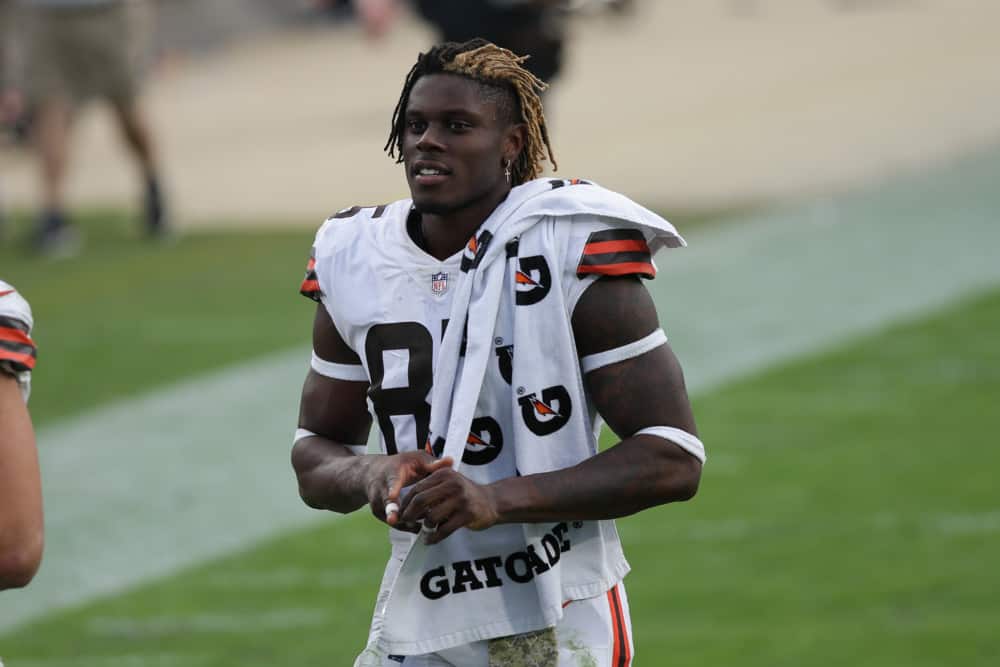 David Njoku, the oft-injured 24-year-old tight end, recently completed his fourth year in the NFL.
He bounced back from an injury-riddled 2019.
With many important roster decisions ahead, Njoku made many Cleveland Browns feel excited about his potential 2021 season.
Back in April 2020, the Browns exercised the fifth-year options of both David Njoku and Myles Garrett.
The decision to retain Njoku for the 2021 season came after signing Austin Hooper and drafting Harrison Bryant.
The Browns proved to have a wealth of talent at the tight end position in 2020.
At first, Njoku was excited by the healthy competition with Hooper.
However, he made requests to be traded, and there was a report that he wanted to be out of Cleveland by the trade deadline.
Njoku ended up staying with the Browns for the entire season.
At times, he seemed to be a strong part of the Browns offense even though he had fewer than 20 receptions in the regular season:
13 regular season games (five started)
29 targets
19 receptions
213 yards
11.2 yards per reception
13 first downs
Two touchdowns
Njoku played 39 percent of Cleveland's offensive snaps in 2020, and he hopes to play a higher percentage in 2021.
Here are the three reasons to keep Njoku for the upcoming season:
1. Njoku Battled Injuries To Play Well When It Mattered
Although the 2020 Browns could not take down the defending Kansas City Chiefs in the playoffs, there were positive signs.
Cleveland almost pulled out the comeback victory, but they fell, 22-17.
According to Pro Football Focus, the best player for the Browns in the contest was none other than Njoku:
Highest-graded players from Browns vs. Chiefs:
1. Tyrann Mathieu – 90.5
2. David Njoku – 87.2
3. Travis Kelce – 82.9
4. J.C. Tretter – 82.1 pic.twitter.com/aATId3p7HM

— PFF (@PFF) January 18, 2021
Baker Mayfield targeted Njoku five times and he caught four of those balls.
Each of those numbers tied season-highs for Njoku.
The tight end turned those catches into 59 yards, which were also a season-high for him.
Here is Mayfield connecting with Njoku in the second quarter:
Baker Mayfield hits David Njoku on 2nd and 20 to convert before the 2 minute warning. #Browns pic.twitter.com/5836Fhnvfw

— Justin Groc (@jgroc) January 17, 2021
During that drive, Mayfield attempted passes to Njoku three times.
Early in the drive, one of the targets ended with a penalty.
The third one was an incomplete pass, but the middle of the three was that impressive 26-yard completion seen above.
Unfortunately, the drive will be remembered for Rashard Higgins' fumble out of the end zone.
All in all, the Browns finished a strong 2020 with their first 11-win season since 1994 and first playoff appearance since 2002.
2. Even with Trade Rumors Swirling All Season, Njoku Played Well
During 2020, there were trade rumors all over the place that included Njoku.
Fortunately, he stayed with Cleveland and made some great plays, including this one in the Week 7 win over the Bengals:
Baker throws a dart to David Njoku for the TD. #Browns take the lead 24-20.

— Everything Cleveland (@EverythingCLE_) October 25, 2020
Mayfield found Njoku for the 16-yard touchdown, which was the team's first of three scores in the fourth quarter.
The Browns went on to win their fifth game of the season with the 37-34 win.
It would be nice to see Njoku return to help the Browns try to sweep the Bengals again in 2021.
3. His Athleticism Would Be a Welcome Sight to the 2021 Browns
Browns fans hope that Njoku does not continue to ask for trades because his athleticism would be a helpful part of the team next season.
Overall, the Browns were inconsistent with their passing offense in 2020.
In four regular season games, Cleveland scored 10 points or fewer.
However, there were several subpar weather games in 2020 for the Browns.
When Mayfield and company scored 20 or more points this season and playoffs, they went 11-1.
Mayfield had plenty of receiving options for the majority of the 2020 season.
Njoku showed that he could be a strong target for him:
David Njoku with plenty of room to run 👀 @David_Njoku80 @Browns

📺 #BALvsCLE on ESPN pic.twitter.com/4CGKcelZbY

— The Checkdown (@thecheckdown) December 15, 2020
Heading into 2021, the Browns are hoping to have another double-digit win season.
If Njoku is on the team, he should able to help the team have another successful year.