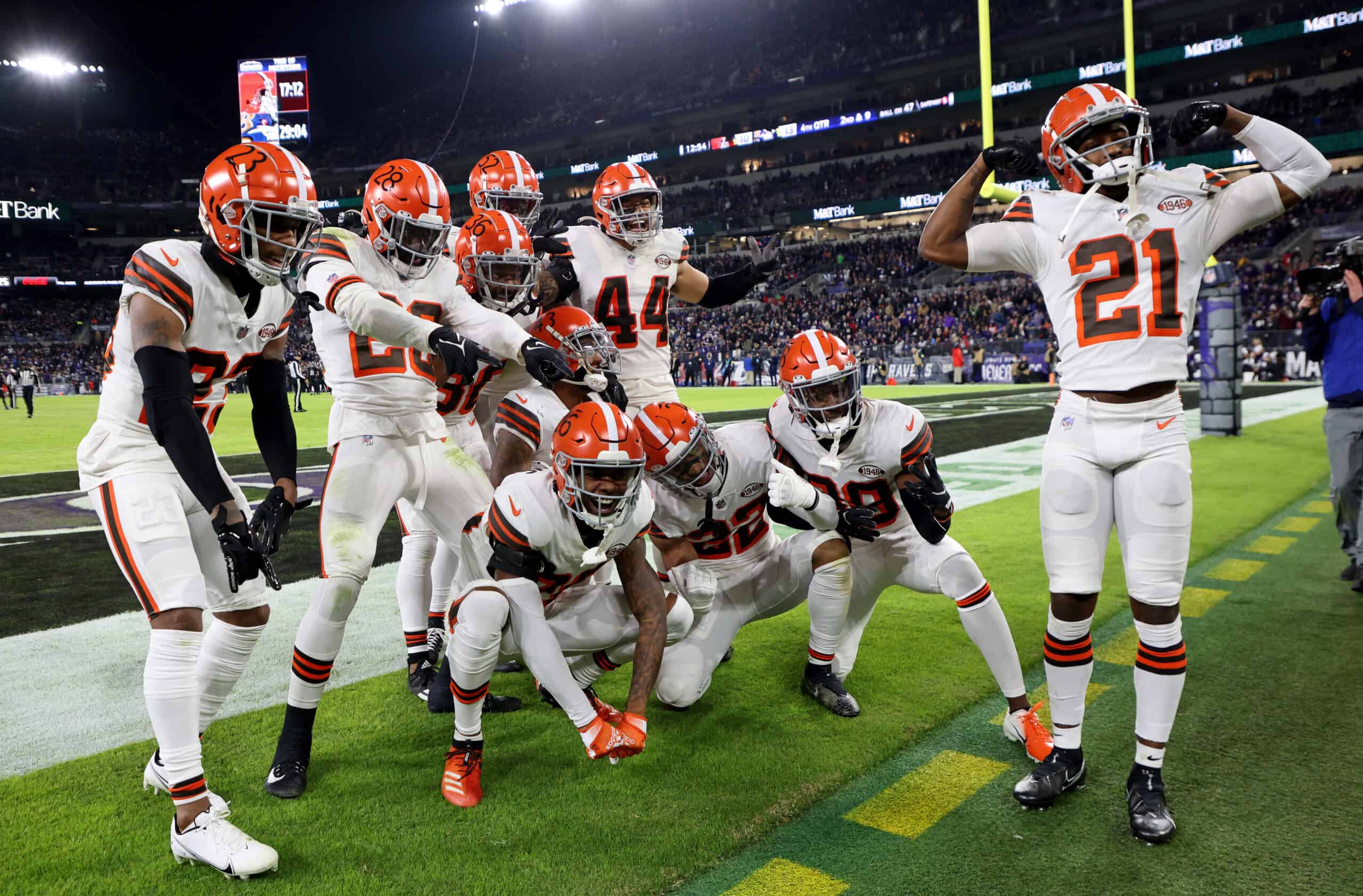 Sunday's victory over the Ravens might have been a little closer than fans hoped.
But a win is a win, and the Cleveland Browns 22-20 decision over Baltimore greatly improved their playoff outlook.
Cleveland sits just one game out of first place in the AFC North, and one spot back of the final wild card.
All 3 of their division rivals lost, leaving just 1.5 games between first and fourth place.
#Browns (7-6) are only team in AFC North to win this weekend, and are now in 2nd place in division by virtue of tiebreaker over #Bengals (7-6). They're 1 game behind the 1st place #Ravens (8-5). #Steelers (6-6-1) in fourth. Everything's coming up #Browns

— Mary Kay Cabot (@MaryKayCabot) December 13, 2021
Cincinnati's overtime loss pushed them behind the Browns in both the division and wild card races.
But as close as they are to making the postseason, Cleveland needs help if they want to play an 18th game.
Taking the AFC North would be the simplest route to the post-season.
And Browns fans might want to root for the other 3 current division leaders to win out.
How To Win The AFC North 
Baltimore (8-5) controls their own destiny in the AFC North, thanks to a one-game lead over Cincinnati and Cleveland.
And with the worst division record, the Ravens need to maintain that lead.
The division has the 4 most difficult remaining schedules in the NFL.
Every game is against a division rival, division leader, or a team in the Wild Card mix.
AFC North Standings:
1. Baltimore Ravens 8-5
2. Cleveland Browns 7-6
3. Cincinnati Bengals 7-6
4. Pittsburgh Steelers 6-6-1#Browns

— Hayden Grove (@H_Grove) December 13, 2021
Cleveland has the easiest mark (by record), facing the 6-7 Las Vegas Raiders in what amounts to an elimination game Saturday.
Winning their 3 AFC games should put Cleveland in good shape to take the division.
The Browns have an advantage in head-to-head tiebreakers with the Bengals and Ravens.
But a 3-way tie with the Bengals and Ravens, and the Steelers' tie game, could squeeze Cleveland out.
Wild Card Getting More Complicated 
There are 5 teams with 7-6 records battling for the final 2 wild card slots.
And the Los Angeles Chargers are only a game ahead of that pack in the 5th spot.
Pittsburgh (6-6-1), Miami (6-7), and Las Vegas (6-7) are close enough to make a run, too.
In fact, the Raiders might be in the most advantageous position, with 4 games versus teams currently ahead of them.
AFC Wild Card spots:

5. #Chargers — 8-5
6. #Colts — 7-6
7. #Bills — 7-6
8. #Browns — 7-6
9. #Bengals — 7-6

— Jeff Kerr (@JeffKerrCBS) December 13, 2021
Running the table against the Browns, Broncos, Colts, and Chargers won't be easy, but it could make Vegas the 5 seed.
Cleveland plays nobody ahead of them unless they fall behind the Ravens or Bengals.
Not only do the Browns need help to make up a position, but they must win all 3 AFC games to take any tiebreakers.
And that still might not be enough as there are scenarios where the 7th seed ends up with 11 wins.
Most Likely Scenario 
Green Bay will be a significant favorite to beat the Browns on Christmas Day.
But with the defense starting to pick up, one never knows what will happen in a nationally-televised game.
With 10 teams vying for 3 spots, any loss might be enough to end Cleveland's wild card hopes.
On the other hand, 10 games pit two of those teams against each other, meaning anything is possible.
"Resilient! Resilient team and we need that resiliency." – Kevin Stefanski pic.twitter.com/xIodCwEwzj

— Cleveland Browns (@Browns) December 12, 2021
Only the Dolphins and Bills have schedules without another wildcard contender on it.
So the clearest and easiest path is for the Browns to beat their division rivals and the Raiders.
That leaves them in the best shape as far as division title tiebreakers go.
As long as the Packers and one other team beat the Ravens, too.