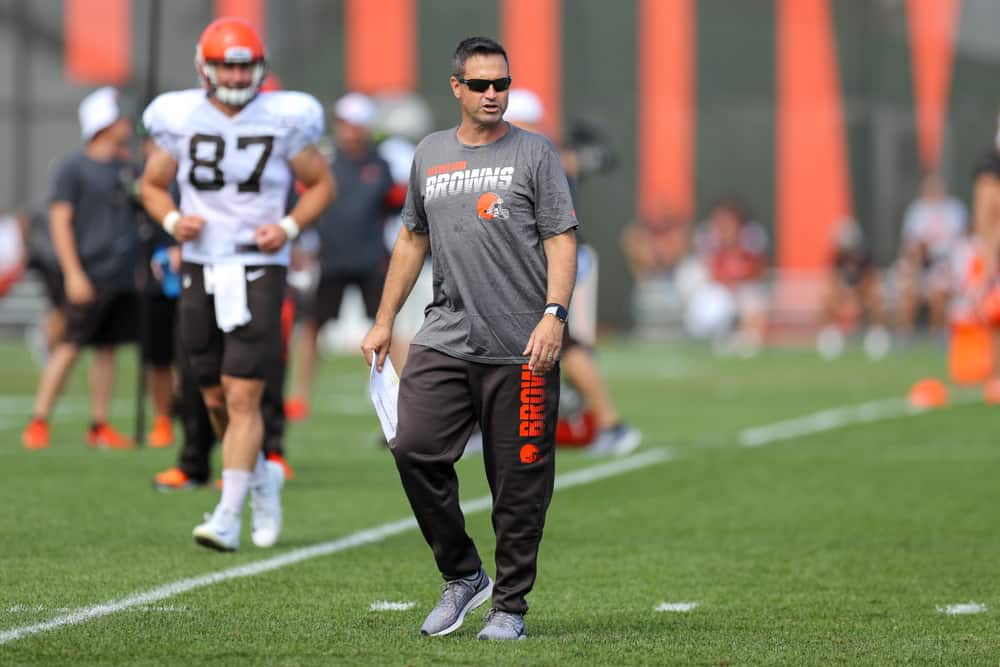 Don't let the delayed timing of Mike Priefer's dismissal fool you.
Kevin Stefanski and the Cleveland Browns knew he had to go way back when they fired Joe Woods.
Why didn't the team axe both coordinators on the same day, right after the season ended?
Maybe Stefanski had more difficulty letting go of his long-time coworker and fill-in head coach.
We've parted ways with special teams coordinator Mike Priefer.

Thank you, Coach Prief, for all you've done for our organization and city. pic.twitter.com/YS0ewYWTpy

— Cleveland Browns (@Browns) February 21, 2023
Cleveland arguably did better by Woods, freeing him early enough to land a coordinator job in New Orleans.
Priefer will enter the market late, although there are still a couple of special teams positions open.
One coordinator position might open in Indianapolis under their new head coach, Shane Steichen.
Reports are that Cleveland asked permission to speak to the Colts' current coordinator, and former Browns safety, Bubba Ventrone.
Better Return Game Covered Other Issues 
Priefer, who coached the Vikings for 8 years during Stefanski's tenure in Minnesota, lasted 4 seasons in Cleveland.
His record earned him a chance to stay on staff when Stefanski rolled in as head coach in 2020.
But special teams were a liability in Stefanski's first 2 seasons at the helm, and not much help in his third.
The Browns finally found a real kick returner and, like we all thought, it's Jerome Ford.

— Dan Labbe (@dan_labbe) November 27, 2022
Jerome Ford and Donovan Peoples-Jones shored up the return game for Cleveland last year.
And it might not have been Priefer's decision to award the kicking job to rookie Cade York without competition.
But the young stud faltered and a big-legged kicker didn't improve that unit enough to save Priefer, either.
What Kind of Support Did York Have? 
It's hard to blame the special teams' coordinator when he is handed a sub-par kicker.
York sported the 3rd-worst field goal percentage while displaying remarkable consistency across distances.
The rookie struggled from 30-49 yards (75%) and he was one of only 2 kickers to have 3 field goals blocked.
#Browns Cade York with back-to-back blocked field goals, including #Ravens game….53 yard attempt. No points off INT

— Mary Kay Cabot (@MaryKayCabot) November 1, 2022
And for all the talk of his big leg, York was only average (ranked #15) in touchbacks.
It is notable that Priefer lobbied hard for the Browns to draft York, particularly citing the kicker's poise.
But York looked like a typical rookie, and arguably could have used more coaching help during the season.
Did Bojorquez Outkick His coverage? 
Andrew Berry signed Corey Bojorquez as a free agent to complete the 2022 special teams overhaul.
Bojorquez came in with the longest punts of 2020 and 2021 on his resume.
Sure enough, he sported the 9th longest punting average in the league for Cleveland.
Corey Bojorquez can boom it. Hit one about 70, but misses a couple times too. #Browns

— Hayden Grove (@H_Grove) August 23, 2022
But Bojorquez ranked only 21st in net average thanks to a 12.3 yards-per-return given up by his coverage team.
And the punter struggled to pin teams deep, with the 6th most touchbacks and only the 20-most punts inside the 20.
York might have been the more visible problem, but Priefer's failure to improve punt coverage didn't help his case.