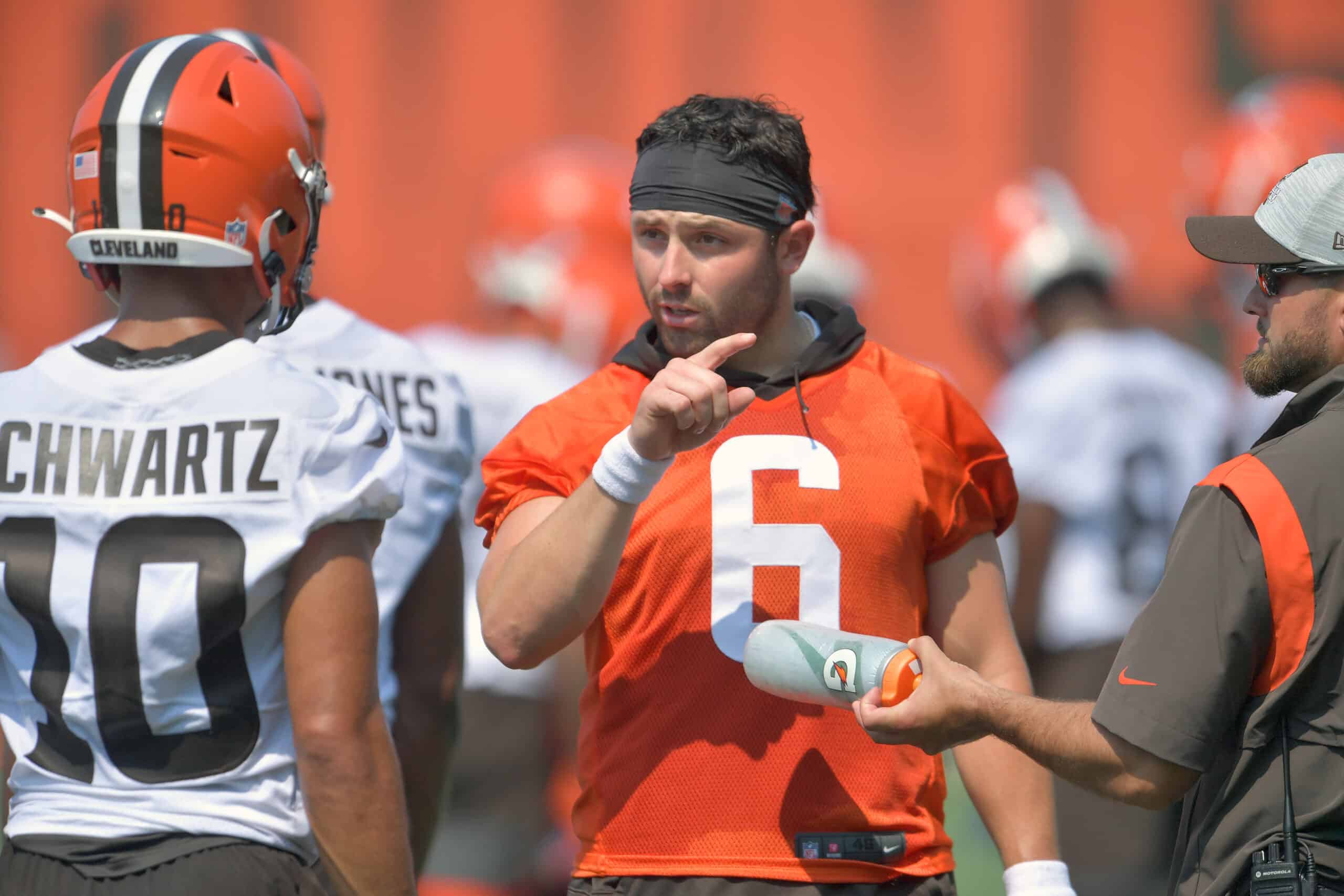 One of the many storylines to watch as the Cleveland Browns open training camp in 2021 is who will earn the WR3 role.
All indications are that Odell Beckham Jr. is getting healthy quicker than expected.
If that continues, he will be WR1.
Of course, Jarvis Landry is then WR2.
Many could argue those roles could be switched around, but regardless these are the top two wide receivers.
Who Is Competing For WR3?
Then, we come to the WR3 role, and things are less clear.
That means there will be a competition at camp among the leading contenders: Rashard Higgins, Donovan Peoples-Jones, JoJo Natson, and rookie Anthony Schwartz.
This is a good problem to have for the Browns coaching staff.
Rashard Higgins
#Browns WR Rashard Higgins spent the offseason working with WR coach David Robinson down in Texas. He's in great shape and is ready to report Tuesday. Here's some footage David shared with me: pic.twitter.com/I8d02lyk60

— Brad Stainbrook (@BrownsByBrad) July 24, 2021
Obviously, the frontrunner would be Rashard Higgins.
Higgins enters his 6th year in the NFL; all are with the Browns.
He has been a steady target for Mayfield.
In 67 career games, he has 11 touchdowns and over 1,600 yards receiving.
Higgins also did well in the postseason with 116 yards in 2 games.
Of course, he nearly had a touchdown against the Chiefs in that contentious fumble, touch-back, and helmet-to-helmet play.
Higgins re-signed with the Browns for 2021 to continue the winning ways; he wanted to stay in Cleveland after being there in the dark days of 2016 and 2017 when the Browns went 1-31.
Donovan Peoples-Jones
#Browns WR, Donovan Peoples-Jones, could take a big leap in Year 2. 💫

In 2020, 10 of his 14 Recs went for a First Down, while 2 went for a TD.

DPJ is a deep-threat, and averaged 21.7 Yards per Catch. 🧨

He recorded the longest play from scrimmage for the Browns, a 75-Yard TD. pic.twitter.com/Fts6c76XEW

— The Hottest Take (@Hottest_TakePod) June 21, 2021
DPJ's rookie season contained a buzzer-beater touchdown.
He contributed after OBJ was lost for the season.
DPJ is not content to just play on special teams; he wants to be a part of the offense.
DPJ starting #BrownsCamp off with a bang! 💥 @dpeoplesjones pic.twitter.com/92GggjoKpP

— Cleveland Browns (@Browns) July 28, 2021
He will be working hard in training camp to prove himself.
JoJo Natson
If there is a potential odd man out, it could be JoJo Natson.
His productivity could be absorbed by DPJ and Anthony Schwartz.
Natson also has an injury history that makes his durability a question mark.
It's Time! Lets Get to Work!
Les Go JOJO!#TrainingCamp #BrownsCamp #brownstwitter #jojonatson #TTG pic.twitter.com/qjPbiBuJGR

— JoJo Natson (@JoJoBackers) July 28, 2021
Anthony Schwartz
#Browns Anthony Schwartz spending lots of time chatting with OBJ and Jarvis Landry today. Two good mentors to have. pic.twitter.com/Tc9xEghDhM

— Camryn Justice (@camijustice) July 28, 2021
Schwartz is the rookie track star the Browns drafted in the third round this past spring.
His speed is no joke, and if his ball control skills are on point, he is going to be inserted in this offense.
The Browns have no player like him, and his speed is right up there with the Chiefs Tyreek Hill.
At 20 years of age, he is a wildcard in training camp, and the Browns will work out the smartest ways to use him as he develops.
Conclusion
Whomever the Browns select as the WR3, that person will be young and fast.
He will be able to fill in if need be for OBJ and Landry.
The moment will not be too big for whichever player gets the job.
We can't wait to watch the competition get underway.