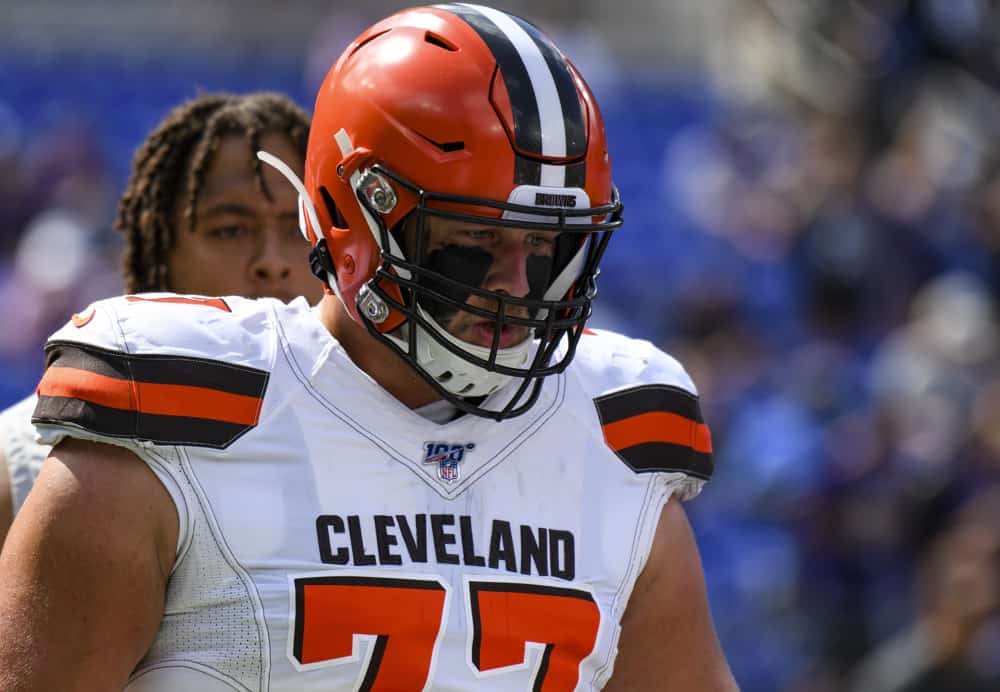 The Cleveland Browns are certainly happy to have their bye week right now.
The Week 9 bye has allowed some of the Browns key players to get healthy.
Both running back Nick Chubb and right guard Wyatt Teller are back at practice this week.
Stefanski on the possible return of both Nick Chubb and Wyatt Teller this week: "You're talking about two good football players. If we are able to get them back, I think it will give a boost to our football team" #Browns

— Tony Zarrella (@Tony_Zarrella) November 9, 2020
The organization is hopeful that both players will be able to suit up versus the Houston Texans in Week 10.
The Browns running game has not been the same without Chubb and Teller on the field.
The Return Of Teller
One of the biggest surprises of the season has been the performance by Teller.
It's unlikely that anyone could've predicted that Teller would come out and be one of the best offensive guards in the league.
The 25-year-old is graded as one of the best players on the offensive line throughout the entire league.
Highest-graded OL by position:
C – Corey Linsley – 88.4
G – Wyatt Teller – 94.4
T – Andrew Whitworth – 90.1 pic.twitter.com/AFEmNVe3GX

— PFF (@PFF) October 23, 2020
The Browns offensive line has not looked the same with Teller sidelined over the last few weeks.
He has missed each of the last three games after suffering a calf injury versus the Indianapolis Colts.
The Cleveland running game has not been quite as effective without Teller in there.
Even Teller's teammates are excited to have him back on the field.
"Yes, it's awesome having Wyatt Teller back, just the juice he brings" Austin Hooper said.
#Browns TE Austin Hooper: "Getting your starters back on offense is always a good thing. A guy like Wyatt, a road-grader up front…it's awesome having Wyatt Teller back. Just the juice he brings, the nastiness."

— Keith Britton (@KeithBritton86) November 9, 2020
Right now, it's unclear if Teller or Chubb will suit up versus the Texans next week.
The organization is likely going to wait and see how they feel during practice.
Having a strong offensive line can make a huge difference for an offense.
The Browns looked much better as an offense when Teller was healthy and dominating opposing pass rushers.
Hopefully, the injury doesn't cause a setback in Teller's performance during the second half.
Teller could earn himself a nice extension, assuming he continues to play like a star down the stretch.