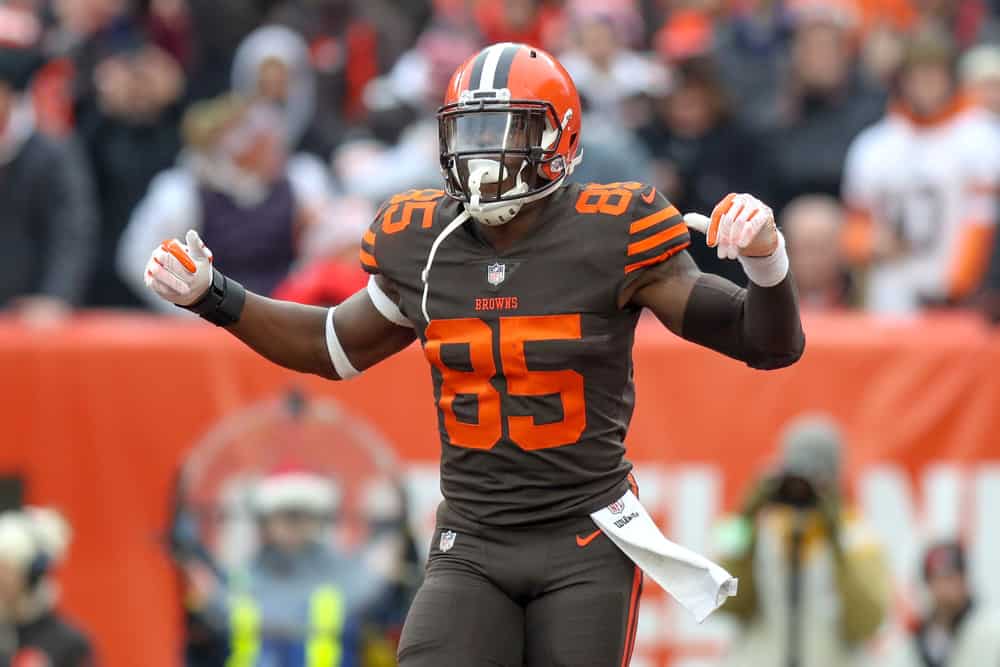 On and off for the past year, Cleveland Browns tight end David Njoku has expressed interest in being traded.
It appears that storyline has happily come to an end as ESPN's Jeremy Fowler reports Njoku is in a "good place" with the Browns.
The Browns seemed to have weathered the storm with tight end David Njoku, who requested a trade last summer. I'm told per source that Njoku is in a good place with the franchise.

— Jeremy Fowler (@JFowlerESPN) May 24, 2021
Whereas Njoku's messaging has been inconsistent in the past year, the Browns front office has remained steadfast with its message.
The team did not want to trade Njoku; he was and is considered a valuable member of the team.
Browns coach Kevin Stefanski on TE: "We believe in David" Njokuhttps://t.co/fvF3mXq8iN pic.twitter.com/bq6imRDhDO

— Around The NFL (@AroundTheNFL) August 1, 2020
#Browns coach Kevin Stefanski on tight end David Njoku perhaps not wanting to be in Cleveland: David's somebody I respect and value, as it relates to him in particular, I'm not aware of that (him not wanting to be with team)

— Nate Ulrich (@ByNateUlrich) March 2, 2021
How It Began
The fireworks began around July 4 of last year when David Njoku replaced his longtime agent Maliki Kawa with Drew Rosenhaus.
Rosenhaus hit the ground running by asking the Browns to trade Njoku.
The Browns never expressed interest in trading Njoku, but it was clear that Njoku was unhappy with the team signing free agent Austin Hooper.
In the end, Njoku played in 13 regular season games and 2 playoff games; he had two touchdown catches.
Njoku's Offseason Mixed Messages
Njoku was hard to read at times during this offseason.
He went on Jim Rome's show around the Super Bowl and did not provide clarity on how he felt about his future with the Browns.
In an interview with Jim Rome, #Browns David Njoku declined to answer a question on if he was in a good spot with the team pic.twitter.com/GQQR4Aa5ia

— MoreForYouCleveland (@MoreForYou_CLE) February 6, 2021
Browns Guaranteed Njoku's Salary In March
As free agency began, the Browns did as expected; they fully guaranteed his 2021 salary.
TE David Njoku remains on the Browns roster, meaning his $6.013 million salary for 2021 is now fully guaranteed https://t.co/9A5KVDjlyG

— Jake Trotter (@Jake_Trotter) March 17, 2021
This appeared to make Njoku happy.
Last week, Njoku told us, again on social media, that he was here to stay.
#Browns TE David Njoku on Instagram: "I ain't goin nowhere!!!!" pic.twitter.com/mIrTNhB5kQ

— Brad Stainbrook (@BrownsByBrad) May 17, 2021
All of this is good news.
The Browns offense, under Coach Stefanski, has a major emphasis on tight ends so Njoku's athleticism is an asset even though he is sharing possessions with Austin Hooper, Harrison Bryant, and Stephen Carlson.
Njoku has been with the Browns since 2017.
He has certainly been through the team's highs and lows so he has to be thrilled at the positive direction the franchise, city, and offense are taking.
Despite his mixed messages in the past, all should be happy that Njoku is content in Cleveland; at his best, he is a playmaker.