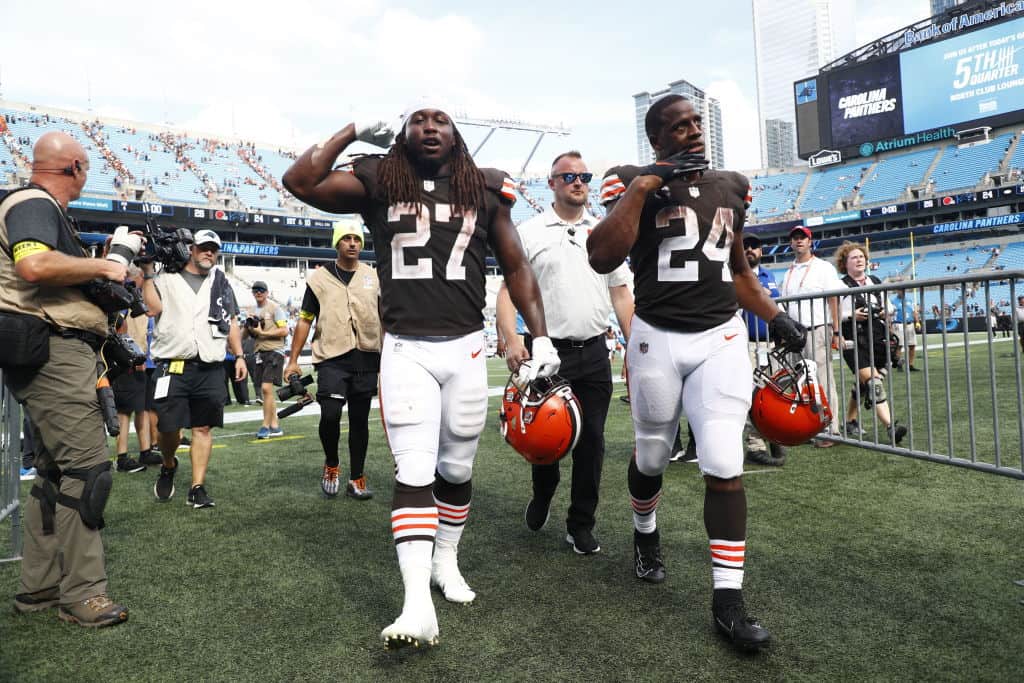 The Cleveland Browns re-signed Kareem Hunt to a one-year deal after Nick Chubb suffered a season-ending knee injury.
The Browns had little need for Hunt after retaining Chubb, Jerome Ford, and Pierre Strong Jr. in their backfield rotation.
But desperate times call for desperate measures, leading the Browns to bring back Chubb's long-time partner in the team's vaunted rushing attack.
The team's official Twitter account relived those moments by sharing their pictures.
— Cleveland Browns (@Browns) September 20, 2023
The tweet showed three photos, the first being Chubb and Hunt smiling with each other at practice.
The second photograph showed Hunt and Chubb locking arms together during a pre-game ceremony.
The third and last image showed their backs during a pre-game ritual.
Hunt had 468 yards and three touchdowns in 17 games for the Browns last season.
He played four seasons with Cleveland after spending two years with the Kansas City Chiefs.
Hunt had his best year during his rookie season when he had 1,327 yards and eight touchdowns for the Chiefs.
Getting the one-time Pro Bowler back gives Cleveland a running back who is already familiar with their offensive scheme.
They could have gotten other free agents but felt most comfortable with Hunt.
The Toledo product will also be inspired to battle for Chubb in the upcoming games.
Kareem Hunt will return to action in Week 3 when the Browns face the Tennessee Titans.
It's a challenging matchup because the Titans rank fourth in rushing yards allowed per game (65).
But playing at home should give Hunt and the Browns a boost against their inter-conference opponents.