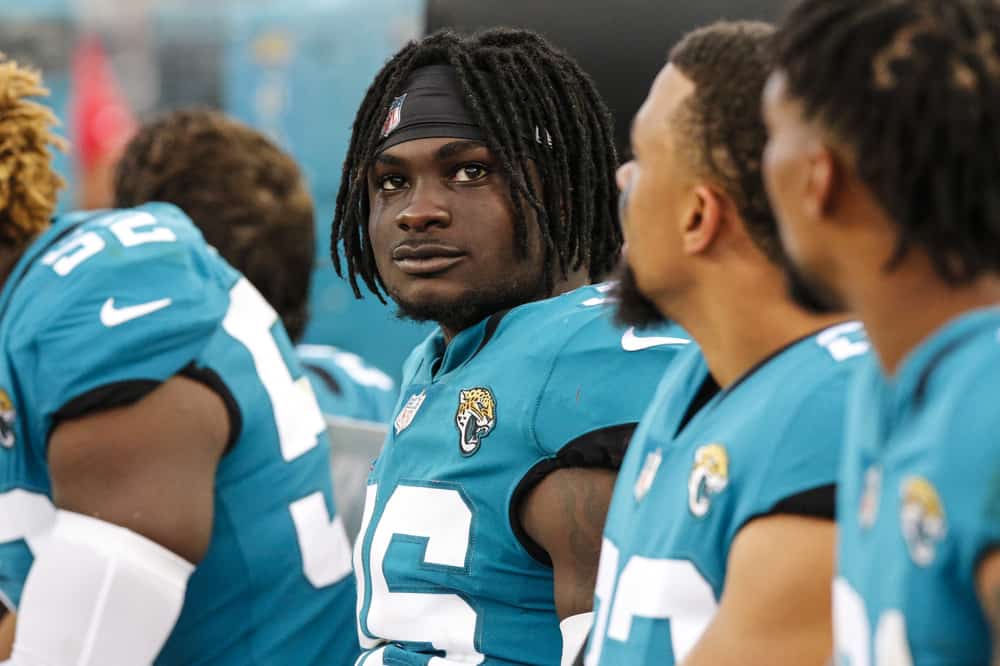 With uncertainty in the secondary, the Cleveland Browns made a big splash on Thursday.
At least one member of the team is stoked about it.
The Browns swung an agreement with the Jacksonville Jaguars by sending a fifth-round pick to bring in Ronnie Harrison.
Harrison has started 22 games in his career and will feature a role on the team after rookie safety Grant Delpit went down with a season-ending injury.
For Mack Wilson, this is huge.

Former Teammates Reunite
Wilson played with Harrison when the two were teammates at Alabama.
On social media, Wilson shared a strong reaction to the trade.
Let's get it rocking brother.. 😤😤😤😤😤😤 #BamaBoys #DawgPound @Rharr_15 pic.twitter.com/pt1bwk4oyB

— Mack Wilson (@5mackwilson1) September 3, 2020

Wilson was a key starter for the Browns last year as a rookie.
In 2019, Wilson finished with 77 tackles and a forced fumble in 14 games.
Luckily, Wilson will get a chance to play with Harrison at one point since his recent knee injury is not season-ending.
The current expectation is that Browns LB Mack Wilson will not need surgery on his hyperextended knee, per source. Barring change, looks like a loose timetable of four-to-six weeks upon return, depending how knee responds. Good news for Browns D.

— Jeremy Fowler (@JFowlerESPN) August 31, 2020
Harrison's Skill Set
Harrison is primarily a strong safety but has the ability to play free safety if needed.
For now, Karl Joseph is the team's strong safety, while Andrew Sendejo and Sheldrick Redwine are competing for positions at free safety.
After being drafted in the third round of the 2018 draft, Harrison has recorded 103 career tackles, three sacks, three interceptions, and 12 passes defended.
Some cover-1 robber action here from Ronnie Harrison. 3 & 10, Harrison plays the sticks here and makes the tackle at the 7 yard mark. pic.twitter.com/82aMg36kyz

— Cory (@realcorykinnan) September 3, 2020
At Alabama, Harrison helped the team win National Championships in 2016 and 2018.
Last year, Harrison broke out with the Jaguars by starting 14 games.
Jaguars select S Ronnie Harrison with the No. 93 pick pic.twitter.com/dkRPrmBeEB

— B/R Gridiron (@brgridiron) April 28, 2018
Positive Reaction
Along with Wilson, many appear to like the trade for Harrison.
.@Browns just traded for an incredibly smart player. Due to his position flex, most assumed Minkah Fitzpatrick was the brains of Alabama secondary in '17 but Harrison was the main communicator and teammates said Nick Saban spoke to Harrison on different level than anyone else.

— Jim Nagy (@JimNagy_SB) September 3, 2020
Others, like Jalen Ramsey, look from afar and smile at what the Jaguars are doing.
Ramsey was traded during the middle of the season as the Jaguars continue to purge their roster.
On social media, Ramsey wished Harrison his best wishes.
They will rebuild in 10 years #jaguars https://t.co/phsdkFGyuE

— GI-JoE (@GI_JoeK) September 4, 2020