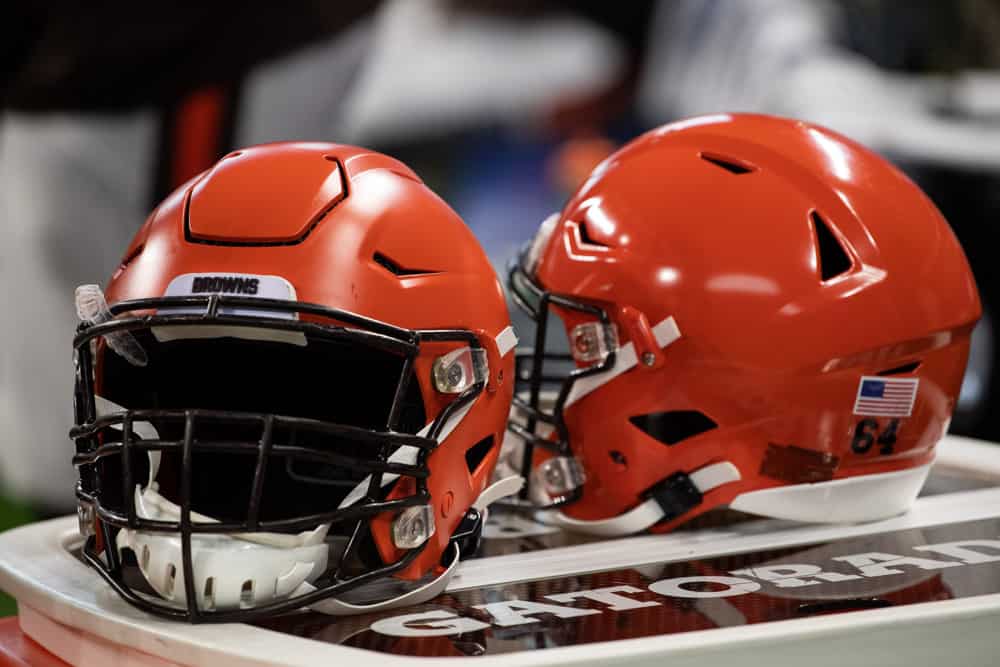 Head coach Kevin Stefanski continues to round out his coaching staff.
The Cleveland Browns announced the hire of Jeremy Garrett as assistant defensive line coach.
Get to know Browns assistant D-Line coach Jeremy Garrett >> https://t.co/mso7PQYnIY pic.twitter.com/TrWtZGL8o9

— Andrew Gribble (@Andrew_Gribble) February 20, 2020
Garrett does not have an extensive resume at the college or professional level.
In fact, he was a high school coach for most of his post-playing career.
But, he has a pair of Browns connections and one notable name to drop.
First Cleveland Connection Was in College
Jeremy Garrett played his college ball at the University of Mississippi.
Cleveland's defensive line coach, Chris Kiffin, was a graduate assistant at Ol' Miss during Garrett's playing years.
Ed Orgeron was Garrett's head coach for his final three seasons in Mississippi.
Orgeron most recently led the LSU Tigers to the NCAA National Championship.
Garrett thinks highly of his former head coach.
"He is a defensive line coach and became a head coach. I think for me being a D-line coach is like, hey, I kind of see myself in him a little bit – especially playing for him."
Garrett started games in all four seasons at Ol' Miss, but he wasn't a standout.
He was, however, an Academic All-American.
After graduation, Garrett earned a Masters Degree in business from Harding University in Arkansas.
He landed a regular 9-5 banking job with that degree.
But after a few years, he felt his calling pushing him away from finance.
Garrett Breaks In at the High School Level
He took his first coaching job at Southaven (Mississippi) High School.
After one season, he moved to Tennessee to work at Ensworth High School in Nashville.
Ensworth had a very successful football program.
Garrett worked under head coach Ricky Bowers, who won four consecutive state titles.
Bowers, a Tennessee Football Coaches Association Hall of Famer, stepped down after the 2017 season.
Ensworth is excited to announce Jeremy Garrett as the new Head Football Coach. Coach Ricky Bowers will continue as the Associate Head of School, Athletic Director, and Head Basketball Coach. See press release for full details. Go Tigers! pic.twitter.com/A6XpXWiPKu

— Ensworth Athletics (@EnsworthTigers) March 15, 2018
Garrett served as head coach at Ensworth in 2018, leading the team back to the playoffs with a 7-5 record.
Vanderbilt University tabbed Garrett as a defensive quality control assistant in 2019.
Ensworth football coach Jeremy Garrett resigns after one season to join Vanderbilt's staff https://t.co/CPxzIP4DSz via @tennessean

— Mike Organ (@MikeOrganWriter) April 17, 2019
He worked closely with Vandy's defensive coordinator, Jason Tarver.
The two will work together again as Tarver coaches the Browns linebackers in 2020.
Stefanski Hiring Young Coaches of Color
Kevin Stefanski is following through on his plan to give young coaches of color a chance in the NFL.
He said he was looking for coaches who are teachers and apparently, Garrett fits that bill.
"Jeremy is certainly a great addition to what we're doing. I love how he's been a high school coach. I love how he was at Vandy and took a chance there to go coach defensive line. Really comes very highly recommended by those guys down there."
Former Ensworth coach Jeremy Garrett named Cleveland Browns assistant defensive line coach https://t.co/H0pkXD5t9T

— Tennessean (@Tennessean) February 20, 2020
Garrett acknowledges that one year of NCAA experience is a short hop to the NFL regardless of how many years he toiled at the high school level.
He says his passion will help him through the challenge.
The Browns' new addition expects to use his expertise to help players view the game better and improve skills.
But he also sees himself helping his fellow coaches.
"I think my role, first and foremost is just to be supportive to coaches. To help them improve and make their life better."

Get to know our new assistant defensive line coach Jeremy Garrett » https://t.co/za2fLNWhEO pic.twitter.com/VHyVxGCPwp

— Cleveland Browns (@Browns) February 20, 2020
"I want to help (the other coaches) become more efficient in their roles and to also help our players become more efficient in how they play," said Garrett.
Cleveland Browns fans hope Garrett's coaching dream continues to thrive in Ohio.