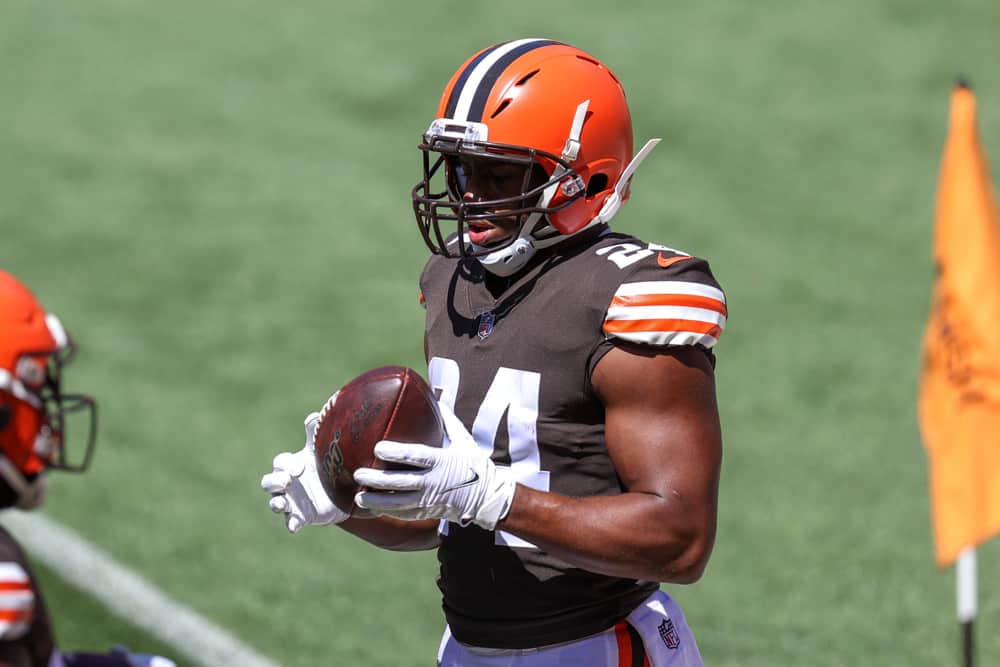 Cleveland Browns fans wanted Kevin Stefanski to keep things simple and run the ball Thursday night.
He did just that as Nick Chubb and Kareem Hunt combined for 210 yards and three touchdowns on 32 carries.
Baker Mayfield only had to throw the ball 23 times in the much-needed 35-30 win over the Cincinnati Bengals.
There is still plenty to be worked on, but the Browns looked like a totally different team than the squad that showed up just a few days ago in Baltimore.
Taking on a lesser opponent in the Bengals helped the optics as well.
Browns get their first win with a big night from Nick Chubb:

22 Carries
124 Yds
2 TDs pic.twitter.com/E2JJhg2wvf

— SportsCenter (@SportsCenter) September 18, 2020
All About the Running Game
The Browns were forced to abandon the run in Week 1 after falling into a quick deficit.
Stefanski managed the game much better in his second outing and maintained a great balance between Chubb and Hunt.
The only concerning sequence came in the third quarter when the Browns couldn't punch it in on goal-to-go and turned it over on downs.
But a strip-sack gave the Browns a re-do and Chubb was able to punch it in to go up 28-13 and force the Bengals into a pass-heavy offense.
If there is a critique to be had one could say Hunt deserved more touches.
He averaged 8.6 yards per carry and consistently shed tacklers.
Yet there are only so many touches to go around and Chubb did average 5.6 yards per carry himself.
Positives in the Passing Game
Hunt's day did get a boost with a touchdown reception as well.
Arguably the most relieving part of the game came when Odell Beckham Jr. hauled in a 43-yard touchdown pass in the second quarter to put the Browns up 14-3.
He even showed off his abilities by holding the ball up with one hand as he slid into the end zone.
Risky, but it was a touchdown so it looked cool.
.@bakermayfield finds @obj FOR SIX! 😱

📺: https://t.co/xCYUKnVxnh pic.twitter.com/PXLKQI8WDB

— Cleveland Browns (@Browns) September 18, 2020
Beckham finished with four catches for 74 yards and was Mayfield's favorite target on the night.
There was only one pass that may have had fans yelling at Mayfield.
It came in the fourth quarter when Mayfield threw an interception while targeting Harrison Bryant near the end zone.
An interception is obviously not ideal.
However, it was nice to see the quarterback get back to his aggressive ways and go for it all near the end zone.
That's the best 30 mins of football @bakermayfield has had in 18+ months

— Dan Orlovsky (@danorlovsky7) September 18, 2020
He looked gun-shy in Week 1 and seeing him have confidence, even though the pass was intercepted, was a nice shift.
Work to do on Defense
The defense was on the field a lot in this game.
Joe Burrow had 61 pass attempts and the Bengals ran the ball 24 times as well.
The rookie had three touchdowns on the day, but his third came at the end of the game as the Browns defense was content with him running down the clock.
The Browns are clearly still in need of reinforcements in the secondary.
That was to be expected with Greedy Williams still out and Andrew Sendejo being given more responsibilities in the secondary.
Unfortunately, this may be a storyline throughout the season.
That makes the play of the defensive line even more important and the guys up front looked great Thursday night.
Sheldon Richardson had a big sack and Myles Garrett had a sack and forced a fumble.
All the Garrett haters have to realize his presence is just as important as tallying numbers on the stat sheet.
Myles Garrett finished the night with 9 QB pressures, three times as many as the Bengals defense combined (3).

→ 9 pressures on 55 pass rushes
→ 16.4% pressure rate*
→ 0.72s avg pass rush get-off

*Garrett led the NFL in pressure rate in 2019 (17.1%)#CINvsCLE | #Browns

— Next Gen Stats (@NextGenStats) September 18, 2020
His strip-sack led to a touchdown and was one of the biggest plays of the night.
And perhaps the best news of all?
Cody Parkey made all five of his extra-points.
There is plenty to talk about from this game and the best news of all is that the Browns are 1-1 and we don't have to talk about doom and gloom in September.