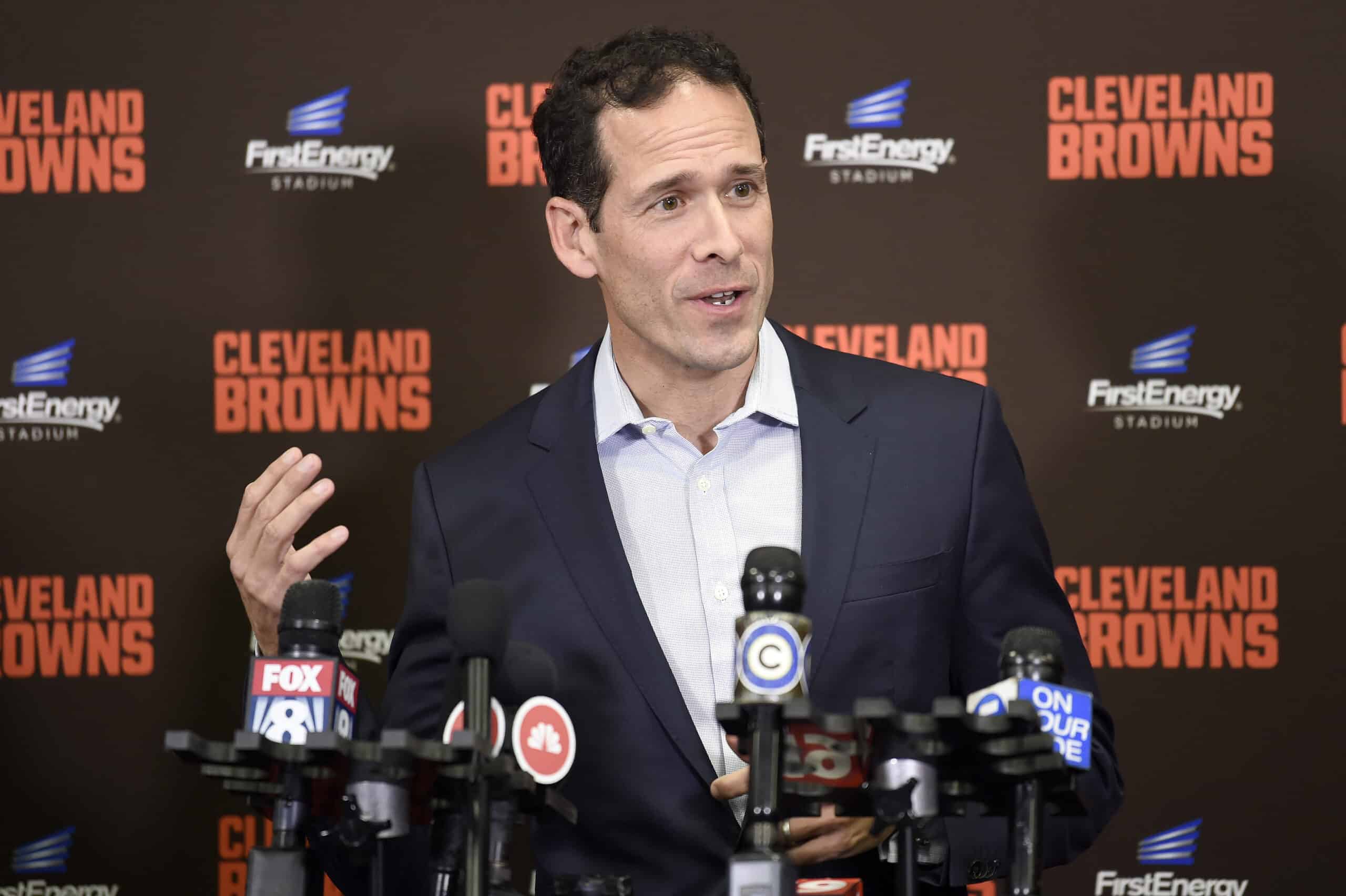 Cleveland Browns co-owner Jimmy Haslam revealed Saturday the franchise had signed chief strategy officer Paul DePodesta to a five-year contract extension in 2020.
Until Saturday, the Browns had not spoken publicly about DePodesta's extension.
"Paul's going to be with us for a significant amount of time," Haslam said. "Paul's not the type. You don't need to announce something on Paul's behalf, but he's going to be with us for a significant amount of time."
DePodesta's extension aligns with the five-year contracts general manager Andrew Berry and head coach Kevin Stefanski signed about a year ago.
"It lines up with the other guys," Haslam said. "And, that makes all the sense, and we're super excited about that."
Haslam said DePodesta, Berry and Stefanski talk each morning for an hour at 9 a.m. ET.
"They work together exceptionally well," Haslam said.
Last offseason, DePodesta helped lead the Browns' search that led to the hirings of Berry and Stefanski.
The Browns went 11-5 in 2020, and made the playoffs for the first time since the 2002 season.
Before the Browns hired DePodesta in January 2016, DePodesta worked in Major League Baseball in several front office and scouting roles for the Cleveland Indians, Oakland Athletics, Los Angeles Dodgers, San Diego Padres and New York Mets.
DePodesta gained notoriety in Michael Lewis' 2003 book "Moneyball: The Art of Winning an Unfair Game" for his role working in the front office with former Athletics general manager Billy Beane.
"Paul is incredibly smart, and (has) a great thirst for learning, so having him as part of the organization and guiding the process and being here consistently has made a huge difference," co-owner Dee Haslam said.
DePodesta, Berry and Stefanski each have Ivy League backgrounds.
DePodesta is a Harvard graduate, where he played both football and baseball.
Berry is also a Harvard graduate and played cornerback for the school.
Stefanski is a Penn graduate and played defensive back for the school.
"He's very, very smart and gets up the learning scale very quickly and has no ego," Jimmy Haslam said of DePodesta. "Just like Kevin and Andrew, and (he) is a good team player and just an all-around great person to work with."
On Saturday, Jimmy Haslam spoke praised DePodesta, Berry and Stefanski for their work in 2020 during the COVID-19 pandemic.
"The job they did last year, and it just had to be the hardest year for anybody to lead a pro sports organization, told us a lot," Jimmy Haslam said. "We felt good from the get-go, but working through that like they did, and seeing them work together and not panic when things happen, just keep grinding, keep concentrating, keep building the roster and keep getting better, and we came out really feeling well."