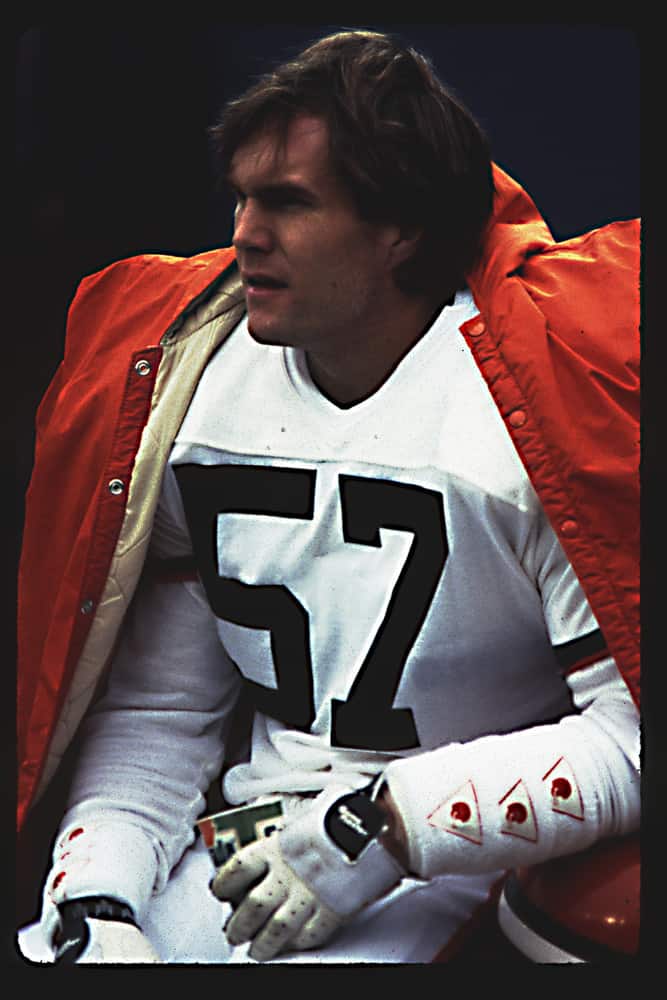 The Pro Football Hall of Fame named former Cleveland Browns linebacker Clay Matthews Jr. as a finalist for its 2021 class.
Tuesday's announcement marks the first time Matthews has been a finalist for the Hall of Fame.
"We are so beyond excited and grateful!!!!!" Matthews' daughter tweeted. "#ClayMatthewsHOF."
Matthews is in his 20th year of eligibility.
We are so beyond excited and grateful!!!!!#ClayMatthewsHOF https://t.co/M8ufyNUtc0

— Jennifer Matthews (@JennMatthews57) January 5, 2021
The Hall of Fame's Selection Committee is set to meet virtually on Jan. 19, 2021.
The committee can elect up to five modern-era players for enshrinement in Canton, Ohio, with each player needing a minimum vote of 80% for election.
Matthews is among 15 finalists eligible for this year's class.
Other finalists include defensive end Jared Allen, cornerback Ronde Barber, offensive tackle Tony Boselli, safety LeRoy Butler, wide receiver Torry Holt, wide receiver Calvin Johnson, safety John Lynch, quarterback Peyton Manning, linebacker Sam Mills, defensive lineman Richard Seymour, linebacker Zach Thomas, wide receiver Reggie Wayne and cornerback Charles Woodson.
👏 Congrats to Clay Matthews, one of 15 Modern-Era Finalists for the @ProFootballHOF Class of 2021

📰 » https://t.co/trhhdhsxer pic.twitter.com/VvzZiGMS6m

— Cleveland Browns (@Browns) January 6, 2021
In November 2020, the Hall of Fame announced Matthews made its semifinalist list for the sixth time overall and the third straight year.
If Matthews isn't selected to the Hall of Fame in this year's class, he will be relegated to the senior committee for future consideration since his playing career ended 25 years ago starting in 2021.
Anyone wanting to know more about the selection process can go to the Pro Football Hall of Fame's website.
The Browns selected Matthews out of USC with the 12th overall pick of the 1978 NFL Draft.
Matthews played for the Browns from 1978-1993.
Despite the NFL not compiling stats for sacks for the first four seasons of Matthews' career, he is still the Browns' career leader in sacks (62).
Matthews made the Pro Bowl four times (1985, 1987-1989) and earned a second-team All-Pro selection in 1984.
During part of the 1984 season, Matthews played with a broken arm, made 126 tackles and had a career-best 12 sacks.
Pro Football Reference named Matthews to its 1980s All-Decade Team.
Matthews is the only non-Hall of Famer to receive induction into the Browns' Ring of Honor.
During his 19-year career, Matthews played 278 games, which ranks 17th in NFL history at the time of his retirement and still ranks first among linebackers.
Matthews had 1,595 total tackles, 69.5 sacks, 16 interceptions and 27 forced fumbles.
While a member of the Browns, Matthews played in three AFC Championship games (1986, 1987 and 1989).
From 1994-1996, Matthews also played for the Atlanta Falcons.
Matthews set the NFL record for the oldest player to record a sack at the age of 40 years, 282 days.
Enshrinement of the Pro Football Hall of Fame 2021 class is scheduled for Aug. 8.
There are 16 other Cleveland Browns who are members of the Pro Football Hall of Fame.
The late Mac Speedie will become the 17th Browns player when he's officially enshrined in August 2021, which will happen one year later than initially planned because of the COVID-19 pandemic.