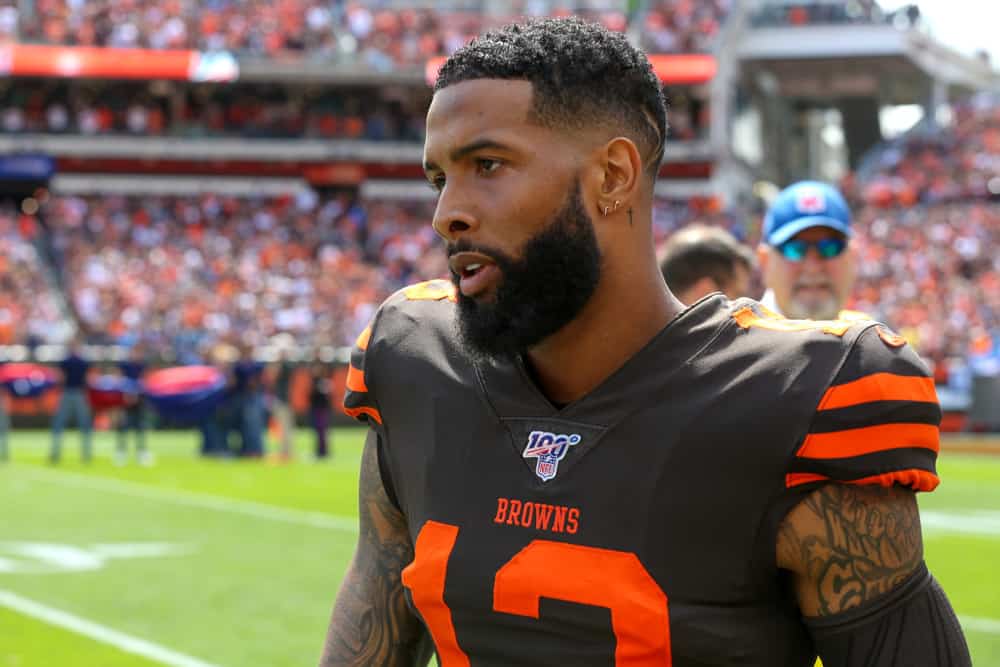 Earlier in the week, it was reported that Browns star wideout Odell Beckham Jr. tore his ACL and will miss the remainder of the year.
The Browns are currently sitting at 5-2 and have high hopes and aspirations of making the playoffs.
Some believe their chances are better without OBJ.
Over the last two years, Odell Beckham Jr. has been in the heart of some trade rumors.
Fox Sports radio analyst, Doug Gottlieb believes the Browns are better off without him.
Browns Are Better Off Without "Toxic" WR
There is no denying that Odell Beckham Jr. has been in the center of some drama throughout his career.
Both, inside the locker room and out of it.
When Odell was first traded to the Browns, not too many thought it would work out with a young QB in Baker Mayfield.
They appeared to be right as Odell's production dropped when arriving in Cleveland.
Doug Gottlieb touched upon the topic on his radio show.
📺@GottliebShow: "The Browns are better off without Odell Beckham Jr…

…I hope Odell Beckham Jr. returns as good or better than ever, but he was toxic with Baker Mayfield and the Browns." pic.twitter.com/kcTEgIpdMZ

— FOX Sports Radio (@FoxSportsRadio) October 26, 2020

In the clip, Gottlieb states the following:
"I don't wish that he has an injury, but it was toxic with Baker Mayfield and toxic with the Browns. He didn't like Cleveland, he didn't like the offense, he didn't like his role, and he had little too much influence on Baker staring him down."
While Gottlieb didn't necessarily need to call Beckham toxic, he may have a point.
Baker did have a bad habit of staring down Odell, which resulted in some poor decisions with the football.
In fact, after Odell got hurt, Baker appeared to have one his best games of the season.
Is Odell Beckham Jr. Better Off Without Cleveland?
Odell Beckham Jr. took the league by storm in New York making his famous one-handed catch against the Dallas Cowboys.
When he was traded to Cleveland, Browns fans were ecstatic as they felt they were getting one of the best players in the game.
Since arriving in Cleveland, Odell has 8 total touchdowns; 7 receiving and 1 rushing.
Remember, three of those came against the Dallas Cowboys this year.
In his first three years with the Giants, he had at least 12 touchdowns in each season.
Despite how the media portrays him, Cleveland will miss his locker room presence.
#Browns Baker Mayfield said after leaving with a knee injury, he told Odell Beckham Jr. at halftime he loved him and Odell responded: "Go be great."

— Camryn Justice (@camijustice) October 25, 2020
When it comes to what kind of teammate and man he is in the locker room, Odell's teammates have said nothing but the best about him.
Coach Stefanski knows his energy will be missed and hard to duplicate.
On Zoom with Kevin Stefanski. "I know injuries are part of the game, but I am extremely disappointed for him," in announcing torn ACL for Odell Beckham Jr. "The energy he brings- no one else brings that kind of juice."

— Jeff Schudel (@jsproinsider) October 26, 2020
Only time will tell if the Browns are better off without Odell.
Regardless, we are all wishing Odell Beckham Jr. a speedy recovery.