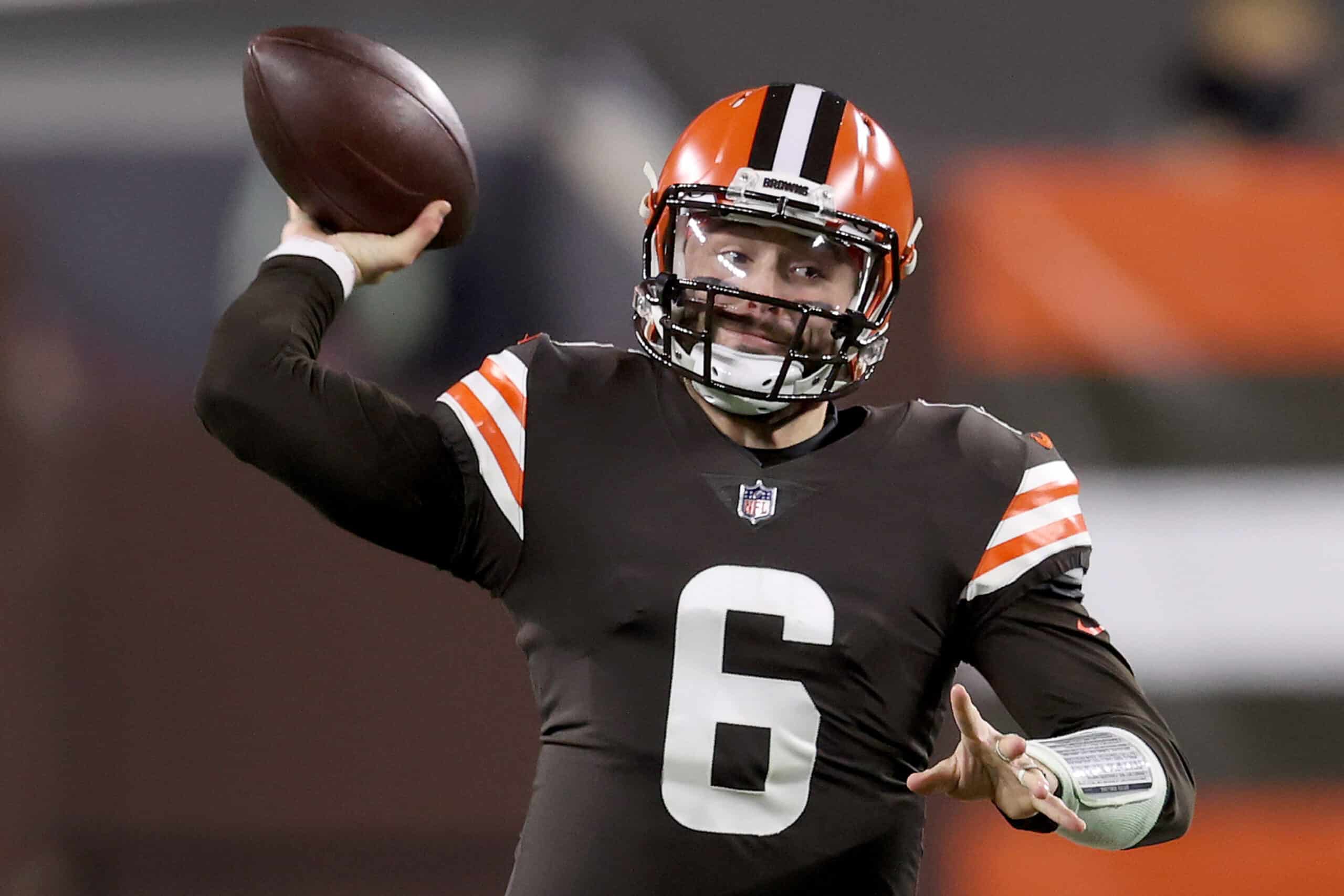 Did you hear the latest on Baker Mayfield's contract extension with the Cleveland Browns?
According to recent headlines, a deal will get done this summer, unless talks extend deep into the season.
Mayfield is an easily replaceable part of the offense, and he deserves his top-10 PFF rating.
The top-10 QBs in the NFL, per @PFF_Eric

What does your top 10 look like? pic.twitter.com/DMa87wrYXd

— PFF (@PFF) June 29, 2021
Andrew Berry would be wise to hold off on extending Baker, but it would also be smart to sign him soon.
Baker is obviously going to get less money than Lamar Jackson and Josh Allen because he is not as good.
Unless you count things like passing yards and passing touchdowns, both of which Mayfield has more of.
If there is one thing Baker Mayfield will always lead the NFL in, it's conflicting opinions.
"Baker Mayfield is very much a replaceable part. He's had one productive season out of three. That is not greatness at the quarterback position. At best he is the fifth-best QB in the AFC."@RealTannenbaum is skeptical of the Browns this season due to their QB. pic.twitter.com/MFfLd5Q63f

— Get Up (@GetUpESPN) June 29, 2021
Sports sites and social media offer a full range of thought about Mayfield's performance and value.
So just in case the debate has Andrew Berry confused about what to do, I offer my humble advice.
Here is how the Browns should handle Baker Mayfield's contract extension talks.
Before the Numbers- a General Strategy 
For all the scuttlebutt out there about Baker Mayfield, we rarely hear from his agents.
Jack Mills' comment about expecting to wrap a deal up over the summer was rather innocuous.
He merely points out that there is enough contract precedent available to negotiate at any point.
Mary Kay Cabot's assertion that talks will extend well into the season doesn't signal conflict.
ICYMI: Baker Mayfield's contract extension could stretch into the fall and no substantive talks yet, but no worries b/c he's their man; Deals for #Bills Josh Allen and #Ravens' Lamar Jackson will factor in https://t.co/7wt0IZNFdE

— Mary Kay Cabot (@MaryKayCabot) June 27, 2021
At least not until Andrew Berry chimes in on what the team's plan or position is.
But he probably won't say anything more than the team is happy with Baker as their quarterback.
Berry will not be dragged into the public debate on the matter, and we'll never know how talks are going.
Cleveland's brain trust knows Baker Mayfield, his personality as well as his leadership and skill set.
And they'll discreetly keep their quarterback engaged and content during this process.
Early is Definitely Better 
The expression usually carries a different meaning, but regarding Mayfield's extension, time is money.
Heading into the season, there is a definitive annual salary range for the Browns' passer.
He is likely to come in behind the top-3 (Dak Prescott, Patrick Mahomes, and Deshaun Watson).
But he should slide in ahead of the #4 salary, Kirk Cousin's $33 million.
Waiting for Baltimore or Buffalo to extend their young passers will open comparative discussions.
Baker Mayfield's agent on contract extension: "I think something will be done this summer"https://t.co/IFt1LElmsj pic.twitter.com/CiQ8kIcAm2

— Around The NFL (@AroundTheNFL) June 23, 2021
And holding out until after this season might throw Kyle Murray's extension into the conversation.
Not to mention how a second playoff appearance would further bolster Mayfield's negotiating position.
But that is not even the most important reason for an early extension.
Berry and Kevin Stefanski show a good understanding of the locker room atmosphere and attitude.
And they know signing their popular quarterback early will affect the psyche of the entire team.
How Many Dollars and Years? 
Baker Mayfield is likely to own the lion's share of Browns passing records before this contract expires.
He threw at a 4,000-yard pace over the last 8 games last year and is a near-lock to top that total this season.
In fact, the Browns' all-time passing yardage (4,132) and passing touchdown (30) marks are in jeopardy.
Mayfield is also the emotional leader of a playoff-bound team, and that makes him more difficult to replace.
It's easy to say he should slide into the $33-35 million salary range, but don't be shocked if it is a little higher.
Baker Mayfield had 8 games last season with a QBR over 80. The Browns went 7-1 in those games. Only Aaron Rodgers and Patrick Mahomes had more 80+ QBR performances. Via @ESPNStatsInfo #Browns

— Jake Trotter (@Jake_Trotter) June 22, 2021
Years could be the bigger issue as Mayfield will already be 28 when his rookie deal expires.
Mayfield believes he will bring the Browns a championship and might gamble on a bigger payoff next time around.
Four years is the recent standard, but that last season might need some salary guarantees or options built in.
When such a deal expires in 2026, Mayfield will be a 32-year old veteran, hopefully coming off a dynasty run.
This is why a 3-4 years extension at $36-37.5 million is where I believe the Browns and Baker settle.